Mother's Day is just a few sleeps away! I have yet to figure out what to give to my mom (eeep!). Shopping with my mom is always a treat and shopping for her is something I love doing. My mom is always so appreciative of the gifts we give her but what I love most is when she uses the things I give her and it becomes part of her essential items. Right now, comfy blouses always make her day as well as good romance novels. But sometimes I want to shake things up a bit and so I give her accessories and fun stuff that she'd never buy for herself. She's traveling soon so I'm thinking of buying her a scarf or a light cardigan that she can wear on the plane. Whatever it is though, I'm going to definitely buy it either in Trinoma, Greenbelt or Glorietta.  Ayala Malls are our family's favorite because well, they're planned nicely and the aisles are spacious for strollers and toddlers. What I love though is the patches of green in and around their malls. Greenbelt I think is the prettiest because of its gardens, ponds and tall trees . It really is perfect for date nights with Dan or family day with your loved ones.
This Mother's Day, Ayala Malls is cooking up something special.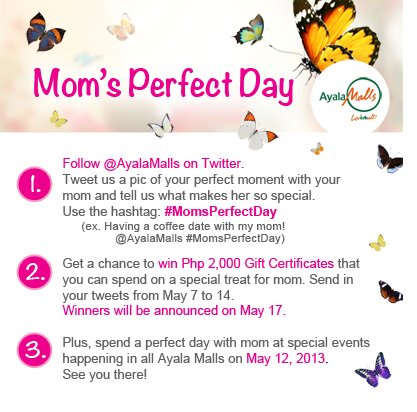 I'll be on Twitter and Instagram sharing fun finds for moms and kids for Mother's Day. Please follow @AyalaMalls and these twitter accounts to find out surprises and special promos for the weekend:
Twitter:
@Greenbelttweets
@gloriettatweets
@trinomatweets
Instagram:
@iloveayalamalls
@ilovegreenbelt
@ILOVEGLORIETTA
@ilovetrinoma
This Sunday, I will be with the other #SoMoms for a special Mother's Day event at Greenbelt. I haven't gone to any mall for Mother's Day in the four years that I have become one  so this will be a welcome change to our family's usually lazy Sundays 😀
I hope to see you online ok! Have fun with the promo !
See you in an Ayala Mall soon!