Dear David and Noah,
If in the future, you find yourselves googling your names and you came by my blog, I hope that you both find this post. I hope that in the midst of all the blah-blah-blahs that I have been sharing here and that amidst the noise that I have created over social media (haha) that the singular message that I am putting out there is that I am proud to be your mom. I love being your mom and you boys are my heart and soul. I love you both so much. You make me want to be a better person. Even if at times I am filled with so much doubt, I soldier on because you both give me so much strength and hope.
Dearest David, you are so smart, kind, sweet and loving. You have a keen eye and a sharp mind — your endless questions are proof of that.   May you never lose your sense of wonder. I will always hold your hand until you are ready to let go and when that time comes, do know that you will always have my heart with you. Seeing you love Noah and how you always want to make him smile shows how big your heart is. May you always find ways to make Noah smile, Kuya. We love you very much and we are so proud of you.
Dearest Noah, you are smart, determined and the bright spark in our lives. Thank you for showing that we need to stop rushing, that we need to enjoy the journey and that yes in the grand scheme of things, the little things do matter.  Thank you for showing us the way and for letting us see the things that truly matter. We would be so lost with you. We love you very much Noah.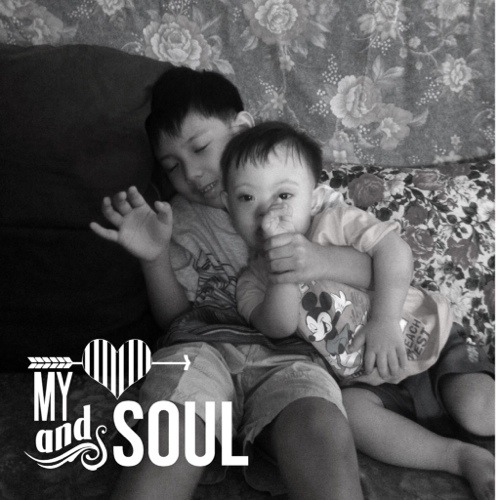 To you two bugoys, your dad and I love you both. We will fight, we will cry over things and we may fumble but everything will be wonderful in the end. It will all be worth it because we have each other.
To quote a great songwriter "how wonderful life is, while you're in the world"
Always and forever,
Mama
"Your Song"
It's a little bit funny this feeling inside
I'm not one of those who can easily hide
I don't have much money but boy if I did
I'd buy a big house where we both could live
If I was a sculptor, but then again, no
Or a man who makes potions in a traveling show
I know it's not much but it's the best I can do
My gift is my song and this one's for you
And you can tell everybody this is your song
It may be quite simple but now that it's done
I hope you don't mind
I hope you don't mind that I put down in words
How wonderful life is while you're in the world
I sat on the roof and kicked off the moss
Well a few of the verses well they've got me quite cross
But the sun's been quite kind while I wrote this song
It's for people like you that keep it turned on
So excuse me forgetting but these things I do
You see I've forgotten if they're green or they're blue
Anyway the thing is what I really mean
Yours are the sweetest eyes I've ever seen
And you can tell everybody this is your song
It may be quite simple but now that it's done
I hope you don't mind
I hope you don't mind that I put down in words
How wonderful life is while you're in the world
I hope you don't mind
I hope you don't mind that I put down in words
How wonderful life is while you're in the world