While my trip to Singapore certainly had its highlights, the most special one happened as soon as I went out of Changi.
I finally met Mye and her darling little boy Alphonse.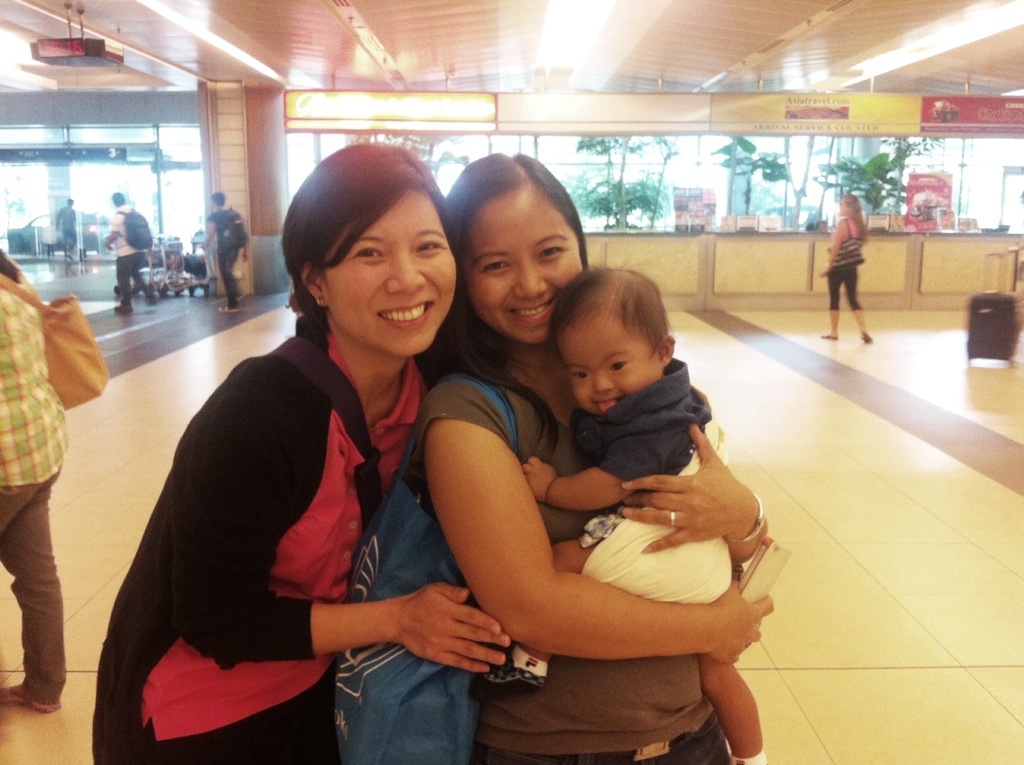 I couldn't stop squeezing Alphonse, the feisty little fighter who I wrote about here when Mye was raising funds for his heart surgery.
Mye is a talented and wonderfully creative digital scrapbook artist. She has her own website which is filled with goodies that would make a digital crafter weep with joy. Mye created the innocent heart kit for Alphonse's fundraiser:
Alphonse had Tetralogy of Fallot, a congenital heart disease. which essentially means that the heart has four anatomical abnormalities.
Proceeds from the sale of the kit plus the indiegogo.com fundraiser she put up raised the almost Php1 million for Alphonse's procedure. Alphonse was wheeled in to the operating room at 7:30 am and the operation ended at 3pm.
Mye, her mom and Alphonse were the only ones here in Manila then. The DeLeons are based in Singapore and her husband and twin daughters have since moved back.
I kept going back to Mye's website to find updates on Alphonse but didn't find any. I assumed that everything was fine and the family was busy with the new baby.
A few months after, I saw Mye's message at the Down Syndrome Association of the Philippines' Facebook Page.  In true DSAPI fashion she and her family were warmly welcomed by the community. We became fast FB friends and then we started chatting by email. I told Mye I'd be in Singapore for a quick business trip but I'm not sure if I'd have time to meet. So I asked her if she wanted anything from Manila.
Mye asked for TJ hotdogs or Goldilock's Crema De Fruta.
Naloka naman ako haha. At serious na request oala yun haha. I told her I can hand carry the cake because I don't think I can bring in frozen hotdogs at the airport.
As soon as the plane landed, I started texting Mye. She was with Alphonse.  Funny how when we met we started chatting as if we're old friends. Alphonse was there listening and looking around probably wondering who the crazy lady his mom is talking to.
I had to leave soon after though because I had clients to meet (boo). But my heart knew that I met a really important family that day. Mye and me, Noah and Alphonse, it's the gift of the extra chromosome I tell ya! It has led me to amazing people like Mye who inspire me to push on and persevere.
And Alphonse of course, who is healing nicely from his open heart surgery is a happy, bubbly baby but who hates his PT sessions haha. Reklamador like our Noah.  He's scheduled for ear surgery soon where he will get ear tubes to prevent fluid build-up and infection in his middle ear. This guy has been through so much and has come out stronger than ever. He really is one of my heroes.
I came bearing Crema de Fruta and Polvoron and stories. I wish we had more time. Maybe soon.
Till we meet again Mye and Alphonse!!
A very important P.S.
Mye has written about Alphonse's birth story and diagnosis here and here. Get your tissues ready.
You can also follow Mye at IG at @myedeleon. She posts daily pics of her work, her twins, her hubby and of course Alphonse. Her website is www.myedeleon.com