*note: pics are all from my iPhone and taken by my pasmado hands*
Last Thursday and Friday went by like a blur. I had a migraine the whole of Saturday as my body tried to regain the balance it lost from a business trip that saw me running from one client to another in a city's underground walkways.
Singapore is a lovely city and one of my favorites. It is clean and efficient and the people never get in your way, which made the trip easy. It was me who struggled.
I woke up at 2:30 Thursday morning to catch a flight to Singapore at 6am. I flew in with my boss, Tiff and we landed at Changi at 10am. We checked in at our apartment, had a quick lunch at Asian Kitchen then went back to dress up and went straight to client meetings.
We walked from Raffles to Marina Bay Financial Centre back to the Raffles area from 2-5. My feet felt like lead after. I was ready to drag my knuckles on the ground out of sheer exhaustion. Our quick breaks in between meetings helped me relax a bit but the lack of sleep has caught up with me. My head was lightheaded during our last meeting that I probably promised a client something…anything to make them stop talking and to end the meeting hahaha!
After the last client meeting, Tiff and I decided to "eat our feelings". Din Tai Fung at Wisma Atria was our haven. I greeted my bowl of hot and sour soup like a parched traveller in the middle of the dessert. I wanted to drink the soup straight off the bowl. I also drank so much tea in the hopes that it will calm my frayed nerves and help
me relax.
We also had steamed crab fat and shrimp dumplings and shrimp with veggies. It was a perfect ending to the day. I was a frazzled account manager on her first round of client visits. I was out of my element; being in research, I his behind my reports. In account management, I was out there representing my company. I was the face of my company and all I could think about that day was to not look tired. Being cheerful and perky is hard work!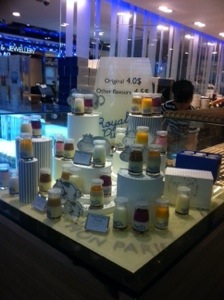 After dinner, we went down to the first level of Wisma Atria to a dessert station called Cafe Parisienne. They had beautiful cakes and pastries. Tiff and I wanted to sit at the cafe but we decided to go home and put our feet up and laze around in the comfort of our room.
We ordered mini cheesecakes and coffe pudding. The cheesecakes were soft, velvety and creamy. Never mind that it went all straight to my ass. The pudding was ordinary. The cute bottle got us hook, line and sinker.
Friday started early. We went to our office for a roundtable with clients. It was a good event made only better by this view:
I was tasked to man the Nespresso machine that day in addition to taking down notes from the roundtable and of course mingling with the clients.
To be fair, the event was a success. I would also like to pat myself on the back for not spilling any coffee on anyone while wearing an old pair of patent black heels. I have the grace of a Neanderthal (no offense to Neanderthals reading this) and I was deathly afraid of spilling coffee and screaming "shet!!". My lack of grace rivals that of Lolit Solis' (no offense to Manay Lolit).
We had lunch at the office and Tiff and I took the rest of the day off to go to H&M (bigay pugay). We both brought our carry on bags with us so that we could head straight to the airport.
We boarded at around 8 and we we're in Manila by 11. I was in bed by 2am. I woke up Saturday, with a headache. I also realized when I unpacked that I have left my eyeglasses at our apartment. *insert slow clap here*
This trip had me thinking:
I am not fit. Duh.
I need to invest in a good, presentable pair of black shoes with sensible heels. I am seriously considering Naturalizer. That last sentence was my mother talking by the way.
I need to be better organized with all my things. I thought I lost my blackberry and left it at one of the cabs we rode on. I called the operator at the cab company who told us that the driver didn't see my phone. She suggested that I call my phone. I did. My left butt cheek vibrated. *insert slow clap here*
I.AM. NOT.FIT
And I'm doing all of this again when I go to Hong Kong in two weeks.
Lord please bless my battered feet and my jiggly flabs.