One of my most favorite things to do now since Noah has gotten bigger is packing up our little brood to go on adventures. Noah just recently started walking (a few weeks before his second birthday) and it's just so much fun seeing him explore, play and take in his surroundings. Also, having him walk on uneven surfaces like grass and gravel improves his core strength and balance, so yay to Noah for sneaking in some therapy too! haha!
So last Feb 25, we packed up our day bags and hied off to Sta. Elena's Fun Farm for an Oreo playdate with good friends.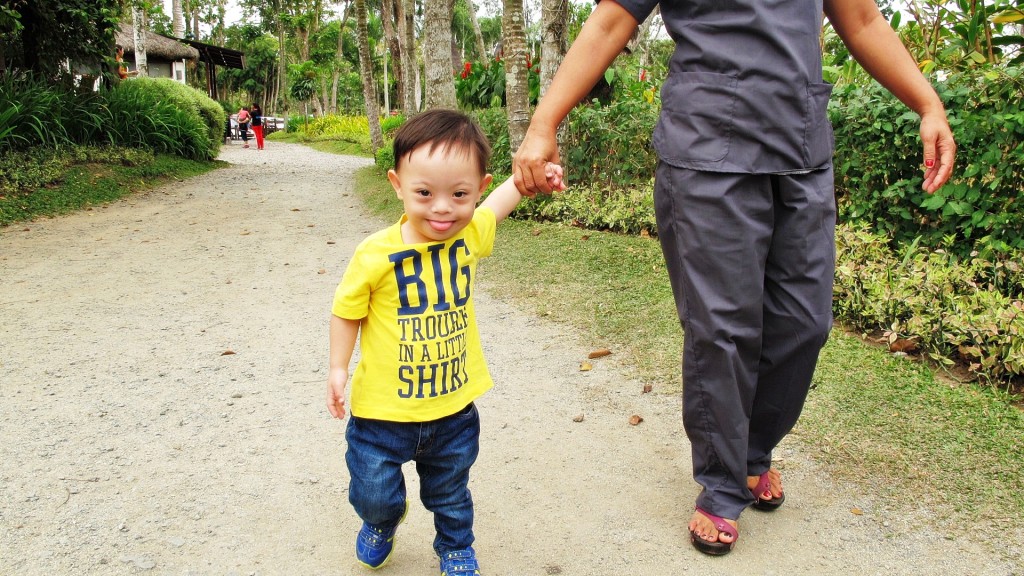 Oreo sponsored the day and the theme was #PlaywithOreo. And play we definitely did!!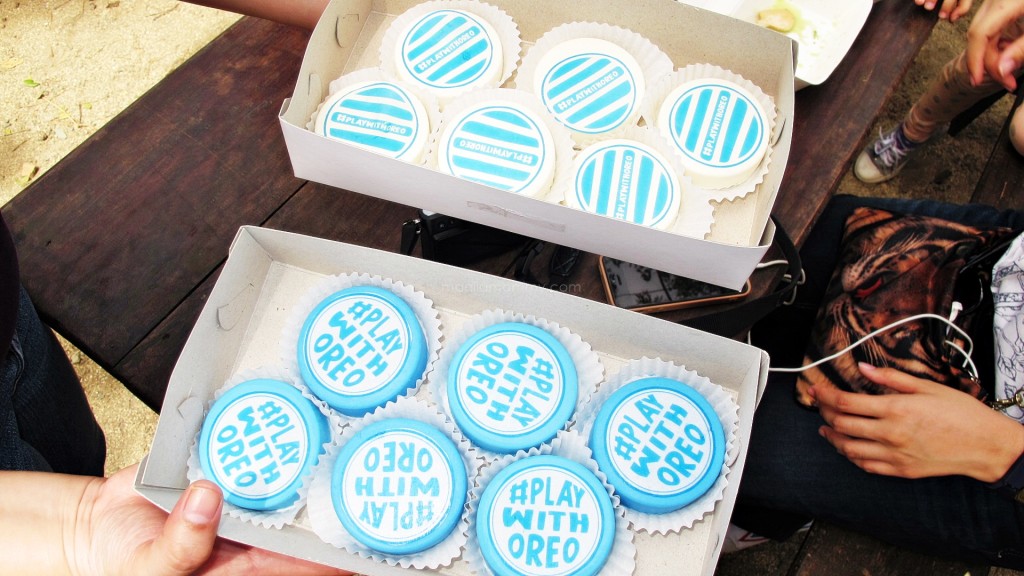 The Fun Farm is located in the Sta. Elena Golf & Country Estate in Laguna, which is just right off the Cabuyao exit of SLEX. The trip can take you 1 to 2 hours depending on traffice (we came from QC) so pack snacks and drinks for you and your family. Also, you need to bring your own food to the Fun Farm as they don't have concessionaires and a canteen. So the Fun Farm also spells  P-I-C-N-I-C!
The Fun Farm is really worth the trip. There is not much you can do here in Manila that doesn't involve a mall so the Fun Farm in Sta. Elena provides a wonderful alternative plus the kids get to breathe fresh air, run around in wide, open, green spaces and get to meet and interact with Chocnut the Carabao, the farm's horses, bunnies, guinea pigs, chickens, and goats. There's also a Sand House, petting zoos, obstacle courses, a play ground and a kiddie zip line that is super safe and manned by three helpful kuyas 🙂 One other great thing about this place is that the staff is very helpful and polite. They handle the animals well and are always ready to assist the kids who can't get enough of the farm animals. The Fun Farm is also well maintained, there are washrooms with clean, running water!
Here's David and Noah on top of Chocnut. Chocnut's caretaker commands him in English. O diba?! Haha!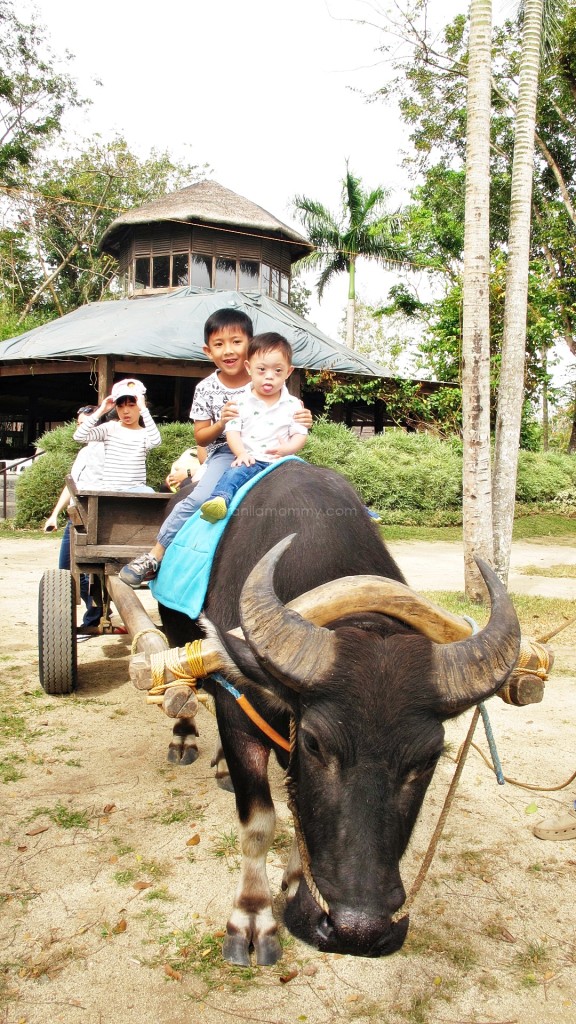 There were petting cages/ holding cages for guinea pigs and rabbits. There's a basket of carrots that the kids can use to feed the animals.  The guinea pigs were so meek. They weren't prepared for Noah who wanted to squish them all!  I loved that these feeding areas had alcohol and paper towels at the ready where the kids can clean themselves up.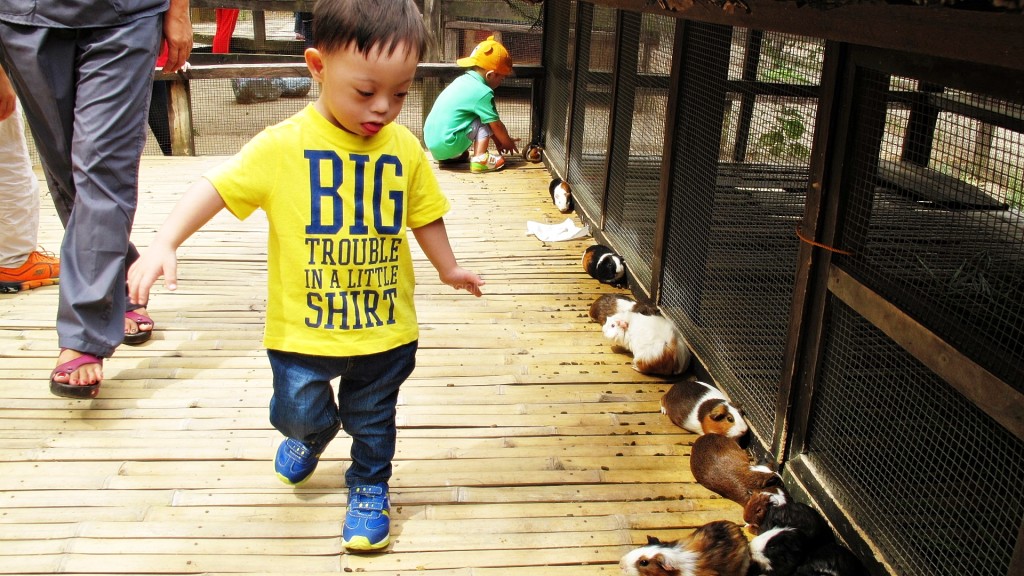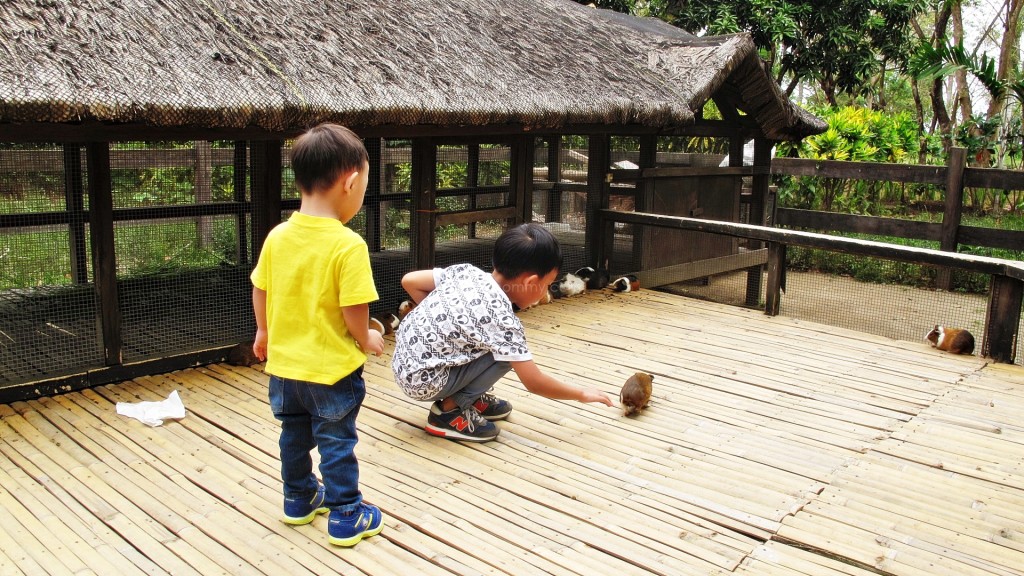 I just had to take pics of these three not-so-little pigs snoring away the afternoon. They all looked like Pumba from the Lion King!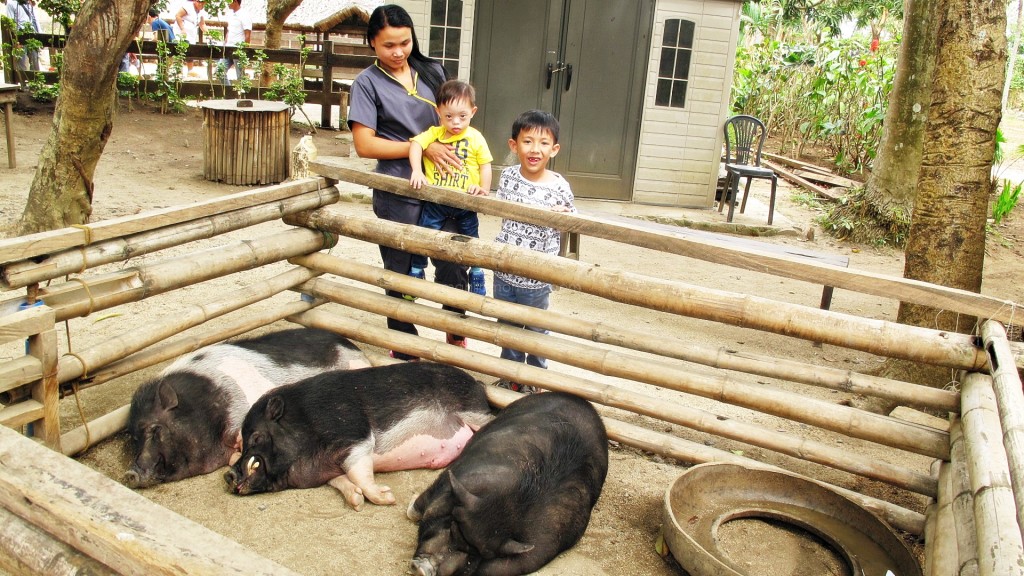 The Fun Farm has a lot of things that can keep the kids busy.  Here at the fishing pond, there is also a small boat that you can ride on. There is also a rope line that some older kids crossed ala obstacle course.
When you go fishing, a manong is on standby to thread the bait for the bamboo fishing poles. David caught a small fish. Don't worry all fishes caught are returned to the pond 🙂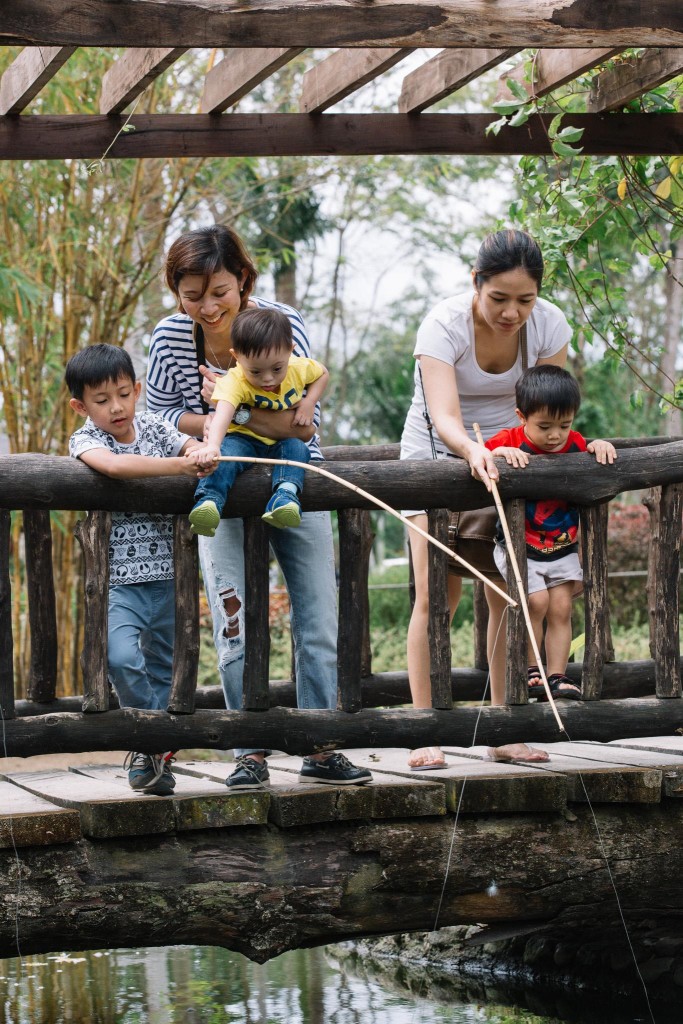 2 super popular attractions at the Farm is the Carabao ride and the horse ride. Another thing I like about the Farm is that it does not get too crowded because you have to reserve to go there in the first place. The admin and staff are able to control the crowds well.
The horses are also guided by one staff member each and kids all wear helmets. Safety first!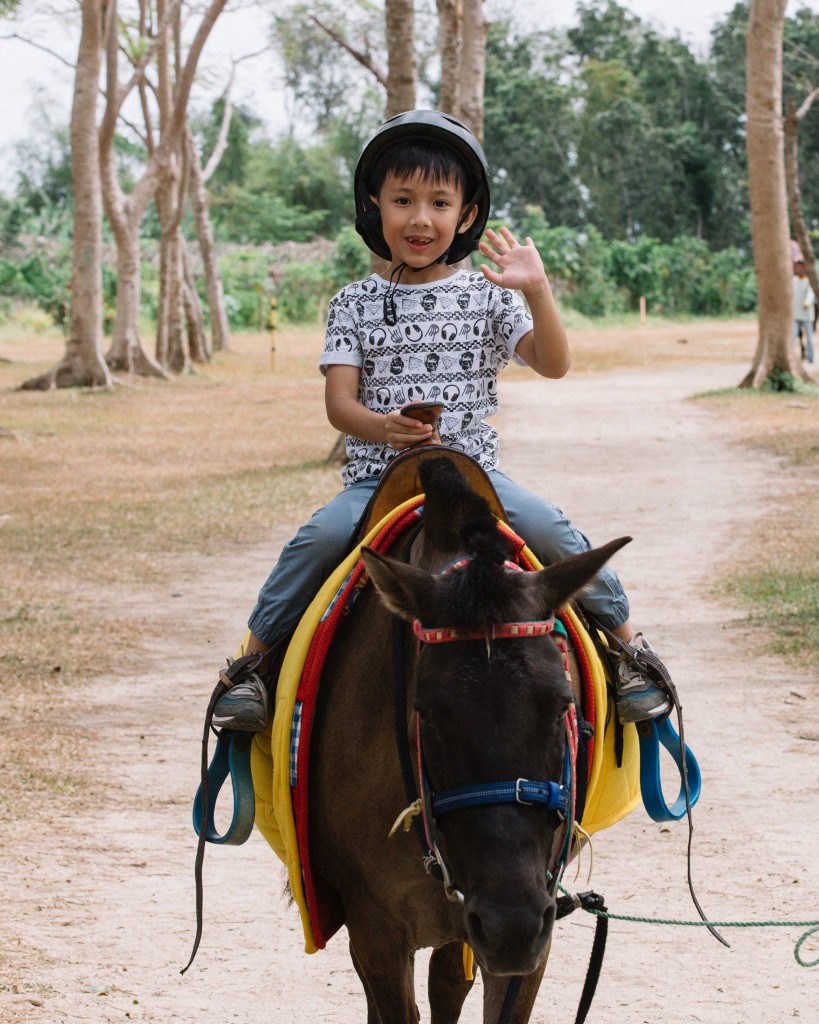 The Fun Farm has a "Sand House" which is basically a big covered sand box. The kids spent HOURS in the sand house and they all returned home with sand in every crevice of their body. Kasi naman they made sand angels and buried each other in the sand. Hala talaga!
But the best part for me is that David and Noah got to play with their friends.  Look at David and his wide toothless grin!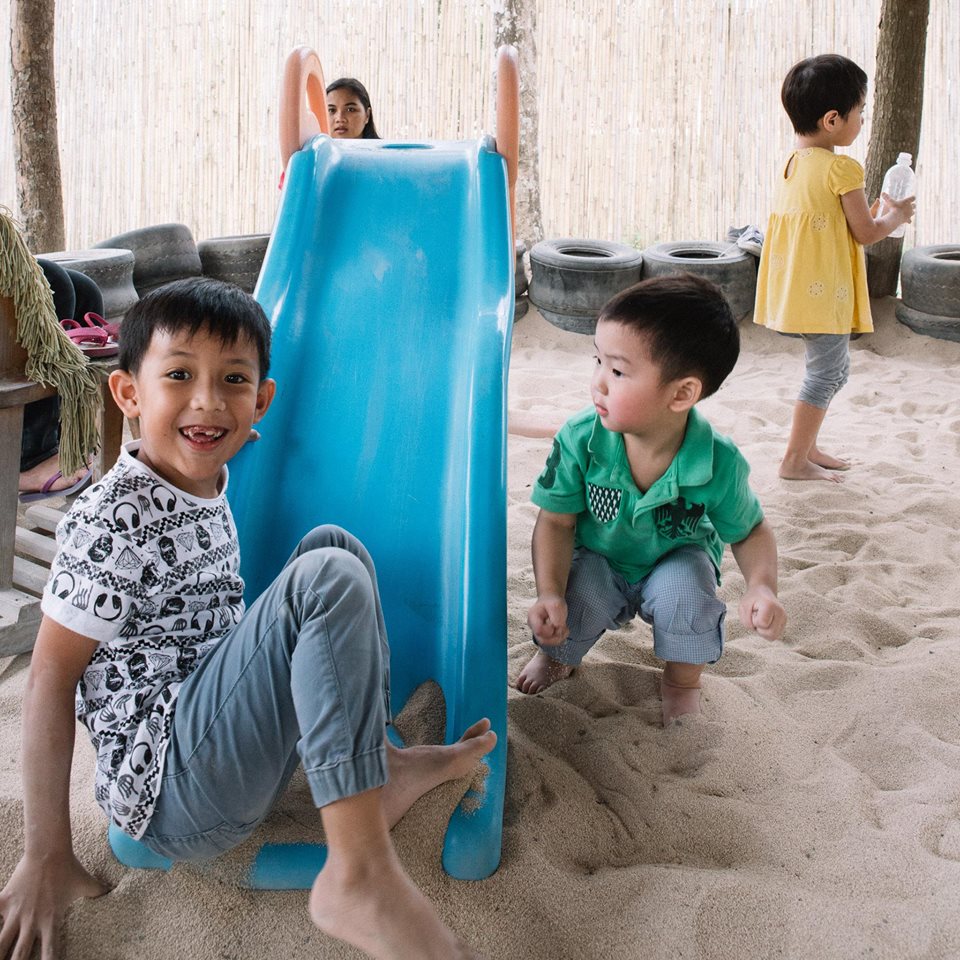 And here's him whizzing across!! See the kuya? There's three of them at the zipline area who are ready to assist the kids. They're super polite and encouraging with the kids, especially the ones who seem scared.
We also had our own mini games which involved eating a lot of Oreos so syempre volunteer ako dyan hahaha (and yes halos terno kami ni Michelle!)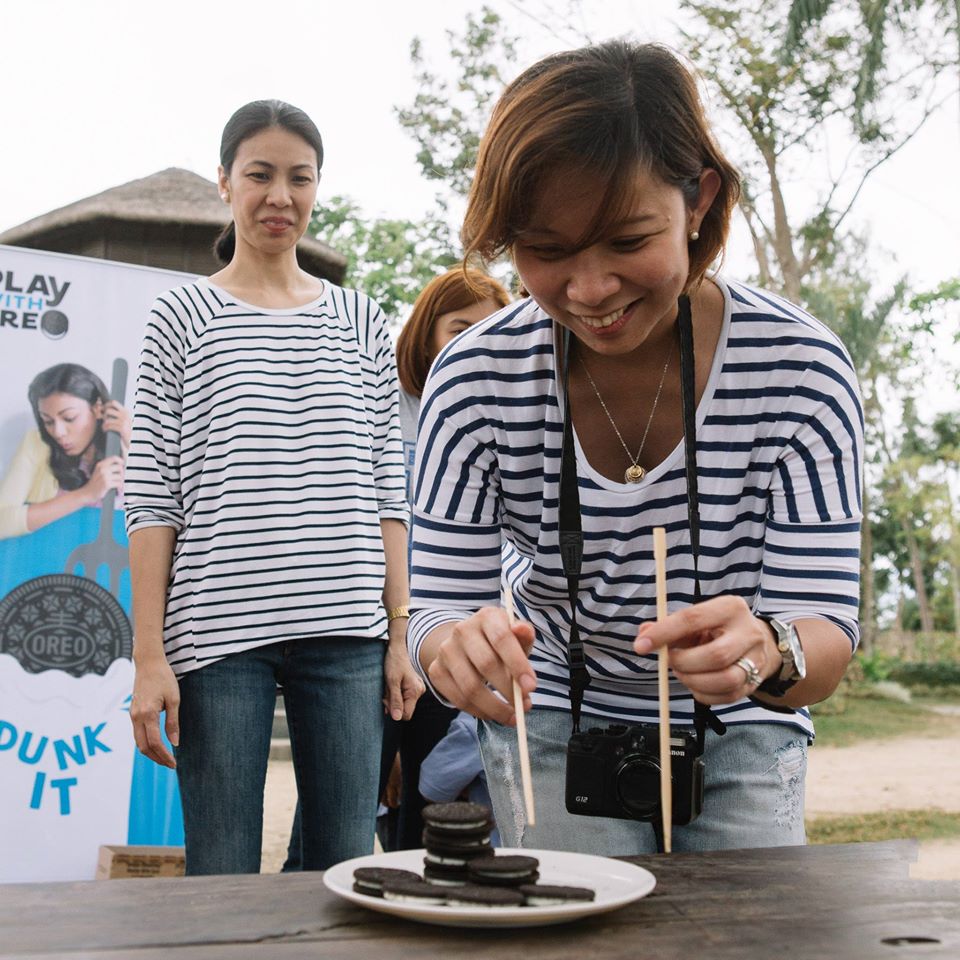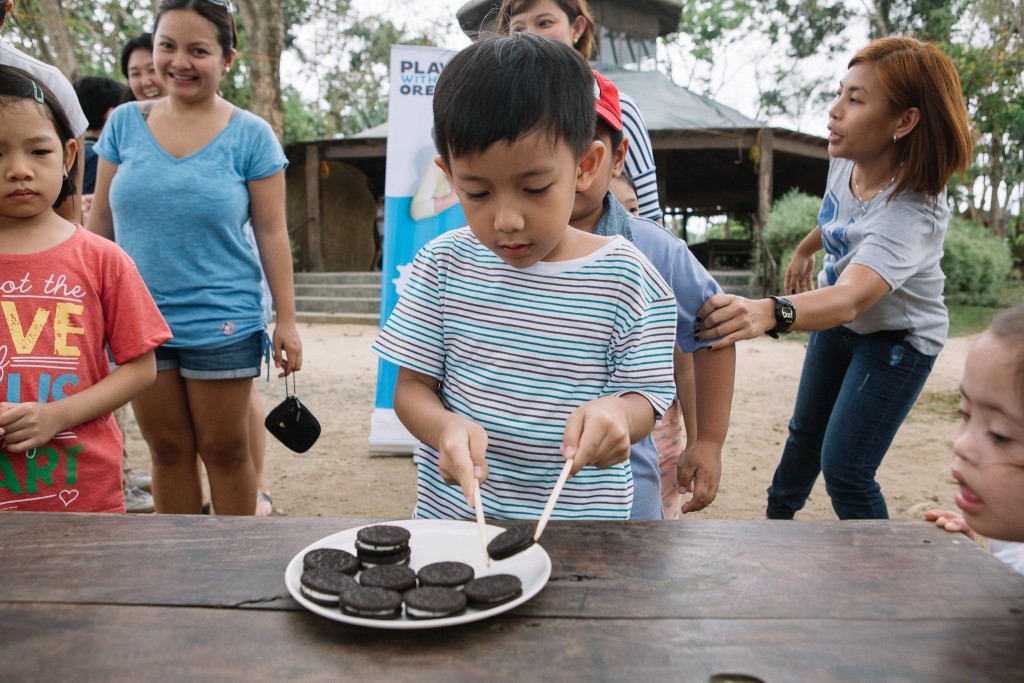 We also had a really lovely lunch courtesy of Holy Carabao. Hindy Weber Tantoco was there (she and her husband owns the Fun Farm) and she talked about how her love of her kids and providing them with great food and a fun activity area for the kids in Sta. Elena led to the creation of the Fun Farm and Holy Carabao.
I have ordered fresh produce from Holy Carabao and I always ask if they have Kamias! Si Dan pinagtatawanan ako because I have to order Kamias online but really, I can't find Kamias anywhere else! Hindy and her partner Melanie prepared a really delicious lunch of organic and freshly farmed veggies and bacon that came from an ethical piggery.
My favorite are these potato balls with mashed sweet potato. Yummy! David loved this too.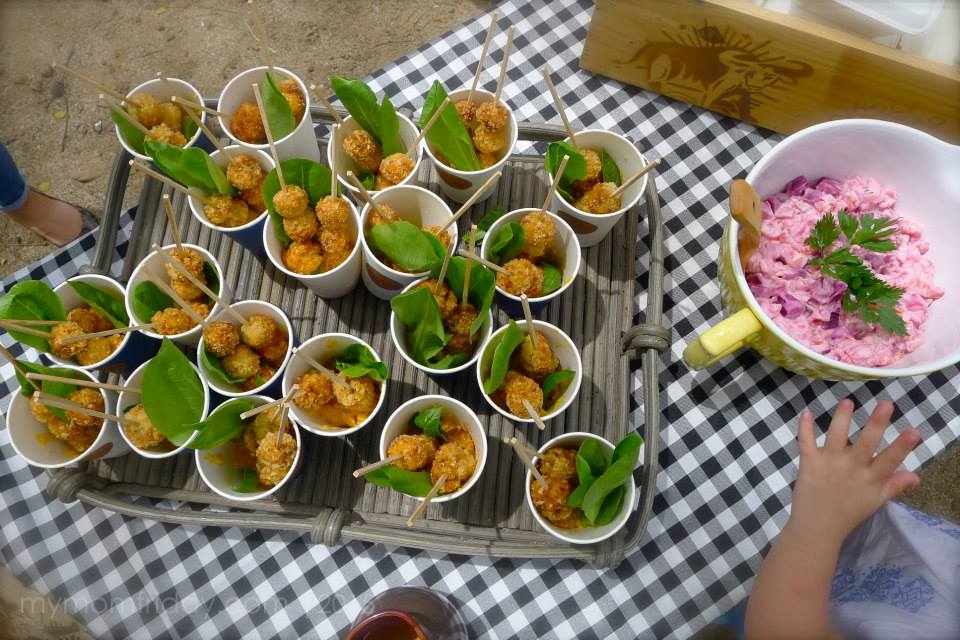 Iced teas and fresh juices for us to cool down. I had two bottles of the green iced tea! Ang sarap!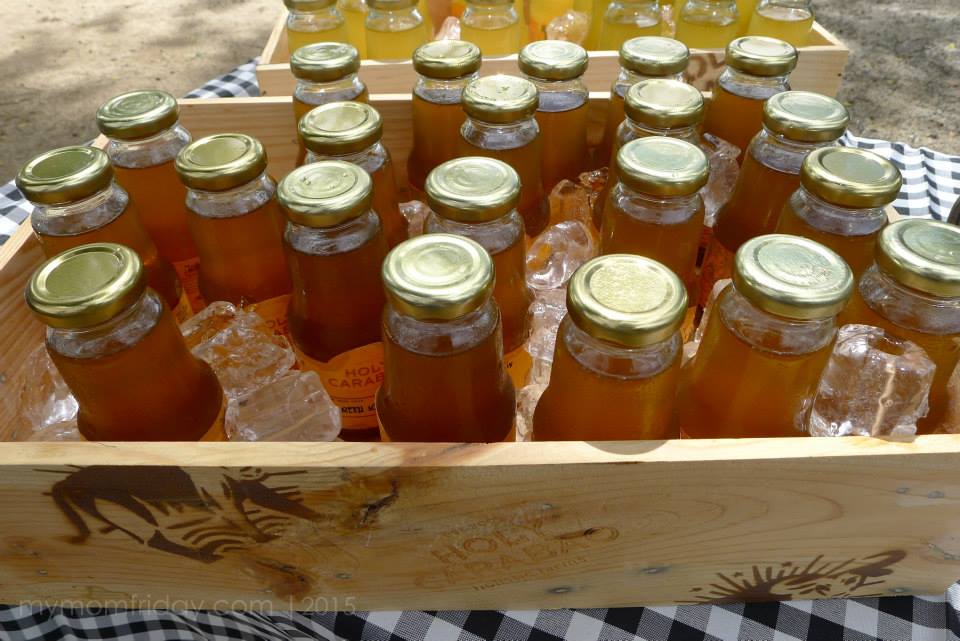 Salad with micro greens that are packed with flavor. Yes David ate these too. He had fun eating the micro greens and sprouts with his grubby  hands hehe!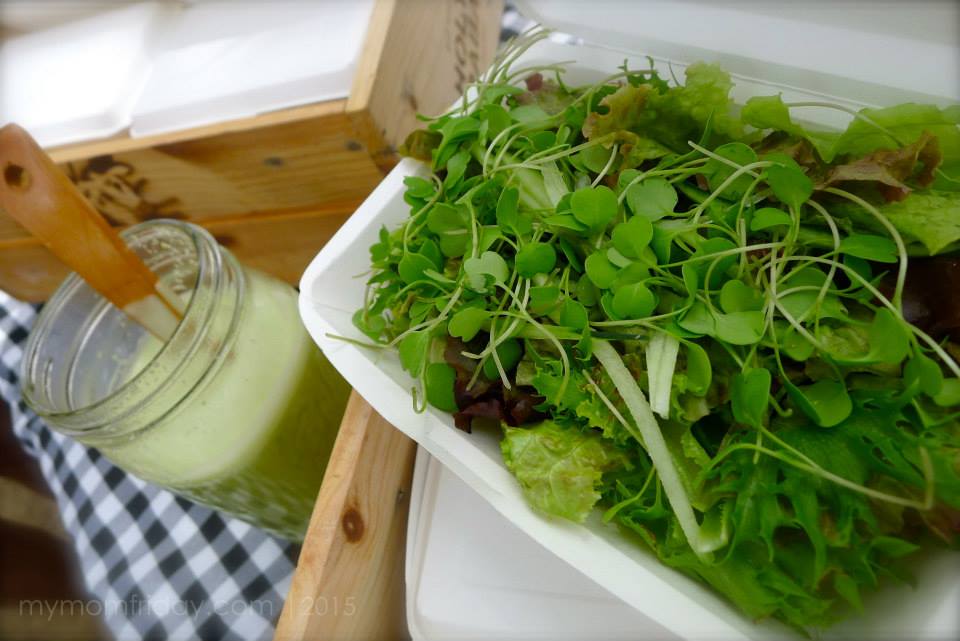 We were really thankful for the lunch and for the yummy, healthy goodness of Holy Carabao farms!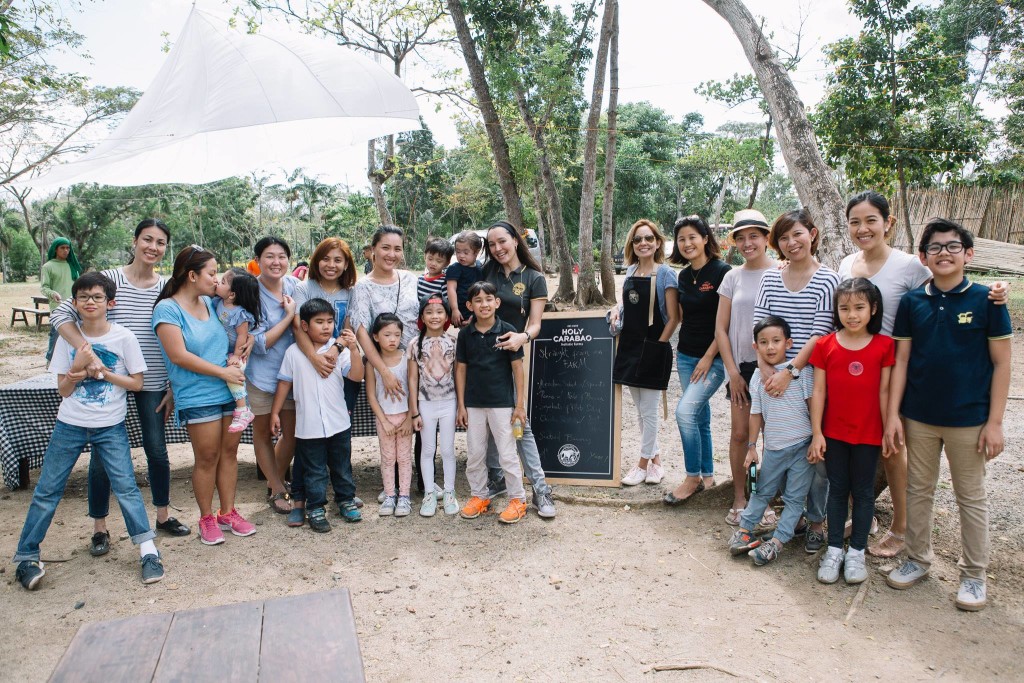 The Fun Farm really lives up to its name. I've been telling all my friends and family members about this place and they're just as excited as I am. The only question is WHEN.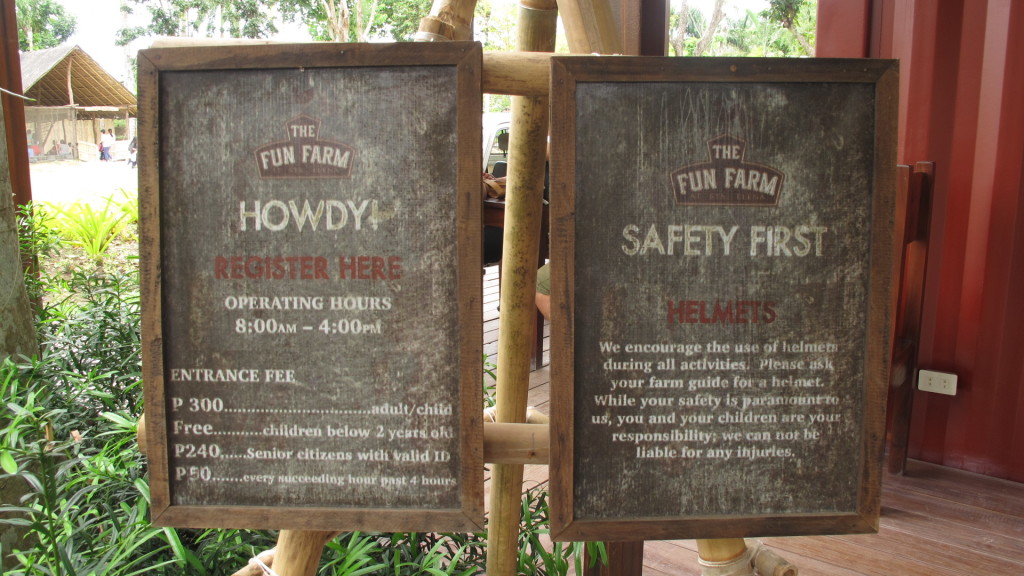 So, if you're planning to visit Fun Farm anytime soon, remember these tips:
1) Bring your own food and snacks including plates, utensils and water.  The Fun Farm has a big gazebo where  you can rest in the shade and eat your meals but they have also other picnic areas where you can get a table for you and your family.  Bring your own trash bags too for the mess 🙂  The Fun Farm is really clean and everyone picks up after themselves.
2) Bring extra clothes for you and the kiddos
3) Bring sunblock and mosquito sprays (we are communing with nature under the sun mudrabelles!!)
4) Call ahead! The staff can tell you how many people are coming so you can decide if you want to brave the crowds or not. Allot one whole day to enjoy the farm and  yourselves.
You can contact Fun Farm at these numbers:
0918-888-6588, 0929-752-1076, 0920-913-1349, 0939-803-2409
(049)573-2725

5) Don't forget the snacks!! Oreo now also has Strawberry Creme and Double Stuf which has more vanilla cream inside! Boom! Sarap!

The Fun Farm really does live up to its name. I have been to the place twice and I want to go back with the kids again.  It was a welcome break from the gadgets, a break from the TV shows and a welcome break from the monotony of our  routines! I enjoyed being silly with my boys and bonding with them and just having a full day all to ourselves playing and having fun.
I guess Mr. Rogers said it best: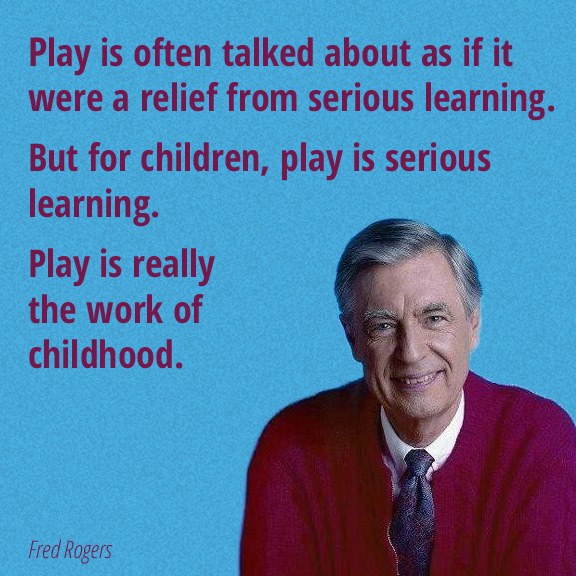 Check out the other posts on Sta Elena from the moms we spent the fun day with:
Mish, Michelle, Rina, , Cai , Didi,Conci
Some of the pics are mine, some are from Michelle (My Mom Friday), uncredited pics are from Lawrence Del Mundo