I have a countdown at the right side of my blog to DW's 2nd birthday. Unlike his first birthday, we plan his second to be a small celebration with just family and good friends. But of course, I still want a theme and good food and a cake. Last Saturday, I bought these candles in preparation of a big project I am hoping to pull off for the kid for his birthday.
It's ambitious for someone who can only make pancakes and grilled cheese sandwiches. But the thing is, I want to make a cake and I really want to make this one: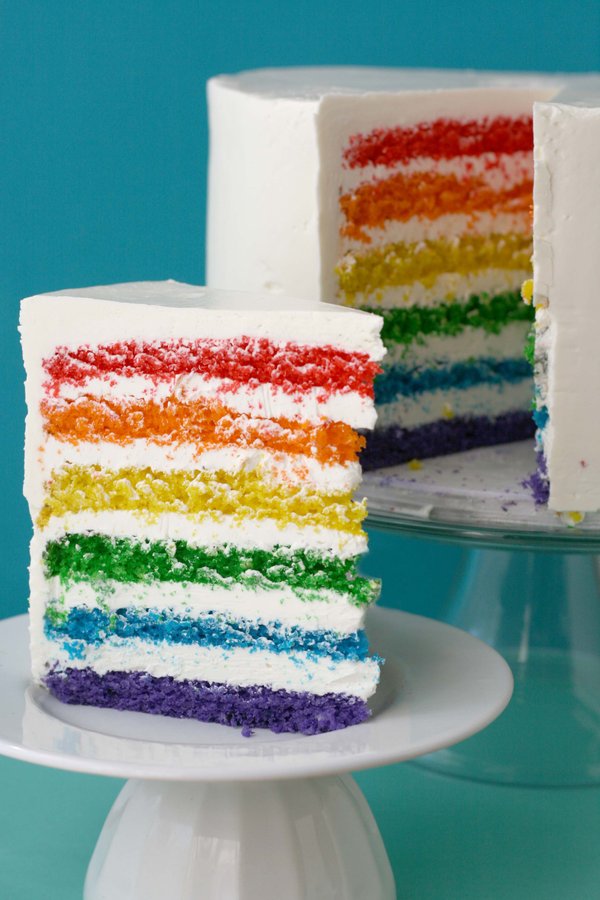 The Super Epic Rainbow Cake by Whisk-Kid
(Visit the blog too, she does the most amazing things with flour and sugar! Some are even too pretty to eat!)
DW can call out some basic colors now although he has trouble with his R's hehe so he says Wed for Red, Owenge, Vehmillion (joke!) Anyway, this cake would just be so fun to do for him. Ambitious? OO NAMAN! haha I don't know how I'm going to make this but I better start practicing now. (Update: I just bought cake mix and a hand mixer from Oster!)
Joy, a friend from UP who blogs at  Gourmeted gave me a "simple" recipe" to lemon buttercream frosting based on a Mamon Cake she made for her brother.  I have to warn you guys that you should never read Joy's blog on an empty stomach.  You'll soon find yourself reaching for something as soon as you land on her page.
I'll be posting about stuff that I come across that I might use for DW's party which I hope could give some of you who are planning kiddie parties on your own some ideas too 🙂 I have a folder in my PC that just houses pics of party ideas and I can't wait to share them with you!
I do hope this baking thing takes off. It's one of those things that I've been wanting to do but have never gotten around to doing because of a lack of an urgent reason to do so and now I can't wait to bake!
Before I turn the stove on, do you have any tips for me so that I won't blow up the kitchen or at least my cake would be edible? LOL! Please feel free to share your war stories in the kitchen too 😀