Looking for summer or after school programs can be confusing. There are so many programs to choose from and a lot of qualified centers that can provide our kids with the extra support they need. Of course we need to decide which programs do we prioritize, kung academics ba or sports? This is where a really good PTC with your kid's teachers benefits the parents. David's recent PTC showed that he excels in his academics but he needs support in team play. Also, David can get too intense and competitive that he sometimes doesn't have fun anymore.
Dan believes in what sports and team play can teach kids. He grew up playing team sports so when the opportunity came for David to be part of Ready Steady Go Kids Philippines, we didn't hesitate!
So we found ourselves one Saturday morning in the Valle Verde V gym to try out Ready Steady Go Kids.  Before this program, we've tried other sports programs for David. He took up swimming and he also tried jiujitsu but he never really enjoyed them. It came to the point that he wished that the classes would end right away and that he dreaded going to the classes 🙁 So I wasn't really expecing much from RSGK. David was actually hesitant when he learned he was going to play sports. Pero sige go lang kami and I did my very best to be the best cheerleader for kuya.
Well after one class, David declared that he LOVES RSGK. Once class ended, he asked if we're going to be back the next Saturday. Pumalakpak naman tenga ko haha! We attended 8 Saturdays of RSGK and each day I really saw and realized why David loved RSGK . Let me boil these down to 5:
1) Engaging Coaches
The coaches are friendly and they really engage the kids.  Coach Sunny teaches in David's class. His positive attitude and energy really rubs off on the kids so that they're all gung-ho, happy and excited to learn their lessons! They are not intimidated at all which makes it easy for the coaches to motivate the kids to finish the activities.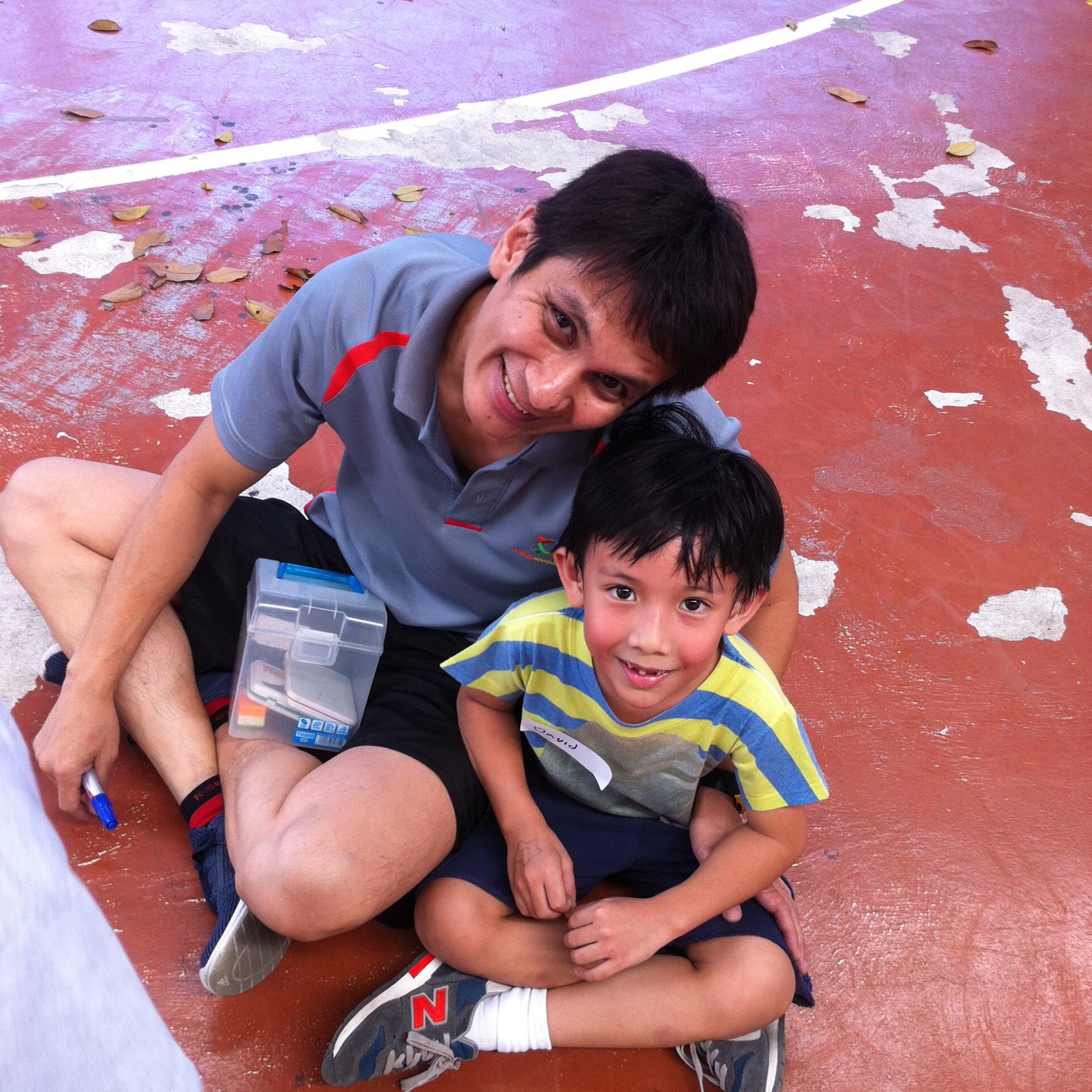 The fundamentals of stretching, holding a golf club , cricket bat or going through obstacle courses are taught in very fun ways. The kids enjoy going through the motions of the exercises because everything is one big fun activity for them.  RSGK is different in that it doesn't focus on just one sport. In 10 sessions, kids can learn the fundamentals of 5 sports. David learned football, cricket, athletics, golf. He missed the basketball sessions because he was sick. What's awesome too is that the kids are taught to stretch and cool down before and after class. I would really love for Noah to join when he's older. Saling pusa pa lang sya ngayon but the activities are so perfect for developing focus, gross motor skills, balance and a lot more!
Learning football 🙂
Learning cricket 🙂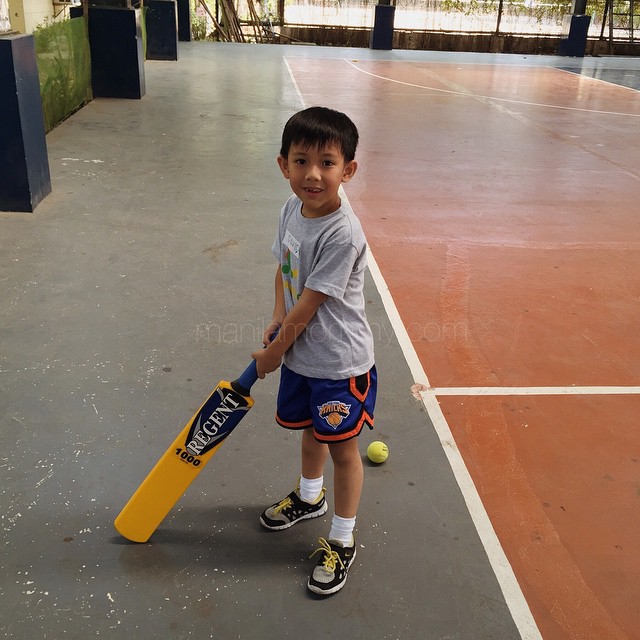 3) Life Skills
The kids all help out each other and play with each other in a friendly competitive spirit.  For David , we really realized that having him play in a team with kids of different skill levels teaches him to focus on enjoying the lessons. David also learns to listen to directions and follow instructions and to follow through on his activities.  He's also gotten more self-confident because he knew he could finish tasks and that he could actually do what his coaches ask him to do (while still having fun!)
4) Qualified Coaches and Easy Enrollment
Ready Steady Go Kids is actually from Australia and is one of the its top preschool sport and exercise program. The coaches are all certified to teach and have a minimum of Level 1 Coaching qualification under the National Coaching Accreditation Scheme from the Australian Sports Commission. You can always contact RSGK to ask for trial classes and if your kid wants to join, he/she is free to do so because the classes are structured so that they can accept enrollments throughout the term (don't worry fees are prorated too!!)
5) David
I asked David too what he though of RSGK  and he said
"I like it and it's so much fun"
We just enrolled David again in RSGK for the summer  and he can't wait for the term to start!
If you want to know more about RSGK, contact them at the following:
Ready Steady Go Philippines
Mobile Numbers: (02) 631-1497/ (0917) 863-0094 /(0919) 993-6189 Smart
website: http://readysteadygokids.com.ph/
email: info@readysteadygokids.com.ph