*I wrote about this originally at my old blog when DW was just 5 months old.

During the course of buying baby stuff, you tend to discover a thing or two that makes you say WOW! it really works!
It happened to me and BDW when we were buying teething rings for DW. At Mothercare, I already chose one and showed it to BDW who said that the plastic could be too hard for the little guy. I told him that most teethers I know are made of hard plastic. But he insisted on looking for softer teethers and so search we did.
Our first buy were these Bright Starts teethers. These came in 1 pack and were relatively cheap. We bought them because they were soft and seemed the right size for DW to grasp. A downside though was that you can only wash them with hot soapy water. As they are made plastic, they will melt in the sterilizer
Like most teethers, you can put these in the refrigerator to cool them up as the cold can be anesthesizing to a baby's swollen gums. However, when we gave DW the cold teethers, he was not able to hold them very long. Nalalamigan din sya, so after a minute or so of teething, DW would just let go of the teethers. Sayang lang.
So we tried to find alternatives.
At Baby & Co, I looked and asked for teethers and it was a teether from Pigeon that we went home with that afternoon. The packaging was in Japanese so I took the saleslady's word that the teether is made of soft silicone and — this one really convinced me to buy it — you can throw the teether in the sterilizer with the rest of the bottles! For us moms, I think anything that can be sterilized is good right?
DW took to the teether right away, he gripped the handle and started chomping on one end. Success! and he looked so funny while doing it too. We bought another one so that he can still do his chomping while the other one's being sterilized.
I was so intrigued by DW's teether that I researched on the net what it really was. From Pigeon's website , it turns out that what we bought was actually a lip trainer. Here's what the site says "The Pigeon Lip Trainer enhances the baby's lip growth, which is important for swallowing and eating first foods." They also have a gum trainer which introduces "3 different textures for baby to chew on". Pigeon also has connectable fruit teethers as well as rattle teethers.
We're quite content with DW's teethers and we probably won't be buying more. Most of his toys come with teethers anyway and he'd already chomped on most of them already. These days, he reaches out for anything and puts everything in his mouth and chews on them, even books! (See here for more on the joy of a teething baby).
I really recommend the Pigeon teether. It helped him practice his grip in addition to soothing his swelling gums. Whenever he's fussy we just give him the teether and he would quietly chomp away. The price is sa bit steep than the rest of the teethers out there since a piece costs roughly around Php250-Php299.
Before I forget, we use Razbaby's soother clip with the teether. We slip the teether into the white ring and the teether's large ends prevent it from falling off. We clip the entire thing onto DW's bib or shirt so that when he tires of it, he could just let go and the teether won't fall to the ground.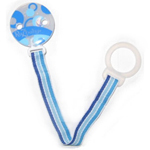 So there that's my bit on teethers (pun intended har har). Masyado lang akong natuwa sa teether ni DW! Hehe 😀 I love giving this away at baby shower presents 🙂
The verdict: 2 thumbs up! one baby satisfied! 2 parents in peace.