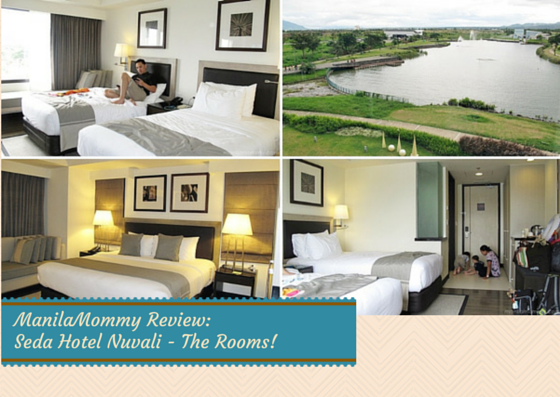 Growing up, spending a weekend at Laguna meant piling up in our car with our swimsuits to drive off to a house we rented with a pool so that we can spend two days swimming in "hot springs" water until every inch of our skin becomes wrinkly. A lot of really fun memories with friends and family have been made this way but recently our trips to Laguna have become few and far between. That is, until Nuvali came along which really revitalized Sta. Rosa!
We have been to Nuvali a couple of times for the good eats, to feed the MILLIONS of giant Koi in Solenad and of course to do a little bit of shopping at the outlets. What we've never done again is to spend the night at Laguna so when I got an invite to try out Seda Nuvali, I did not think twice! We booked an overnight stay at the hotel on the weekend before the Christmas holiday. Dan and I figured it would be great to rest and relax with the kids and Ate Ann and to also to finish our Christmas Shopping at Paseo De Sta. Rosa.
Well in a nutshell, Seda Nuvali did not disappoint. It's a boutique hotel, which means the rooms are smaller but they do make up for it in a lot of other ways. The hotel just opened in March 2014 as well which means everything is brand spanking new!
The rooms all have amazing views of the lake at Solenad. Looking outside was just so relaxing. We opened the curtains of the big windows to let all the light come in to our room.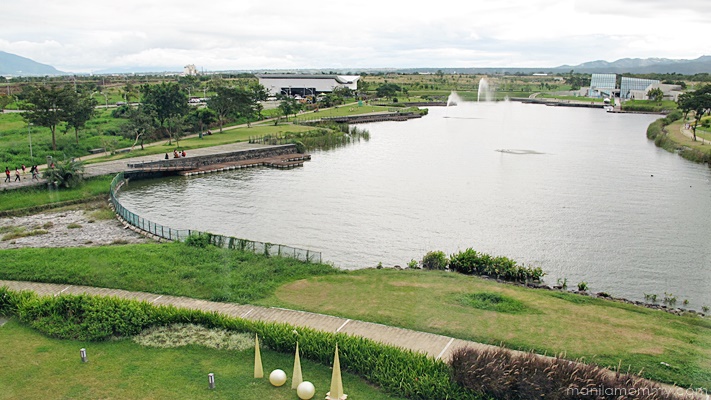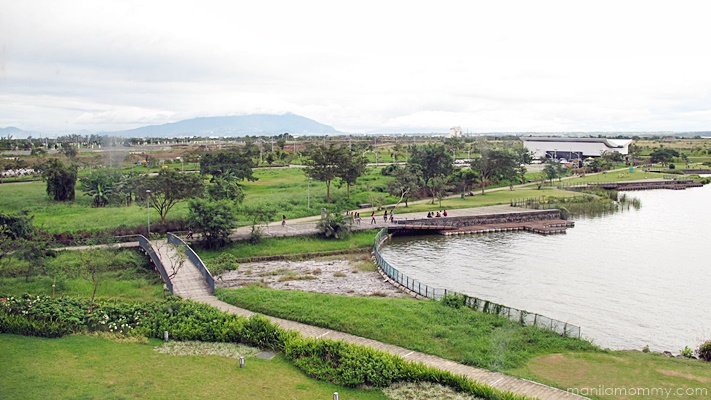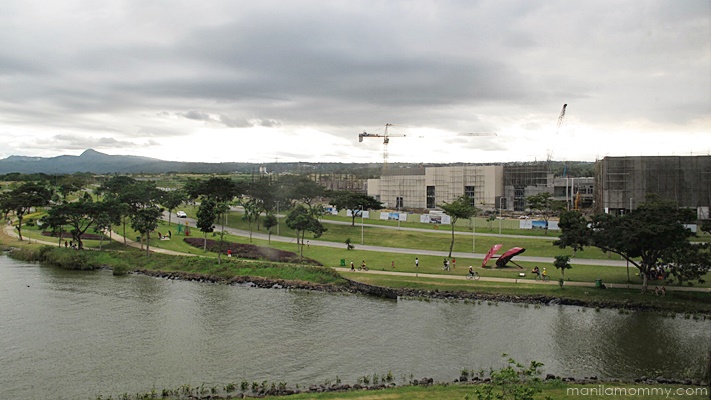 Wi-Fi and broadband internet access are free for all hotel guests so I was snapping and uploading these pics onto Instagram the entire weekend we were there hehe.
We were booked in Deluxe and Premier rooms, which was really generous of the hotel. Between the two, Dan and I liked the Premier room more because it is much more spacious and it also has a small kitchen with a microwave which is great for washing Noah's bottles and supplies.  This post will just be about the rooms. I will be breaking my review up into small pieces because I took so many pics of the picturesque hotel hehe.
So without further ado, here are some pics of the Premier room:
The room is 37 square meters big with a king sized bed and a sofa which can actually also serve as an extra bed. Also included are
40-inch LED HDTV with cable channels
IDD phone with iPod dock
Alarm clock voice mail and radio
Coffee and tea making facilities
In-room dining
Mini-bar
In-room safe
Kitchenette with microwave
Access to the Club Lounge where you can avail your breakfast (for free!) or have afternoon snacks, coffee and afternoon cocktails (I'll post pics of the lounge in my next post)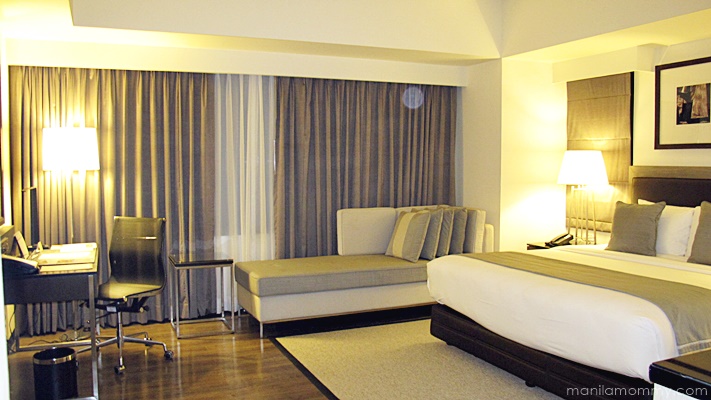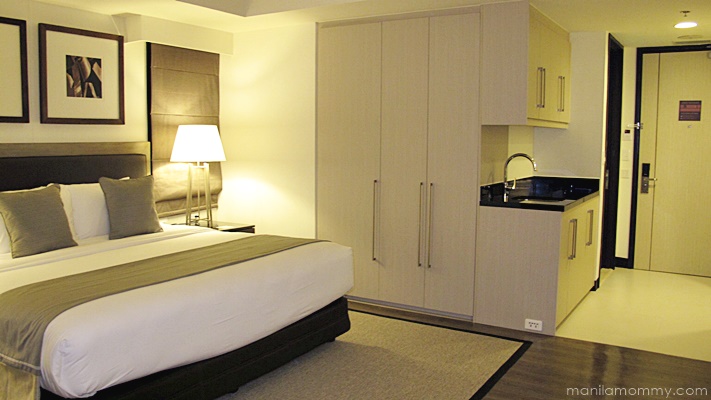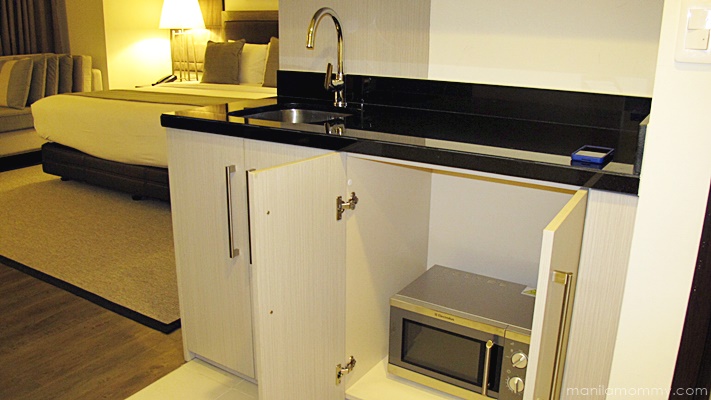 The bathroom is small and has no bath tub unfortunately. I know some of the other rooms have bath tubs though.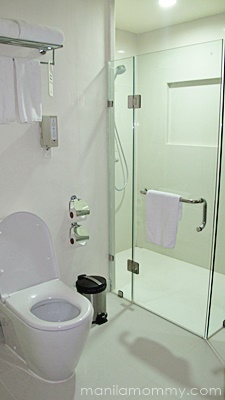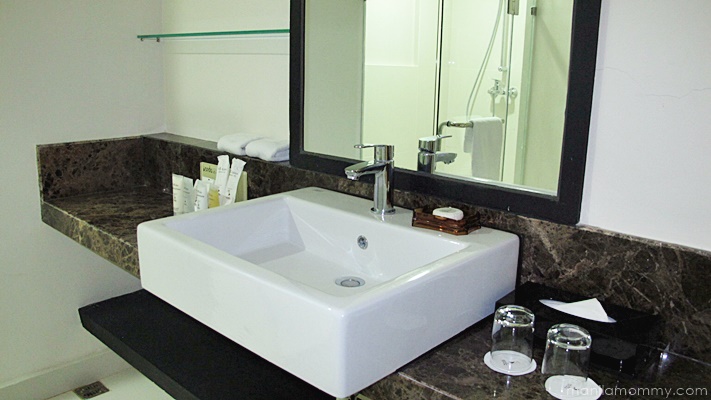 Here are pics of the Deluxe Room:
Deluxe rooms are 30 square meters with king or twin beds. We got twin beds and we figured that the sleeping situations would be tight given that there are 3 adults and two kids in our group.
The furnishings and appliances are the same save for the small kitchen and microwave.
40-inch LED HDTV with cable channels
IDD phone with iPod dock
Alarm clock voice mail and radio
Coffee and tea making facilities
In-room dining
Mini-bar
In-room safe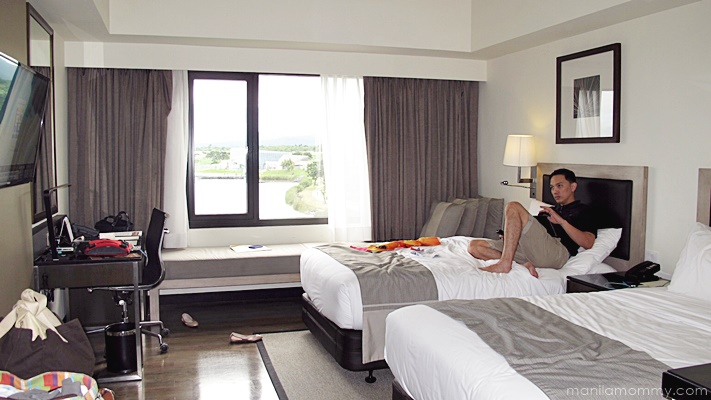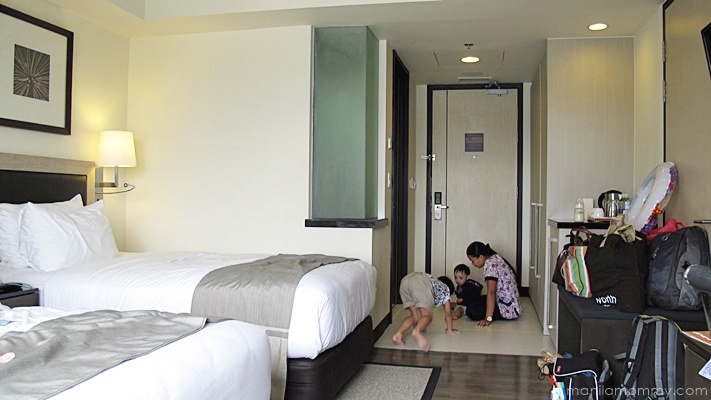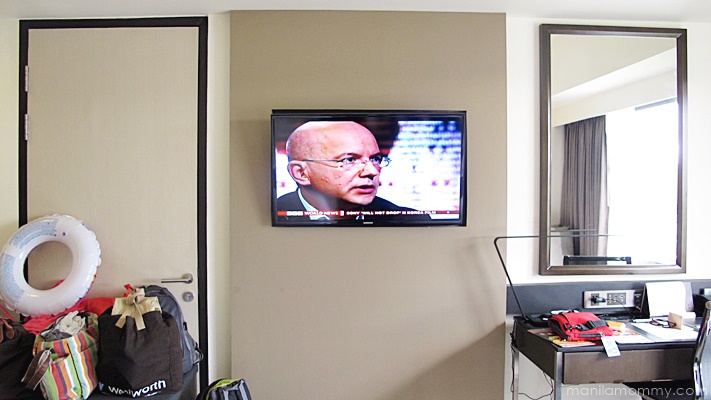 The bathroom is small but clean and I love that that towels, slippers and robes they provided are all soft and fluffy. The beds are also comfortable but the twin beds can really just fit one adult and one kid. The king sized bed in the Premiere room provided enough room for David and Noah to play their games and crawl around without hitting each other haha. Dun kasya kami haha!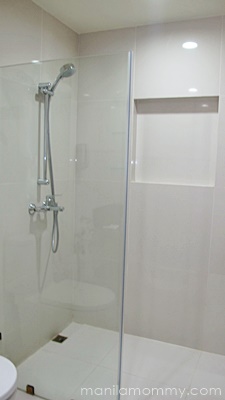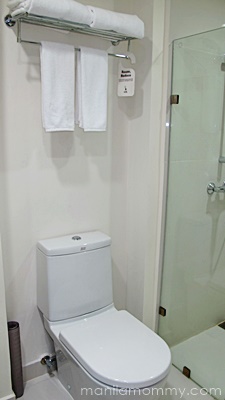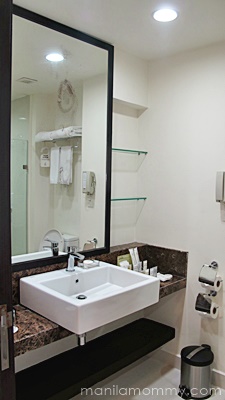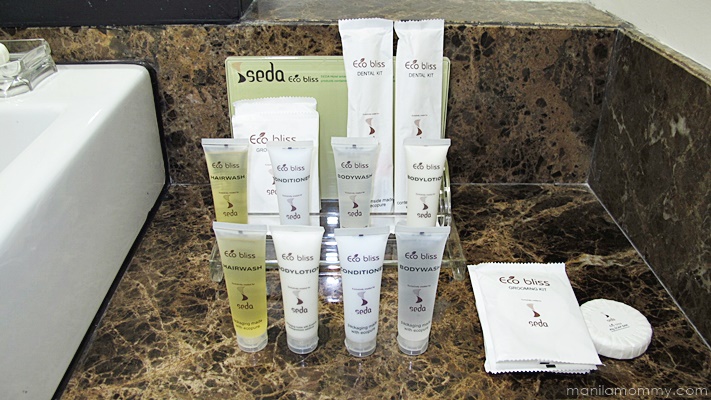 So when night time came, Dan and David slept in the Premiere room while me, Noah and Ate Ann slept at the Deluxe room.
The rooms reminded me of the boutique hotels I stay in when I'm sent away on business trips. It really reminded me of Grand Park Orchard with the well appointed furniture and appliances. But of course Seda Nuvali has the sunshine, the lake and the awesome pool which GPC doesn't 😉  The rooms are just right for a family to rest and get a good night's sleep without sacrificing the basics that we have all come to expect from hotels. I also love the small details most especially the reading lamps beside the bed which is great for bed time reading. I actually brought books because I wanted to catch up on my reading but I wasn't able to crack open any of them because the kids were too busy having fun at the hotel 😀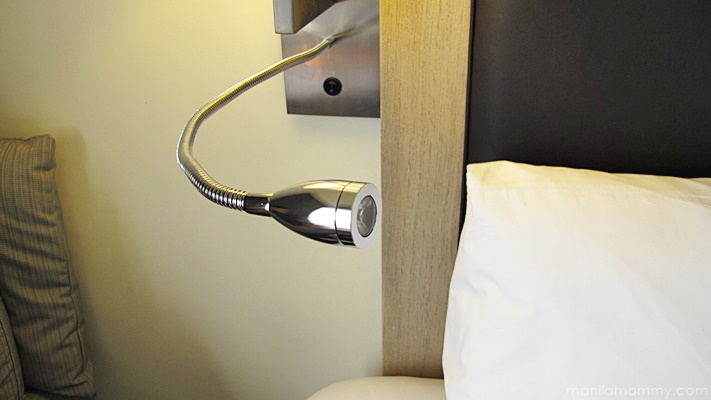 That's it pancit! My next posts will be on the food and facilities!
To check out the rates head on to http://www.sedahotels.com/nuvali/rooms.php
They also have ongoing holiday promos too! Just click here: http://www.sedahotels.com/nuvali/promotions.php
They may also be reached at  (6349) 255 8888 or email nuv@sedahotels.com