Summer to me growing up means being shipped with my brother to my grandma's province in Negros Oriental. We would spend a month or even the whole summer there going to the beach. There were no activities, no camp, and no summer school. I occupied myself by reading my lola's elementary books (she was a school principal) or playing old records in her portable turn table . Honestly I don't know how I got through lazy summers like that.
It's probably why now David's summer has been pretty much jampacked. I imagined him just like me growing up bored and listless. Yes doing nothing has its own pleasures too but seriously my kid needs to do stuff and learn!
So, he went to 2 programs involving food and now he's in swim class. The in-betweens are meant for him to rest but apparently this kid has so much energy that he doesn't even nap anymore!
Enter the #SigeSabado playbox. The big and lovely box that's filled with crafts and ideas to keep a boy like David pretty much happy and content!
The box itself is pretty impressive, it looked like a huge wooden treasure chest. David is a big fan of Jake and the Neverland Pirates so you can just imagine how he was so pumped up when we were opening the package.
When we opened the box, there were tons of materials to and guides for different crafts and activities. David zoomed in on the monggo seeds! He shook the plastic cup, got the plastic watering can and pot and was so excited to plant monggo!
The different activities in the box included, choco art, designing a harlequin mask and an animal papier mache, a popsicle pen holder, making your own slime, dinosaur egg bath bombs and a tie-dye shirt! Some of these are things that I haven't done myself so I'm just as excited as David is!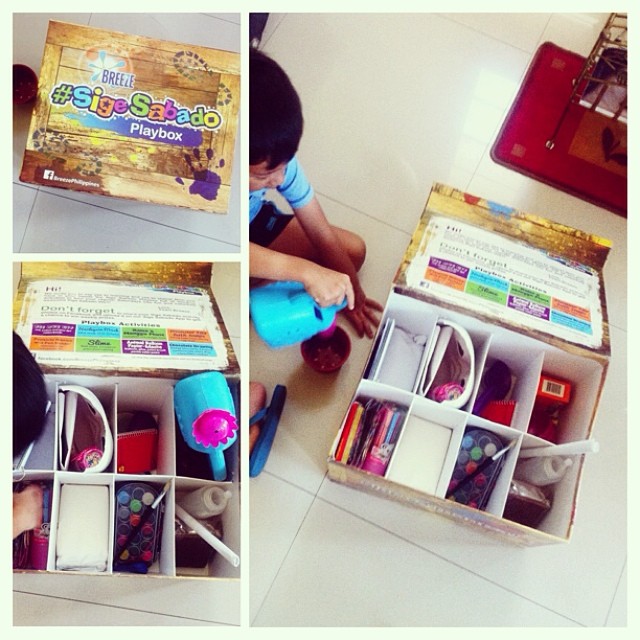 There's an awesome parenting quote that goes "Pardon The Mess, My Children Are Making Memories" It pretty much applies to our family. We're a rowdy bunch and we're not afraid to get down and dirty. We have Breeze in our laundry room which our helper loves using because she doesn't need to scrub and use other products to clean our clothes. Breeze is enough!
The #SigeSabado Playbox is really right up our alley and I can't wait to make more fun memories with David. But first we need to find soil for his monggo haha!
Breeze Philippines is has an ongoing contest at its Facebook page. All you need to is to share your own #SigeSabado moments with your kiddos. The grand prize is an all expense paid trip to Lego Land Malaysia Resort for two, which also includes Php5,000 pocket money and Php3,000 meal allowance.
To join, like the the Breeze Philippines FB page and click on the Sige Sabado App. 
Here's our entry! We just did the monggo activity!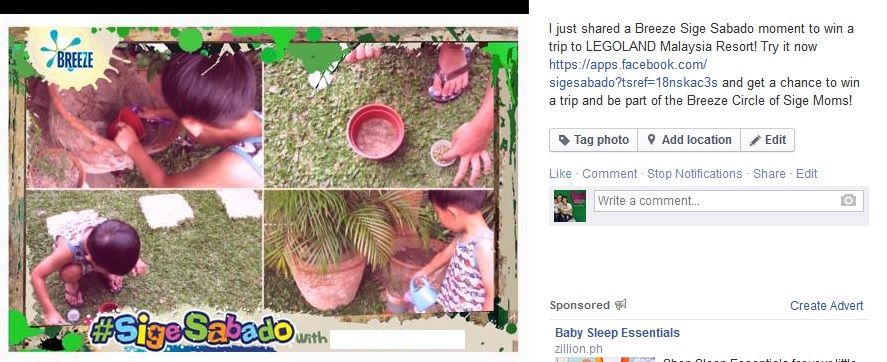 Good luck! Have fun! Make a Mess!!