As of writing, I am c0nfiguring (naks high-tech) the 3 phones I got under Smart's Family Ties Plan but before I post about how we'll all use this plan, allow me to share with you this awesome breaking news from the good people of Smart. The Smart Bro Dashboard Prepaid (Postpaid to follow soon) will allow Smart subscribers to manage and view their accounts easily!
Although I use my current phone as a hotspot to access the net while using my laptop my main worry is that I can't track my data usage. I have an old prepaid stick from another brand that I haven't used in a while because everytime I load credits into it, nawawala sila agad! Of course I have no idea where the credits went and I have to accept that I have lost 50 pesos of my load somewhere in the ether. I usually use the stick when I'm out of the house and I have to work on my laptop. Sometimes I connect to the net to finish a blog post while waiting for Dan to finish his basketball games.  Pero minsan nakakawalang gana talaga gamitin because kinakain ang load ko and I have no way of tracking where they went.
But if you're a SmartBro prepaid subscriber, consider yourself lucky because you'll now have total control over your usage and subscriptions via the SmartBro Dashboard!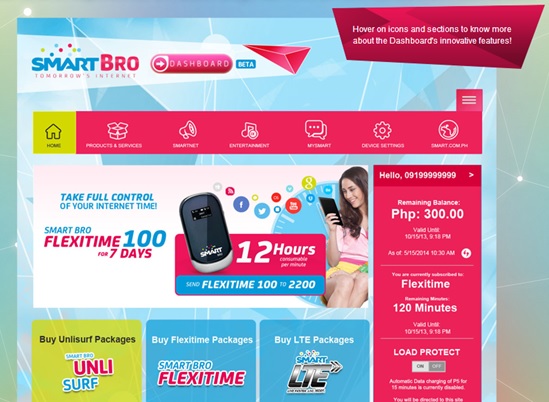 How to Access The Dashboard:

Easy peasy!
 For new subscribers, just plug in your Smart Bro Plug-it or connect to your Smart Bro Pocket Wifi and open your browser and the dashboard will automatically pop out.
 For existing subscribers, dashboard will appear upon expiration of bucket or zero balance. Or just access it through http://smart.com.ph/brodashboard (update! new link is here: http://tomorrowishere.smart.com.ph/brodashboard/)
Read on to check out what else you can with your dashboard
So when my friends from Smart told me about the dashboard, I had to check it out! I clicked on the SmartBro dashboard link earlier and here's what I found out:
The front page will display your number and real account information such as your current load balance and current package that you're subscribed to.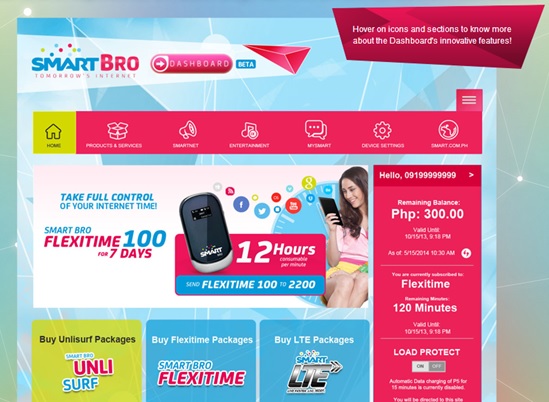 Clicking on products and services will get you the different SmartBro packages you can subscribe to like  Flexitime, Unlisurf, Always On, LTE packages.  There is a Volume meter to monitor Always On packages and a time counter to monitor time-based packages. These tools really help in tracking usage! At least you'll know where your credits are going.
The dashboard will also send you notices if your load and subscription has expired or if you have gone out of the free area.
Speaking of freebies, click on Smart Net to use FB and twitter free!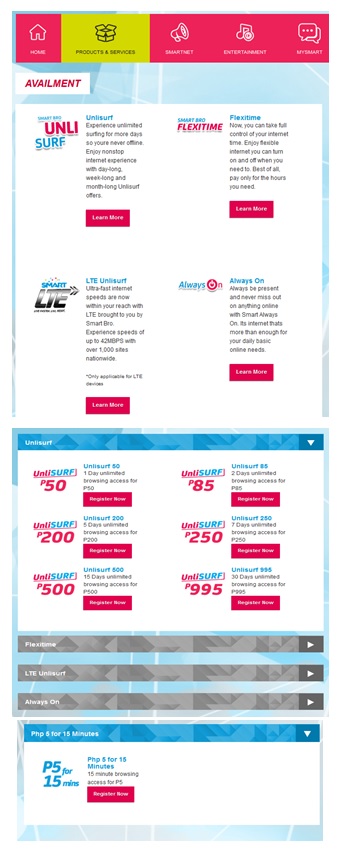 My most favorite part though is the entertainment section! Hello music and movies!!!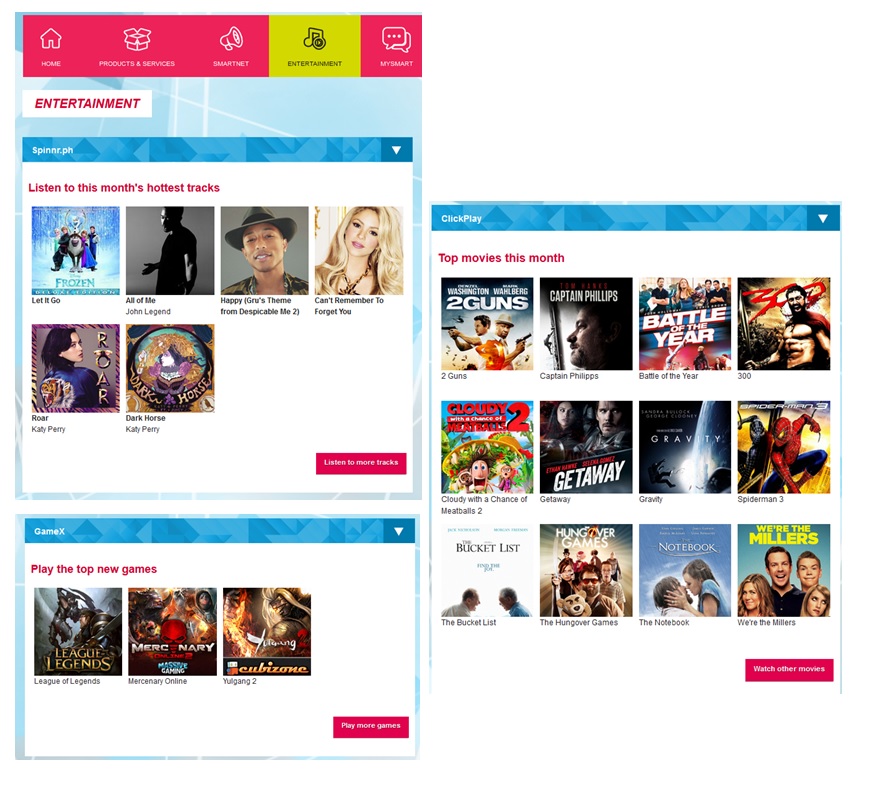 I've just switched to a Smart line and I really think I have to get the SmartBro na rin. Ang luma na rin naman ng stick ko and I need to upgrade too considering that I sometimes need to work remote at my day job. I blog on the go so this will make life much easier for me. I can also budget my credits because I can keep track of my usage!
If you want to check out the dashboard yourself click here