Our family has been on the receiving end of a lot of love and support lately that another round of thank yous are in order. I did my first thank you post (here) because I was so overwhelmed and humbled by the support and love that we have received from you, our family and our friends. I read every comment here at the blog and I am floored at the welcome Noah has received and is receiving.
In addition to the awesome moral support, several mompreneurs and businesses have also sent me and Noah very lovely and unexpected gifts. I did an initial thank you on Instagram but I know that's not enough so here's a thank you shout out today to all those who sent us gifts. I'll be including a link to their stores as well. I hope you visit these fine businesses and consider them when you do your Christmas shopping 🙂
Let the thanksgiving begin:
Green Sproutlets bib, burp pad and receiving blanket. We used the blanket when Noah came home and we still use it when we have to go out. The items are super soft and made of safe, hypoallergenic and high quality materials.  I love the blanket the best because it's so soft and comfortable. I love wrapping Noah in it when we go to his doctors because it's large enough to protect him from the elements.  The soft matching burp pad earns pogi points because even when I'm looking losyang at least my baby has matching accessories haha 😀
Know more about Green Sproutlets here. You can buy Green Sproutlets at Mothering Earthlings and Zalora.
Googoo&Gaga, Agoo and In the Crib Onesies from Mothering Earthlings. An assortment of hip onesies came from Rone of Mothering Earthlings, a really cool online shop of Pinoy made kiddie and mommy gear. The items at the shop are carefully curated so you get only the funkiest items in your shopping cart 🙂 Rone also selects only Pinoy made products and is very supportive of momtrepreneus. Thanks also to Belle of Cruisin Mommyhood who gave me a Mothering Earthlings gift card!
Shop at Mothering Earthlings here.
Fabulous Mom Sleep Bra from MamaBabyLove 😀 this bra is the softest bra ever and is perfect for nursing at night.  Eli (painterswife.com) reviewed this bra and it is top pick for CrashTestMommies. You can read the review here.
Visit MamaBabyLove and get your Sleep Bra and other nursing essentials  (I buy my breastmilk storage bags at this store) here.
Mommy Treats assorted box of lactation goodies. Good friends Jen, Jenny and chief baker and owner Paola Loot gifted me with Mommy Treats goodies when I came home from the hospital. This definitely helped me with my supply. I ate the treats after pumping as a reward too especially at night when I got sooo hungry. I just recently ordered a 12-day supply of my favorite lactation brownies and lactation spoons, which are perfect when dipped in a hot cup of decaf! I did a review of the lactation brownies at Crash Test Mommies and is my personal top pick! You may read the review here.
Buy Mommy Treats lactation goodies here.
I was ready to click the buy button for a deal on the Aquasana Shower Filter from a group buying site when lo and behold, I was sent a unit from the company 🙂 I wanted the filter so that Noah can bathe in clean water and to also reduce the amount of chemicals we get from ordinary tap water. Now I don't have to worry when David or Noah drinks the water from our shower. I did a review of the unit at CrashTestMommies. The installation was less than five minutes and the filter cartridge is not due to be replaced until April 2013! Talk about value! Read the review of the shower filter here.
Visit the Aquasana Store and see what system fits your family's needs here.
Omma Organics sent Noah an adorable pajama set recently.  Omma Organics items are made of organic cotton and are free from harmful chemical dyes and pesticides.  They have a wide range of products that are really adorable and perfect for babes and toddlers. I would love to buy their baby hats for Noah soon.
They'll be at the upcoming Mommy Mundo bazaar but you may also check them out in their facebook page here or at their multiply site here
Stache Clothing sent Noah a personalized superhero onesie. It really was such a sweet gesture. Stache has other superhero onesies as well as other cool designs that will really show off your babe's fun personality.
Visit Stache here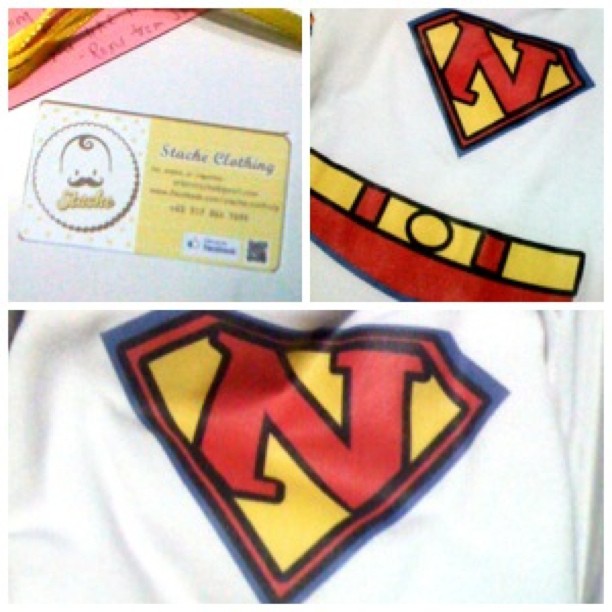 Scribe Writing Essentials is one of our favorite stores in Eastwood. When we need to buy gifts for special friends or buy writing materials, this place is the best store to go to. They recently set me a personalized diary and a seal set that would add the perfect finish to a handwritten note. The store has an ongoing promo too wherein shoppers can get a gift cheque worth Php 200  for every purchase totaling Php3,000. The GCs may be redeemed beginning 2013.
Scribe is at the 3rd level of the Eastwood Mall and at www.scribewritingessentials.com
Thank you so much for all these gifts!! Rest assured that they all found a good home 🙂