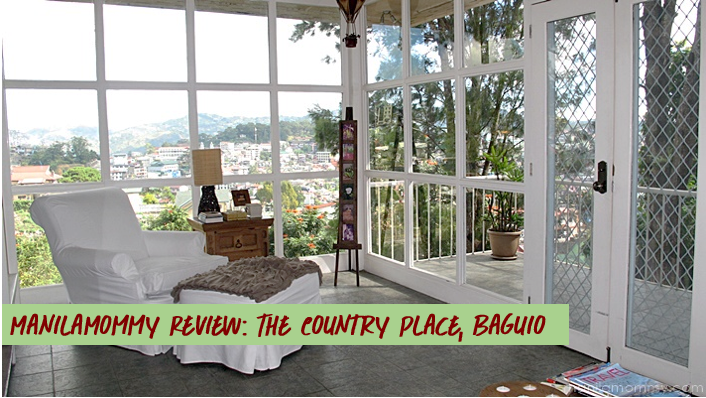 Do you know how when you visit other people's houses or when you stay in hotels that you take mental pictures of certain features you love and you file them away in your head in a little folder named "my dream house". I have a few pegs tucked in that little folder. When we went up to Baguio during the Papal Visit, that folder grew a little bit fatter because of a really wonderful vacation house we rented during the holiday.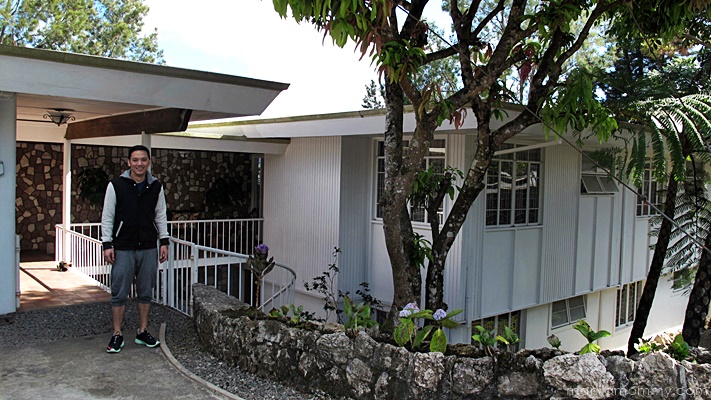 Tucked in Dominical Hill Road behind the Our Lady of Lourdes Grotto, The Country Place is an unassuming white house by the road. This is the front which is what everyone sees on the street.
When you turn a corner, you see this! The whole house has three areas each named Residence 1, 2 and 3. Families and groups can rent the house per area for Php12,500 a night. We rented the top floor, Residence 3. We were a group of 13 adults with two kids and the area still had some room to spare.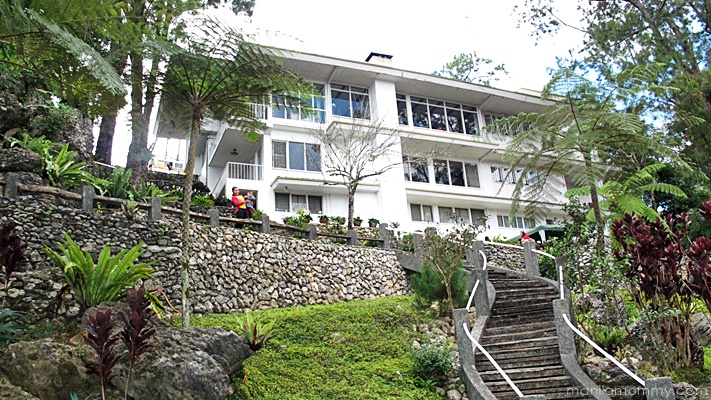 This is the entrance to our floor from the garage, which can fit four cars.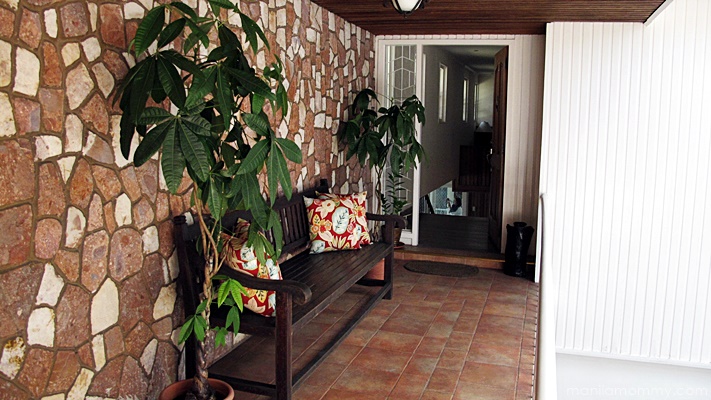 This is the foyer and the hallway leading to the rooms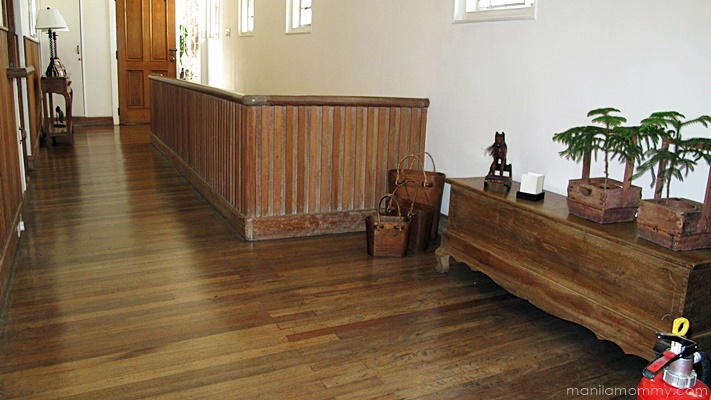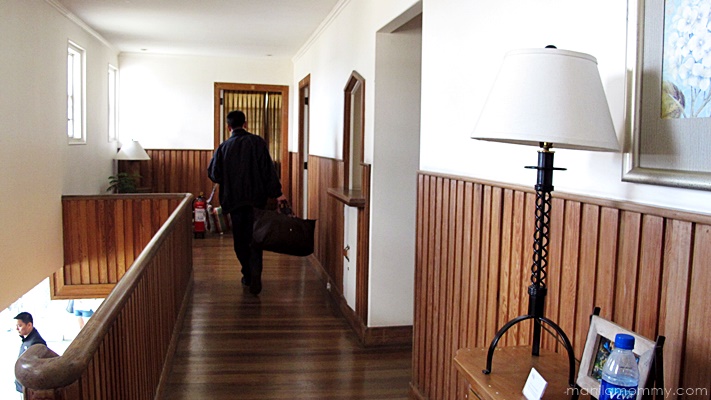 A staircase leads to the common areas: veranda, living area with working fireplace, dining area and kitchen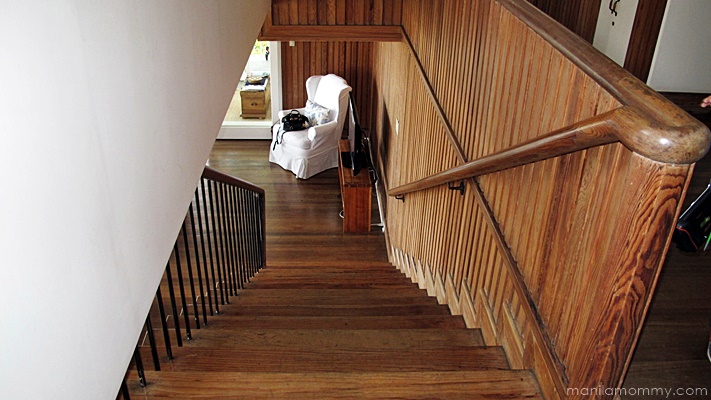 But before we move to the ground floor, here are some pics of the rooms.  Our family stayed in the master's bedroom. We weren't able to get an extra mattress for Yaya Ann but we were still able to fit, yep all 6 of us in the king sized bed. The master's bedroom could actually fit in three to four more adults with extra mattresses because of the big floor area.
Here's the spacious king sized bed where Ann, me, Dan, David and Noah slept.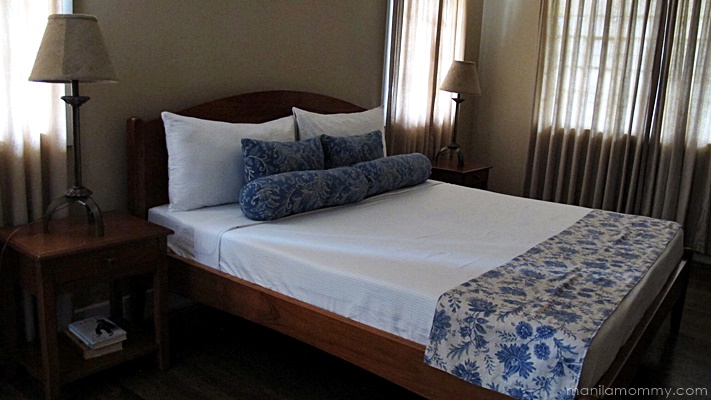 There is a dresser, drawer, closets and extra space that's not seen in the pic below. Right next to the dresser is the bathroom door. We shared a bathroom with another room.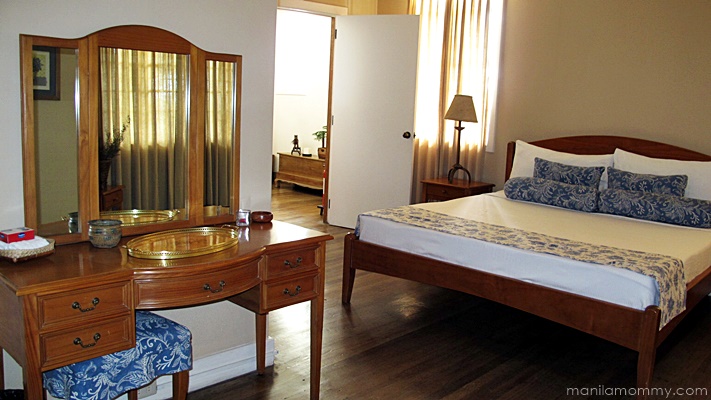 The rest of the rooms had single beds which house all the other Santos cousins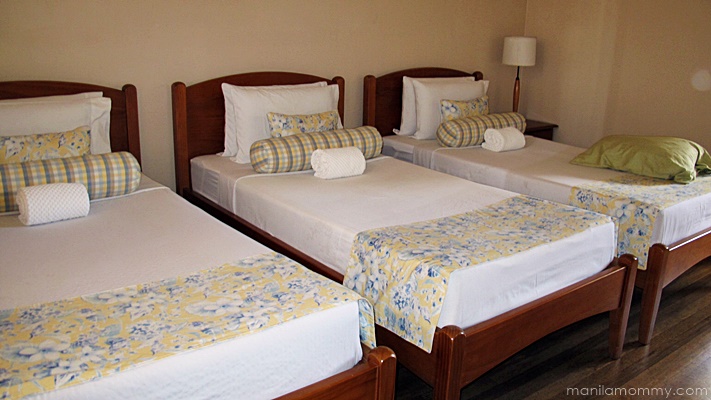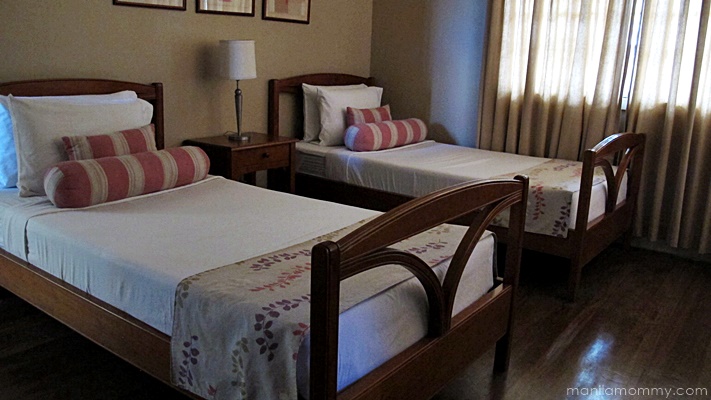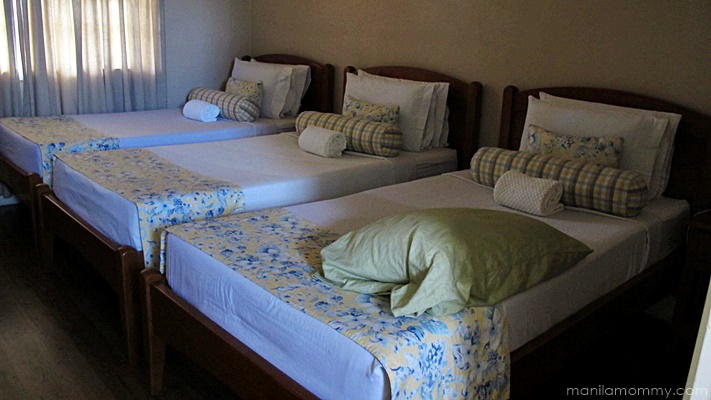 There were a lot of extra comforters and blankets in the closets. We just pulled out the comforters and used them around the house because the temperature sometimes would dip to 15-17 degrees at night!!
The best feature of the house is the common area. The picture windows brings so much light into the space that everyone hung out in. The living room has a large comfortable sofa with two wing chairs. We always found someone sleeping in this area. This is also where the fireplace is.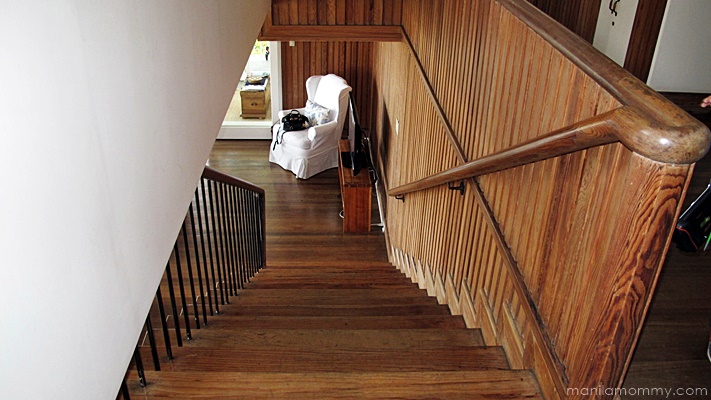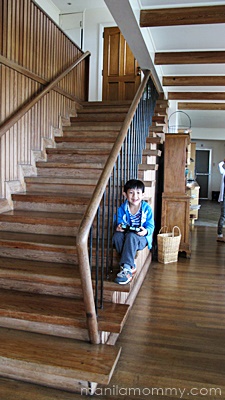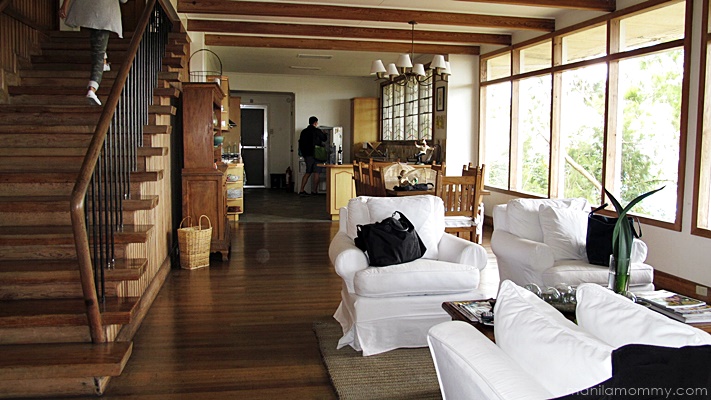 A working fireplace! We got firewood from the very helpful staff who are in the premises 24/7. They also helped us start the fire.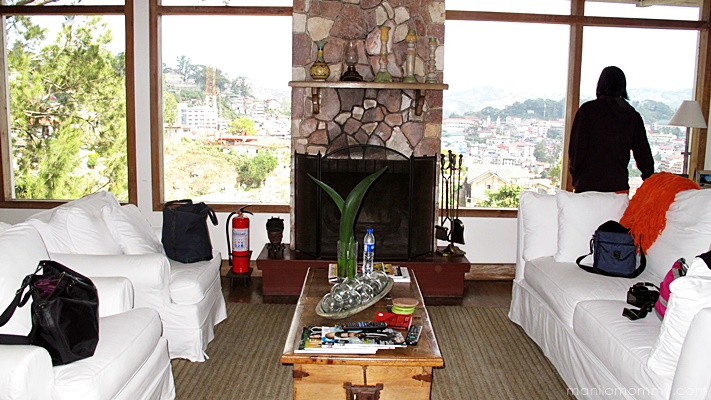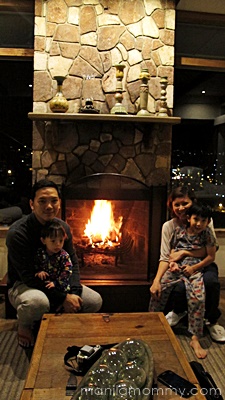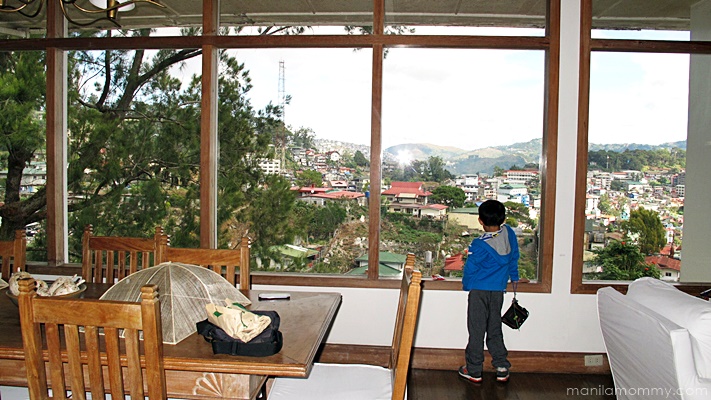 The dining table is large enough to comfortably sit 8 adults. Attached to it is the kitchen which has all the utensils and tools that you need during a holiday stay.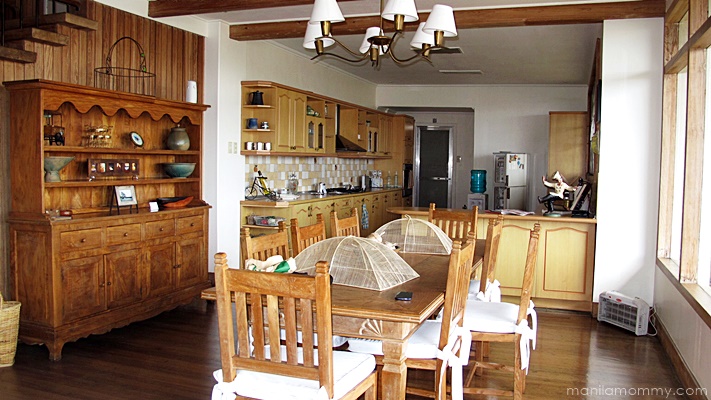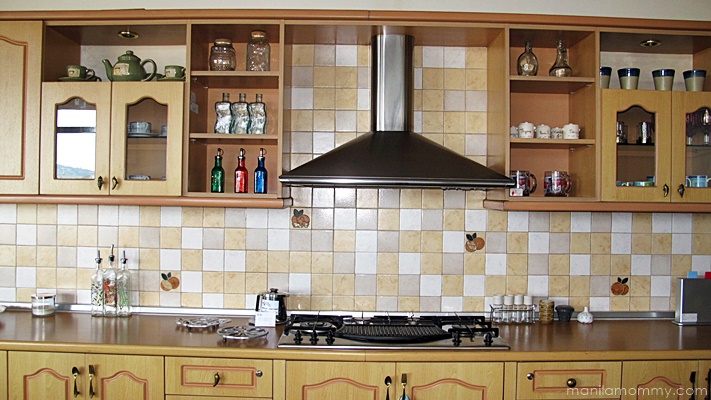 There were recipe books and bottles of wine, condiments, salad bowls, wine glasses. We never really lacked for anything during our stay. Everything was well thought out of. It really did feel like a home because everything was taken cared of and everything was working!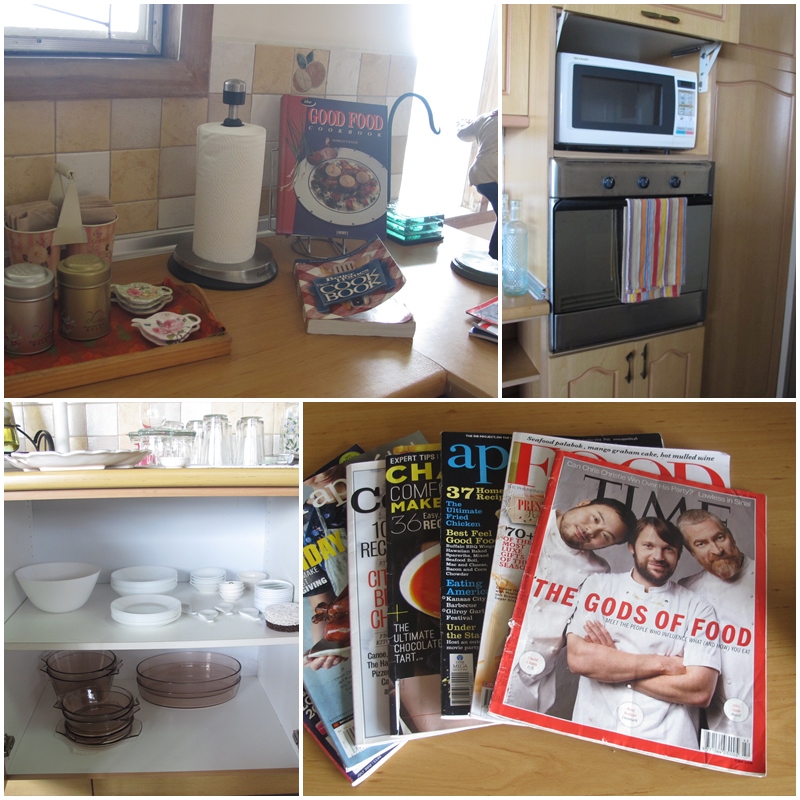 There were fire extinguishers and emergency lights in our floor as well. A transistor radio was also charging. Safety first and yes I did feel safe too. The house had 3 security guards and uniformed staff (with name buttons) were the only ones allowed in the property.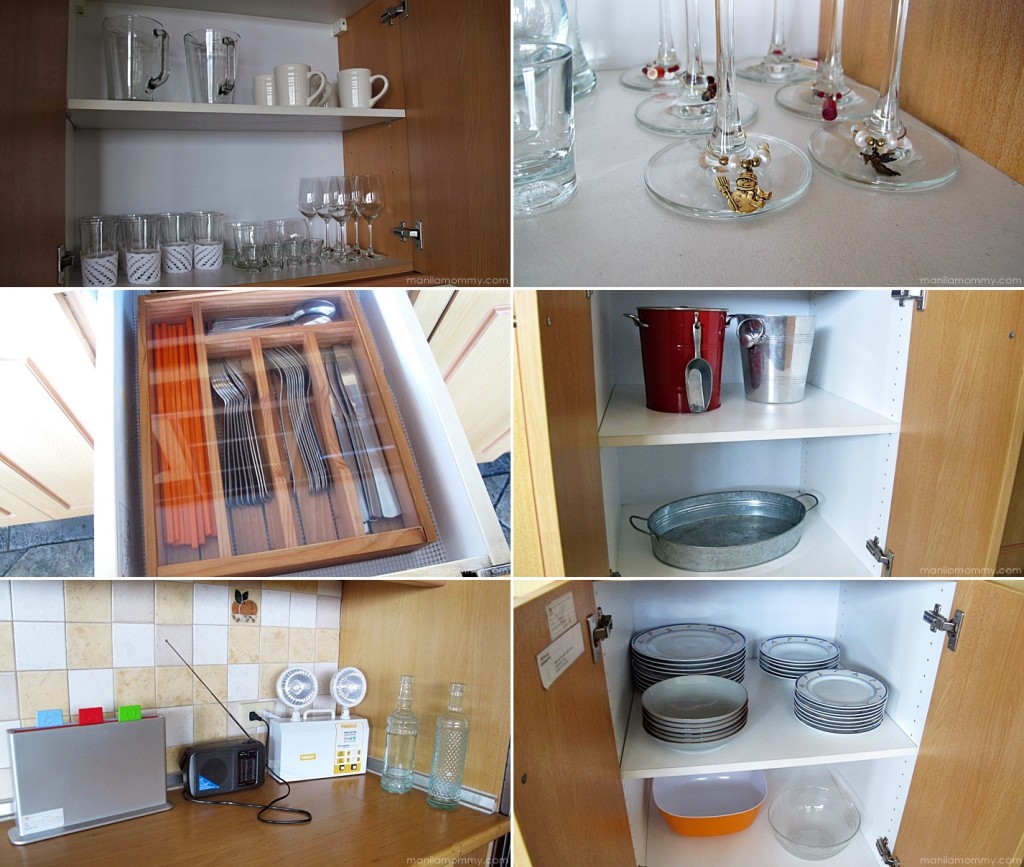 The veranda was an extension of the common area and was a great place to chill, take pictures and to take in the fresh air of Baguio.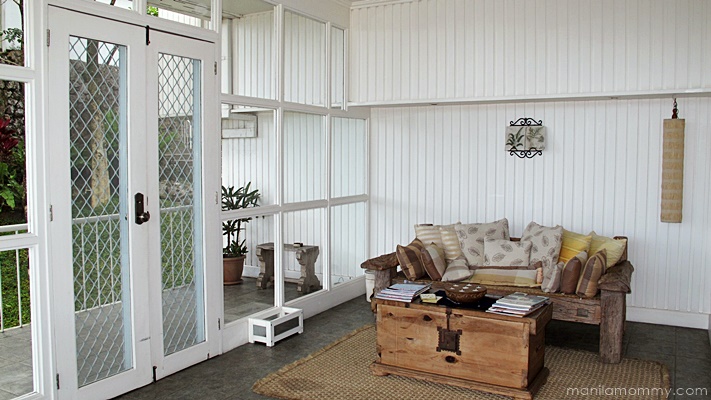 The couches and chairs were people eaters in disguise. Once you rest your behinds in one of these chairs, you will not want to get up.  We all just wanted to cuddle with our comforters and take a nap (even though travel time was just 3 hours from Shell NLEX to Baguio City)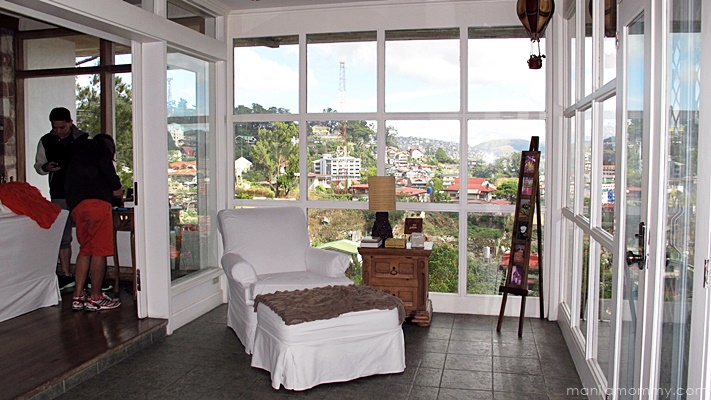 Last but not least, the bathrooms!! There were only 2 bathrooms in our floor but everyone was considerate enough to not spend a lot of time showering or doing their business 😉 The washrooms all had working bidets and hot water was available although I had to run the shower a few minutes before the water got hot.
Here's one of the washrooms.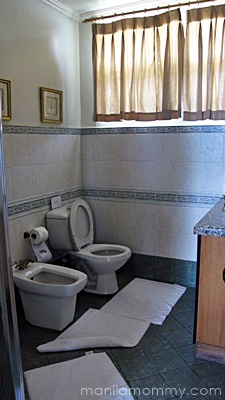 Here's what's in the master's bedroom. I can't also get over that our shower looked like an old-time phone haha! Bath towels were also all available and were clean, fresh smelling and fluffy! All bathrooms had available supplies of bathroom, shampoo, conditioner and soap.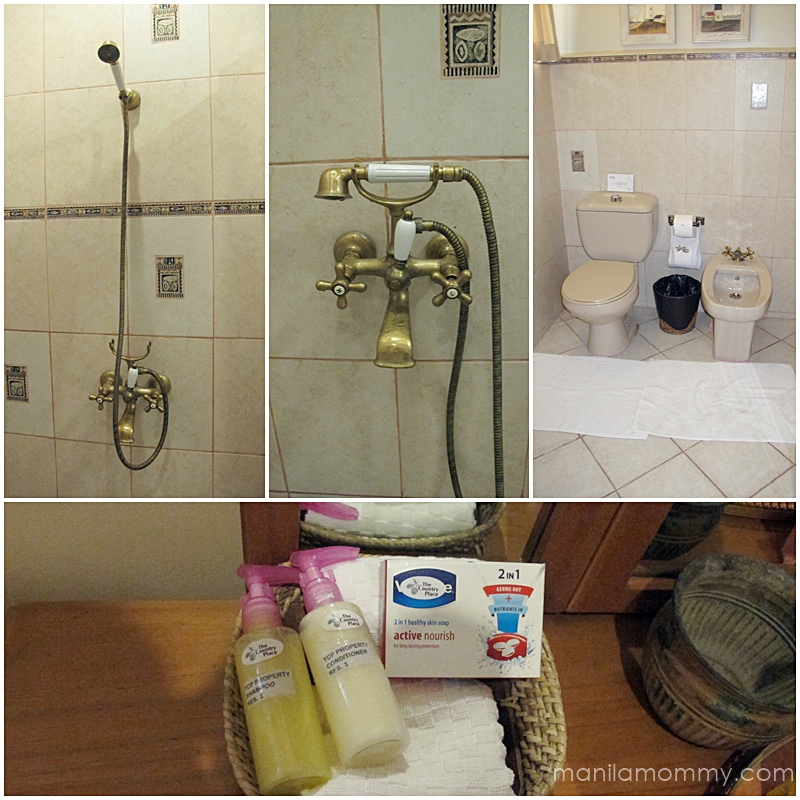 Mrs. B, the owner personally welcomed us and gave us tips on where to get the best food in Baguio. She also suggested that we can have our meals cooked by one of her staff who can also go to the palengke for us to buy our food. So we arranged to have our breakfast cooked by Manang Valerie for the 2 days we stayed there. We gave manang money to shop for ingredients and we woke up to breakfast already cooked. It saved us a lot of time and it allowed us to ease in to the day without any stress because everyone was fed! Manang also took care of washing the dishes. For the 2 days, we gave her Php1,500.
Residence 3 is the largest floor in the house. The other floors are smaller and cozier but all floors had working fireplaces. Residence 2 had direct access to the garden as well.
We all really had fun in Baguio and part of it was that we had a space to retreat to after a long day that was truly our home away from home. We have been raving about this place to family and friends and we can't wait to come back!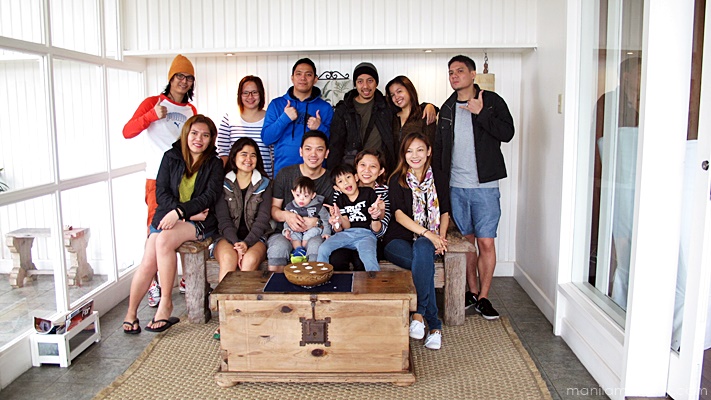 The Country Place
20 Dominican Hill Road,Baguio City
Email: inquiry@thecountryplacebaguio.com
Facebook: https://www.facebook.com/TheCountryPlace.BaguioCity/
website: http://thecountryplacebaguio.com/
mobile: 0917.852.8228