Summer is officially here and with the heat comes a lot of families logging in miles whether by car or by plane. Have you made summer plans with your little ones yet? Well for us, we haven't decided where to go yet. We did spend a weekend at a hotel in Makati though, I guess that would count right? Hehehe 😀 Well suffice to say, we've never really travelled with DW yet and I hope that this changes soon!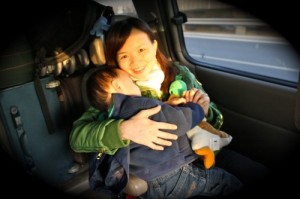 So, I asked an officemate, Tiff for tips on travelling with a baby. Tiffany has travelled with Troy in and around Metro Manila, Asia and Australia!! Yes, she is fearless for taking a baby with her on a plane and I have to admit that I'm one of those passengers that upon seeing a baby wishes that I be seated very far from him/her 😛
Troy has been to Japan, Australia and China. Locally, he has been to Davao, Boracay, Subic, Batangas, Tagaytay and Laguna. Galing diba? (You go mommy Tiff!)
So without futher adieu, here's Tiff's and Troy's Travel Tips!
1.    Before the trip
a.    Establish a routine (sleep, potty, meals) so that it will be easier for you to predict what he/she will do next and can plan accordingly. You wouldn't want him/her sleeping through Disneyland!
b.    If your baby sleeps with the nanny, allow him/her to get used to the idea of sleeping with you and your husband. Start sleeping with him/her a few weeks before the trip. You might experience some midnight feedings and sleepless nights but it's all going to be worth it. You might even decide to make the new sleeping arrangement permanent after the trip!
2.    Scheduling the trip
a.    Best to know your baby's sleeping pattern and schedule the trip during the time that he/she sleeps the longest. When my husband had to travel alone with my 1 year old to Australia, we made sure they got the night flight so that he can sleep through the ride.
b.    If your baby already has a potty routine (once a day), make sure you avoid scheduling the trip during his 'potty time'. If it's a long-haul flight (ex. US, Europe), then best to have your baby sit on the potty prior to leaving for the airport. If you're not quite successful at home, try again at the airport before your board the plane. Changing dirty nappies in the plane is always a hassle.
3.    Packing for travel time
a.    Bring your baby's favorite snacks. They cannot cry while eating their yummy cookies (although some babies have a special ability to do so 😀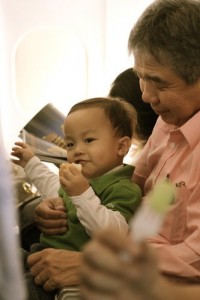 b.    DVD! DVD! We always bring a portable DVD player to play his top 5 favorite DVDs. Just make sure you don't bring pirated ones to avoid hassle at the security checks. I have recently discovered that iPhones are a great alternative (less bulky and multi-purpose for mommy/daddy). Also a good tool to use when dining out if you want to enjoy chatting with friends and family.
c.     Bring his/her favorite stuffed animal or pillow. Basically his/her sleeping buddy.
d.    Ammunitions! Bring his favorite toys (the smaller ones are ideal so that it won't be too bulky). Don't bring them out all at once. Just give it to her/him one at a time whenever he/she gets cranky.
4.    Other packing essentials
a.    Snacks
b.    Vitamins
c.     Fever, cough and cold medicine (very difficult to purchase abroad without a doctor's prescription)
d.    Milk
e.    Bottles/Sippy Cups/etc
f.     Spoon and Fork – particularly useful when going to Asian countries where most of the restaurants only use chopsticks like China or Japan.
g.    Diapers (always overestimate! It's just bulky but it won't add much to your luggage weight)
h.    Clothes…and extra clothes!
i.      Bath soap and shampoo
j.     Toothbrush and toothpaste
k.    Toys
5.    Enjoy!
a.    Don't worry too much about missing out some packing essentials. Unless you're camping in the mountains with your baby, you will be able to purchase some of the essential stuff in the nearby stores.
b.    Don't expect that the trip will be the same as your previous trips. If you used to enjoy partying all night in Boracay and endless shopping sprees at US factory outlets, then expect to do less of those activities during this trip. You will find that "enjoyment" will be defined a bit differently than when you were still without child. Nevertheless, the trip will still be very fun and fulfilling.
c.     Enjoy the break from work/daily chores. It's your chance to be a full-time mom! Don't miss the fun by stressing yourself out too much .
Awesome tips I must say but I know that some moms have some special tricks up their sleeves too 😀 Care to share them?
Travel safe everybody!