PAGASA calls Typhoon Ondoy the worst since 1967. The rainfall measured by the agency for 6  hours was already equivalent to a month's worth. Online photos show the extent of the damage at one of  the Ayala underpasses: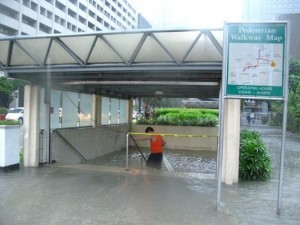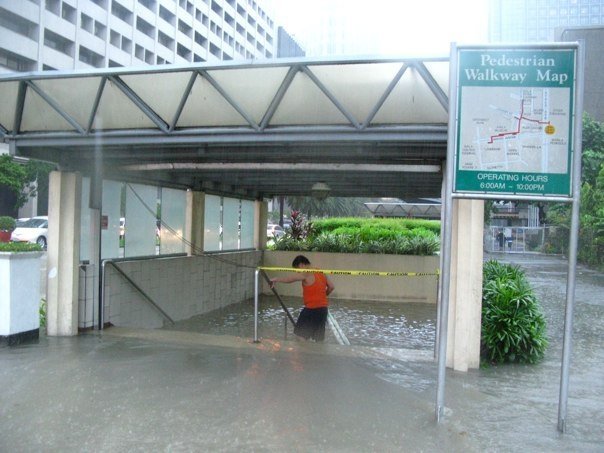 Here's an aerial shot of Eastwood: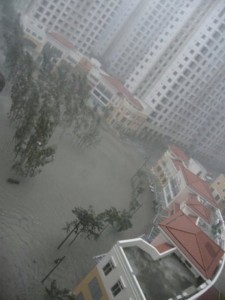 I am writing this relieved that my father is home (after 9 hours of travel or non-travel as they were stuck in Mindanao Ave for what seemed to be an eternity), that electricity is back at our house and that everyone in the family is accounted for. However, during the brownout I was glued to my facebook and twitter feeds to get the latest updates on Ondoy, the rescue efforts, the relief drives being conducted and the rescue tweets and re-tweets of those in dire need of help.
The sense of urgency is even more palpable when the updates are done real time and simultaneously from trusted sources, media outfits and friends. The Bayanihan Spirit is truly alive and well in the online community.
These are just some of the awesome resources that have sprung up within the day to help and guide those who are following the developments of Tyhoon Ondoy:
1)  RESCUE HUB by Edwin Soriano or Ka_Edong, which organizes all the rescue efforts being done around the metro. People can open the spreadsheet and do multiple changes simultaneously to update and close rescue "tickets."
2)  HOW TO HELP VICTIMS OF ONDOY by Karen Ang
3) TYPHOON ONDOY EMERGENCY HOTLINES AND RELIEF OPERATIONS at Sour Politics
4) I already retweet Manual L Quezon III a lot on ordinary days but I think I exceeded my quota today just because he provided the most relevant posts in my feed about Ondoy.
In his blog, he also posted a sensible list on what you can do to help:
Here's what you can do even if you're home

1. E-mail friends/relatives overseas to donate to their national Red Cross for Philippine flood victim relief.

2. If possible, contact the nearest chapter of the Philippine National Red Cross to find out how you can help wrap and prepare relief goods or contribute to information dissemination and other ways to keep people in touch.

3. Call your parish to find out plans when rains subside so you know where , how to help.

4. Pledge what would've been this weekend's luxuries money for disaster relief.
5) From MLQ3's blog I also found the Ondoy Situation Map for Manila , which is made by an unnamed private citizen who updates the site based on current news.
6) Ondoy has his own tumblr page as well at Ondoy You *Bleep Bleep*
Here's further information from more recent tweets and status updates:
ATENEO is now an open shelter and accepts refugees. The contact number is 09178952792.
Whitespace 2314 Chino Roces Ave Ext is a Makati drop-off for relief goods being collected by NOY/MAR for victims of this flood.
Myron's is accepting donations of food, water, clothing meds at Rockwell or GrB 5. for Relief Operations at La Salle GreenHills.
Petron stations will serve as collection points for relief goods
MINISTOP IBARRA (Espana cor. Blumentritt, Samp. Mla) is also accepting relief goods, good (non-perishable goods only), clothing, medicines to help Typhoon Ondoy victims
If you have any more to share please leave a comment at the end of this post.
I am so proud to be part of a wonderful Filipino online community but the work is just a third done.  The real work will happen offline. Let's try to help each other in every which way we can.  Prayers are most welcome!