As much as Dan and I would love to have date nights and be away from the kids, it's sometimes just not possible. Most of the time, we're so tired from work that we'd rather just go home and be with the kids and sleep early. I know ang lolo and lola lang talaga but we'd rather spend the little energy that we have left from a long day at work cuddling with our boys.
But of course, we still long for a few hours away from the kids just by ourselves over good food and possibly even alcohol. We've set our sights on returning to our favorite steak house but that remains a plan because, well, the place is pretty pricey and may effort pa to go there.
So when I got to try out New World's Unlimited Dimsum over a lunch hosted by Nini Icban, Director of Communications of New World Makati, and arranged by the indefatigable and super funny fellow So Mom Patty of Non Stop Babble, the first thing I thought was to bring Dan to this place pronto to have a date with him over lunch.
And lunch is perfect because 1) We're not sleepy yet 2) New World is just a short walk from our office and 3) the Unlimited Dimsum Lunch is only 660 NETT with tea or soda. Oo, 660 NETT. YES 660 LANG.
And then of course you have Jasmine, a beautiful restaurant with gorgeous interiors. I found a booth that Dan and I can park ourselves in
On to the food!
I started off with Shredded Raddish Puff and Pan Fried Chicken Bun.  this was my plate. No I wasn't on a diet but I was late for just a few minutes and so I only got a few of the goodies haha
Then I moved on to the ever dependable Har Gao (Shrimp Dumpling). I also had Spinach Dumplings which were so yummy!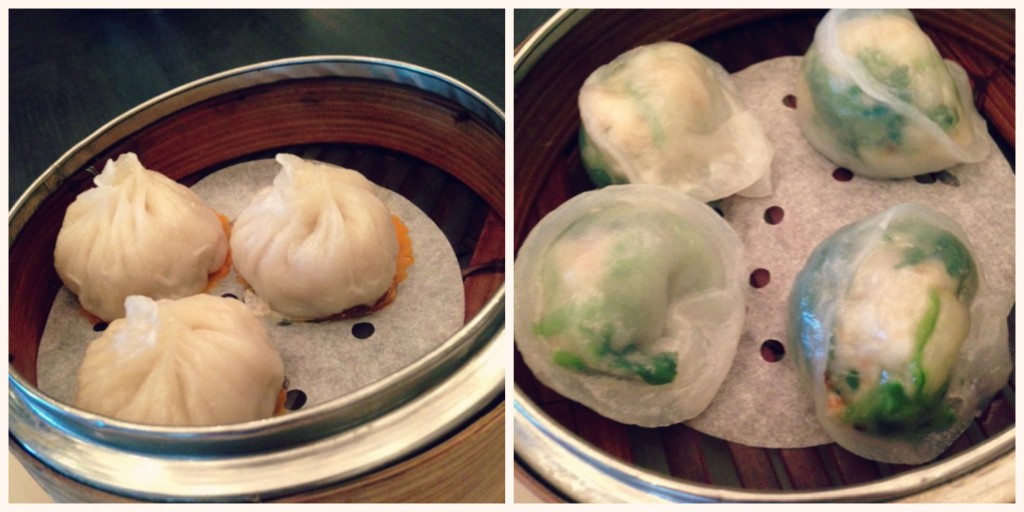 These Pork and Vegetable dumplings were one of my favorites.
You can order champagne with your meal which bumps up the price to Php950. If I didn't have to pump right after lunch I would have ordered champagne just like Michelle!!
After the smorgasbord of dumplings, we were also treated to Jasmine's authentic Cantonese specialties
Clockwise from the big pic: Bai Ling Mushrooms, Shrimp Mousse, White Sauce / Wok Fried Beef Tenderloin, Ginger, Green Peppercorn, Spring Onions / Egg White Fried Rice w/ Seafood Topped with Shredded Dried Scallops / The spread of dumplings / Mango Cream, Pearl Tapioca and Walnut Cookies / Cod Fish, Ginger and Leeks
The mango cream dessert was the bomb. It was smooth and creamy but very very light.
And the reason for the good eatin'? Chef Wong (left) and Chef Wong (right) Hehey! Two Wongs make a right!
I've told Dan about this and he is convinced. So now we have to start planning. It's really just a matter of when pero sana naman hindi abutin ng Dec. 31, 2013 hehe 🙂
Jasmine offers the unlimited Dimsum lunch daily until the end of the year from 11:30 am to 2:30 pm. Dinner service begins at 6pm and ends at 10:30. You may call ahead for reservations at 811-6888 ext 3338.
Jasmine is at the 2nd Level of New World Makati,Esperanza St. cor Makati Ave.Ayala Center Makati City
Ano Dan, tara?