It's hard to imagine how doctors handled the diagnosis of Down Syndrome three or four decades ago. Most parents were told to  institutionalize their babies, to forget about them and to tell relatives that the baby has passed on. The diagnosis is grim and hopeless.
Fast forward to 2013 and see where we are now. This video has made the rounds of my social media networks last week. It's  the story of Bryann Burgess, a 22-year old teacher who has Down Syndrome. She is poised and eloquent and spoke of her life with an enthusiasm that lit my heart.
http://www.wltx.com/news/article/121995/2/Teacher-Born-With-Down-Syndrome-Breaks-Sterotypes
Here at home, Brina Maximo is the first person with Down Syndrome to represent Asia Pacific in the Special Olympics Global Youth Activation Summit in South Korea. She's traveling with a partner for the event (she proudly stated in one of her interviews that her parents were not coming to the event! Ah teens!)
Last December 2012, she delivered a speech in front of 500 people in UST's "Exceptionality Awareness Week".  Brina talks about Down Syndrome, what she's doing, what she has and how she's just any other 16-year old. This young Pinay should be celebrated!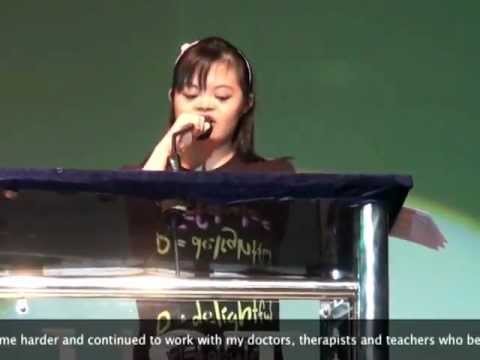 And last weekend, here's our little champ earning his first milestone:
Noah can now lift his head higher and for longer periods now (insert big round of applause!) He can also turn his head while it's lifted. These are big things for our little cutie. Developing strong neck muscles and strengthening his core are musts for the development of Noah's gross motor skills.  He has physical therapy once a week at Alres in Quezon Avenue where his young and enthusiastic therapist Teacher Mira teaches us positioning techniques to encourage Noah to do basic activities like rolling over for example. We are all so proud of him. He is hope personified.
I can't see what the future holds for Noah but I'm glad that Bryann and Brina are showing the world that Down Syndrome does not limit potential. These girls show that we all have our own capabilities that must be encouraged, developed and nourished regardless of genetic and/or physical condition. Noah has a team of doctors in addition to his therapists and of course his whole cheerleading squad of family members and friends. We will all do what we can to provide him with what he needs so he can reach his full potential.
But right now, we celebrate this exciting achievement. Good job bunso! We love you so much!