Every Tuesday Dan has a call that lasts until 8. This means we don't go home until 10pm because we eat dinner pa after the call. Wednesday naman is coding day for me and Dan. We have to leave the house by 5am so we'd still have time for breakfast and for Dan to drop me off at 6:30 am in Makati.
Last Wednesday, while I was eating breakfast with Dan, I told him on the verge of tears, that we technically do not see Noah for 2 days every week because of our Tuesday and Wednesday schedules. The kid is still sleeping when we leave and is already asleep when we get home. There are days when I try to figure out if our little family of four can live on just one income. There are days when the guilt of being away from the kids at least 13 hours a day eats me up inside. I tear up and sigh and wish that I would win the lotto (6/55!) so that I can quit my job and stay at home with the kids.
I look at friends who spend their days with their little ones, most especially my other friends whose kids have special needs. I always think how amazing it would be to be super hands on with Noah so I could make sure he practices his exercises and that he's properly stimulated. I look at pics of co-parents in David's class and see them picking up their kids in school, going to parent meetings and chaperoning field trips.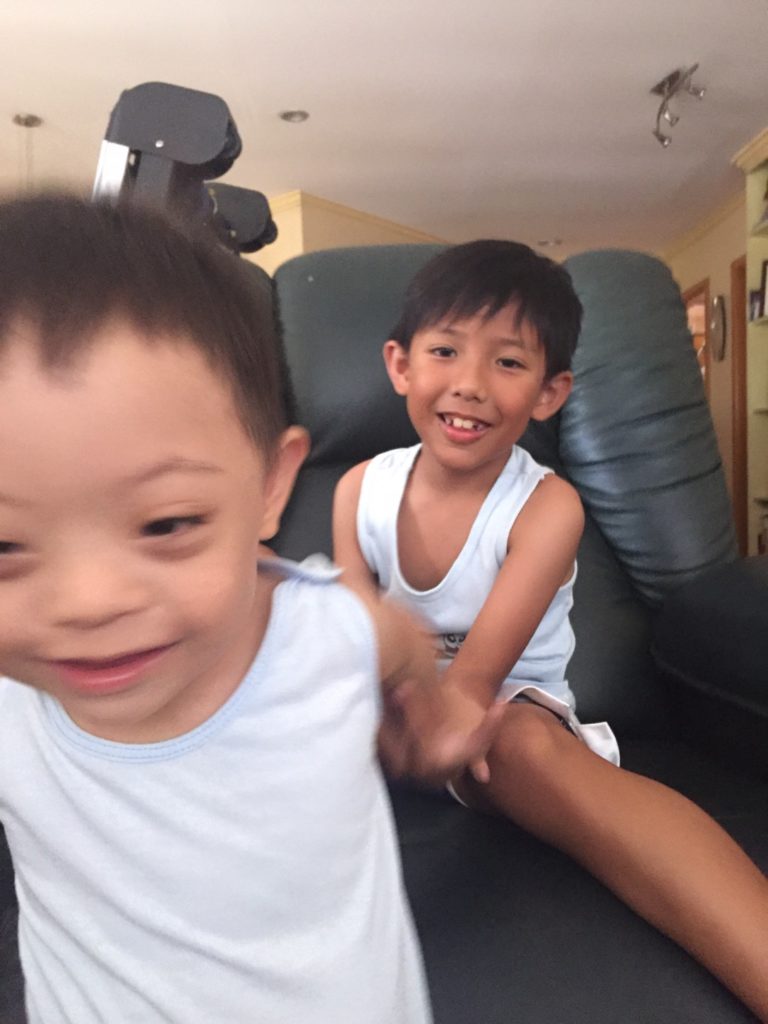 The 13 hours away from the kids is hard. It's a lot of missed milestones and rescheduled parent-teacher conferences. It's a lot of texts, pics and videos from co-parents and teachers telling me that Noah finally said his own name and that David had an academic award and I wasn't there to witness any of those.
?
Whenever I have these moments, I feel sad and weepy and syempre, guilty 🙁 I feel all these and just let it pass through me but it's always the guilt that lingers. So whenever I have these moments, I remind myself of these things:
1)  I Chose My Professional Life.
I have been with the company I am working in for 14 years and yes I do like where I am working, I like my job and I like the people I work with. I am happy that I can contribute to the family's income which allows us a little bit of freedom in ensuring David and Noah's future. I also have to mention that our company has amazing HMO coverage which is a godsend  when you have two growing boys. I have a mental note of the reasons why I choose to work outside the home which helps me get over my bad day because I realize that my family is better off with two parents working.
2) Do Not Compare
I love seeing my friends' pics with their kids on a weekday, but their reality is not my reality. What works for their family may not work for our family at the moment.  When I find myself comparing,  I step back and refocus and replace it with gratitude. I am thankful that I am part of a team that allows me to work from home when we have family emergencies. I am thankful that even when I am away, I have friends and family members who take care of my kids, send me pics and videos and assure me that the kids are doing great. Whenever I start this exercise, pahaba ng pahaba ang list ko. Try it too if you're feeling "bleh" at work because it's a good way to cheer yourself up and find the mojo you've lost.
3) Be Kind to Me 
Because you know what, guilt is just me judging myself! Ang harsh!! The voice I hear inside my head just makes me feel more kawawa. As I learned from Coach Pia, I have to be my biggest cheerleader! Yes I miss my kids but (going back to number 1) but this is one payoff of being a working mom. Hindi ako SM, I do not have it all haha! But I always remind myself that this decision is born out of love and it is also because of  my duty as a mom.
4) Be Present in the Moment
Even if it's jut 30 minutes before bed time, I try my best to maximize the time I have with the kids. I read a book with Noah and we say our prayers together as a family and while in bed, I talk to kuya and ask him about his day. When it's a school night, we go through his assignments, and sometimes we finish projects together. I try to free myself from distractions, which means no phones! I want the kids to know that when I am with them, they have mommy's full attention. Quality time to the max!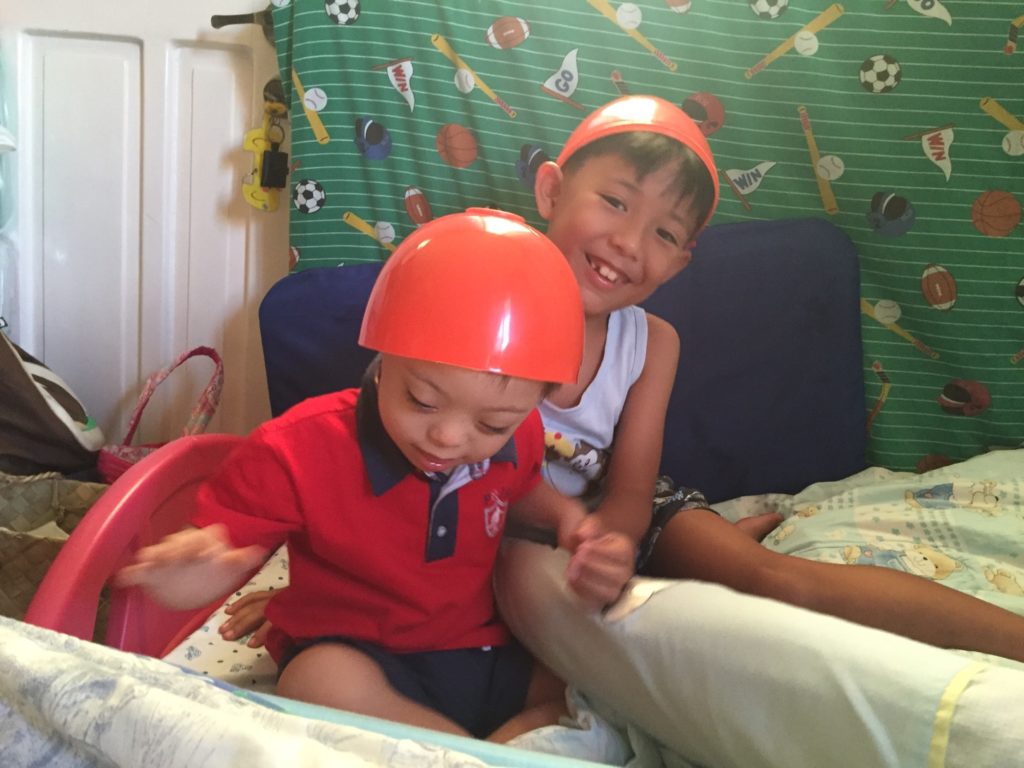 5) Confide in Dan
I always talk to Dan whenever I have these moments. It helps to have someone who will listen and not judge and who will tell you that the fears you feel are all unfounded.  I also have my mommy friends who provide me with a safe haven to complain, cry, celebrate and laugh about the trials and triumphs of motherhood. These moms are in my FB and viber groups.   We just chat and rant and lift each other up. Motherhood is best shared and it helps to know that you're not alone when you're feeling crummy as a mom. Plus, when we get together, there's always wine, so that's a plus!
I have these 5 to keep me sane whenever the "Working Mommy Guilt" bites me in the behind every now and then.  Motherhood is hard and messy and beautiful and amazing. It's tiring but the  joy is endless. We should all go easy on ourselves to be honest because we're all just doing the best we can at any given moment (and I should remind myself of this every day!)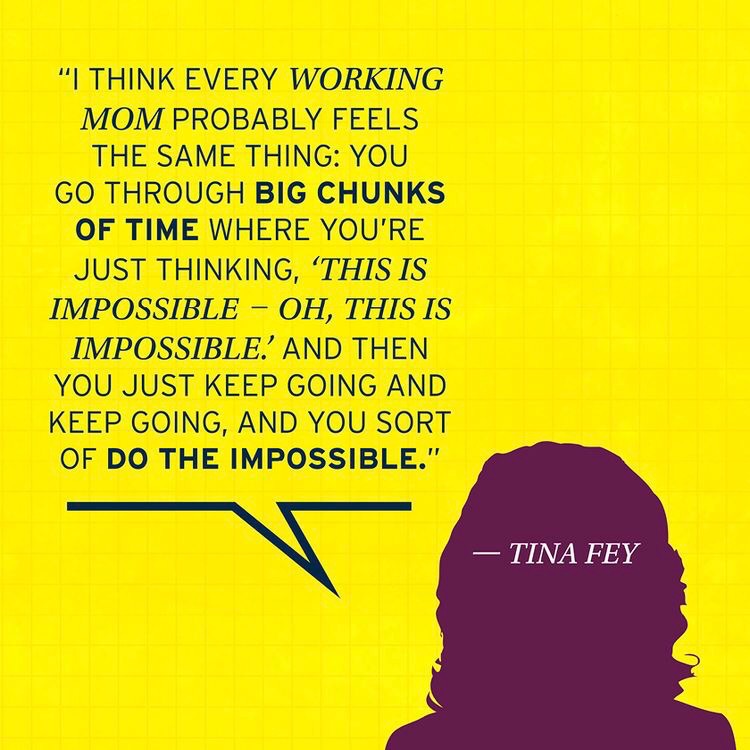 ?