Moms rock! Hats off to the brave and truly selfless women of Nanay Bayanihan who have set up facilities in Villamor to ensure that moms and their babies get rest and the proper nourishment. By nourishment, I mean breastfeeding. My friend, the indefatigable Jenny Ong wrote about her observations in Villamor Airbase here. Jenny along with other moms have been spending time in Villamor taking care of the other moms to ensure that they are getting the right support and help to continue breastfeeding. I won't get into the nitty gritty of donating powdered milk or formula. The gist is that yes you can donate formula but it will be dispensed under the strict supervision of DOH. The doctors will assess the needs of the baby and provide formula if deemed necessary. I highly encourage you to read the exchange over at Fearless Formula Feeder, which questioned the policy on banning formula donations.  Jenny, Dr. Zeka , and Paola (of Mommy Treats) clarified the policy. Some have questioned putting ideology over practicality well in truth, breastfeeding is really the more practical and sustainable choice in a crisis situation. I hope you can get to read the entire post because the comments are enlightening. You can read the entire discussion here. It's an amazing post and worth your time I promise.
Right now volunteers are needed for Villamor. Night shift volunteers are in demand because there are more flights coming in at night according to my tireless friend Eli (you can follow her efforts on IG here). So here are ways for volunteers to sign up for Villamor activities. The schedules and arrangements may change so please do check with the official FB page of the groups listed below or contact the point persons to get clear instructions on how to help. Thank you!
1) Nanay Bayanihan – award lang talaga tong effort na to. Grabe. Saludo ako. For non-mommy friends, you can still sign up with Nanay Bayanihan as you can help repack hygiene kits, look after the older kids or help the other moms with what they need.  There are contact numbers below as well so if you want to clarify shift schedules and procedures please do text and/or call the persons listed in the poster.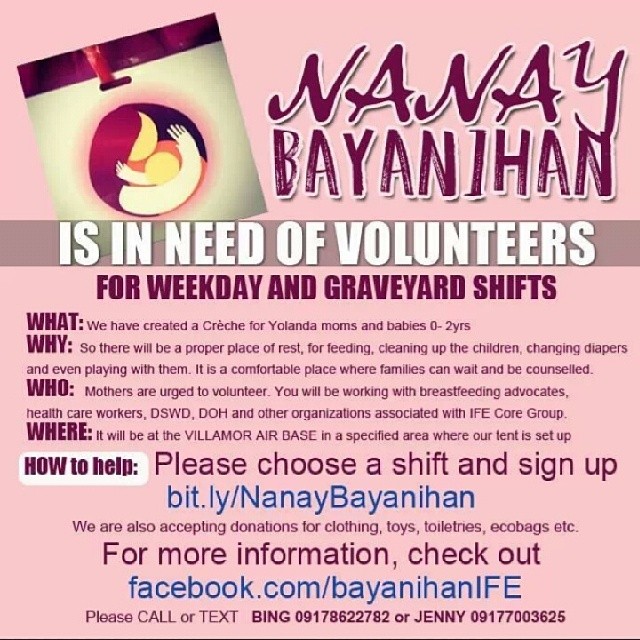 2) Oplan Salubong-  You may register for shifts via this link: http://villamorvolunteers.eventbrite.com/
The official Facebook page of the group is https://www.facebook.com/OperationHatidAtVillamorAirBase 
Please do visit the FB page for announcements and updates.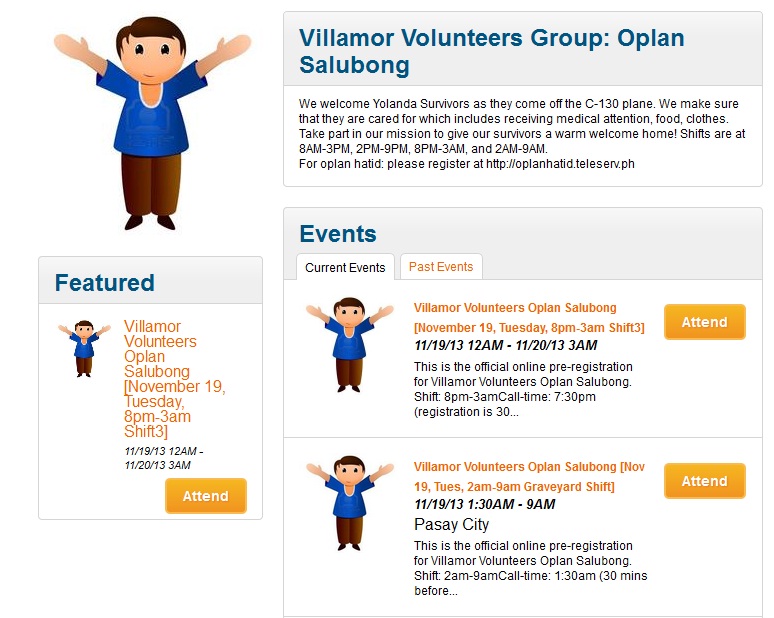 3) Oplan Hatid – If you have a car or can rent a vehicle and you can help the survivors reach their relatives and friends here in Manila, please sign up for Oplan Hatid.

"Oplan Hatid (literally translated: Operation Drop Off) is basically a community service that encourages volunteers to offer the Yolanda survivors a simple lift home. It is the final link in the chain of making sure our brothers and sisters down south get to a safe haven, far away from the devastation from where they have just been.
Most survivors don't have the means to get to where they need to go. Hence, each ride is like that final helping hand that gets them across. And this is where you can really help."
You can sign up here: http://oplanhatid.teleserv.ph/
Alternative ways to help:
1) Fun Auctions – 2 friends have each auctioned a new Casio watch and a foldable bike for our office's donation drive.  It's fun to think of other things to donate too such as a lunch date with the office heart throb for example 😉 It's all in the spirit of fun and it's so awesome that my office mates are all game.
The bike below is brand new and was auctioned by Alan. Iste won the bidding and bought the bike for Php6,100! All proceeds will go the Red Cross.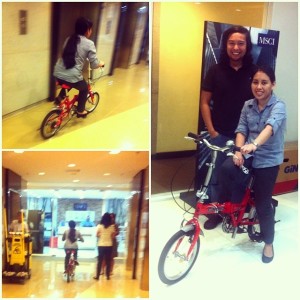 2) Bingo Social – yes we have bingo socials in the office. The prizes are tokens lang like cake rolls and brownies. A card is worth Php 50.00. The Bingo Socials are actually fundraisers for our Christmas party but the guys here have all agreed that all fundraising efforts will now benefit Yolanda survivors.
If you have other ideas on how to help please do leave a comment below and I will make sure to share!

Thank you!