Noah turned 3 years old last Monday. We celebrated a day early and had cake, spaghetti, barbecue and lots of bubbles and balloons last Sunday. All throughout the weekend, I kept humming this little tune from Schoolhouse rock
Three is a magic number.
Yes it is, it's a magic number.
Somewhere in the ancient, mystic trinity
You get three as a magic number.
The past and the present and the future,
Faith and hope and charity,
The heart and the brain and the body
Give you three.
That's a magic number
Three really is a mystery. To me it's the age of crossing the threshold and leaving babyhood behind and walking the first steps towards boyhood. Birthdays are bittersweet affairs because you we bid goodbye to the old and we say hello to an unknown future. That's probably why us Pinoy Catholics go to church on our birthdays. The unknown requires spiritual guidance and when we went to church last Sunday, I prayed for the Holy Spirit to guide us towards the right way.  I prayed for health and happiness for Noah.  I prayed that God provide me and Dan with the strength and wisdom so that we can sufficiently provide for our family and most especially for Noah's needs.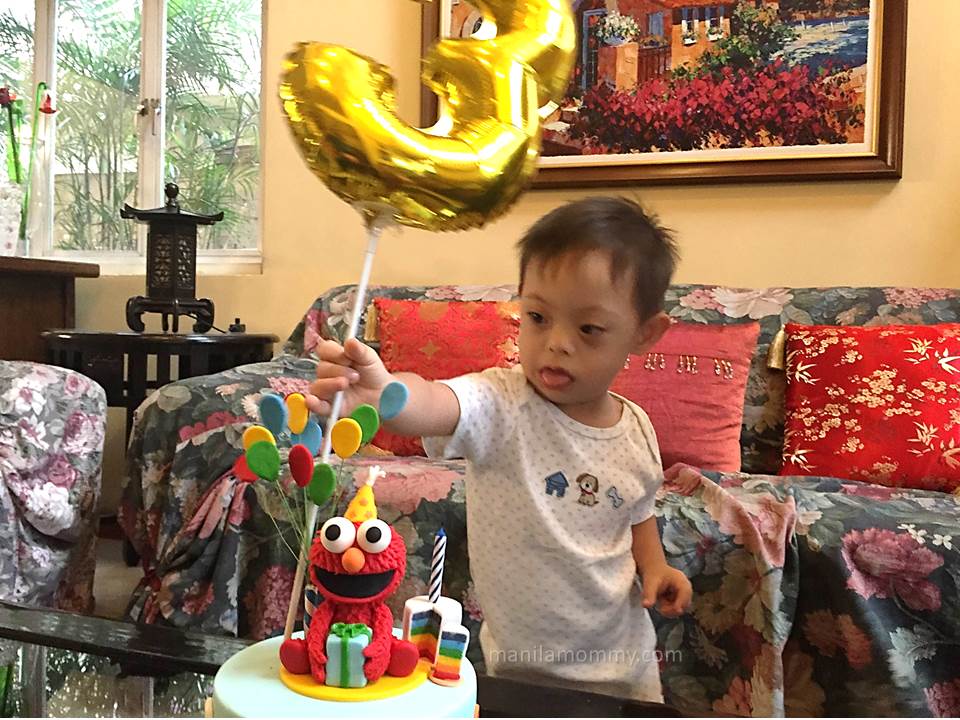 Noah's special needs make that unknown hazier I suppose. I have always held high hopes for Noah's future and I prepare him (and us) by doing all what we can for him today. Noah has started going to a special ed preschool on top of the therapy he receives every day. He is still largely non-verbal but he is able to tell you whatever he wants (it's mostly for you to read to him, to play Signing Time DVDs, and to play with him) to do by patting, hugging and kissing. These are sweet ways to "speak" I have to say. Therapists call it manipulative behavior but how can you say no to Noah?! Ang hirap! Yes he can't fully speak yet and the few words he knows have to be deciphered but the boy knows how to communicate. He still has PT and we are working on him being going up and down the stairs. Some of the goals in his Individualized Education Program are being able to skip, hop on one foot and to gallop. These are all exciting things for our very active bugoy.
I look at Noah and see all the potential that he has and I am thankful for the amazing team who is working with us. Although I cannot predict the future, I know Noah will take it on with gusto. It's his path to make and we will help lay down the foundation.
But last Sunday, I remained in the present. Noah enjoyed his balloons,  lots of bubbles and his Elmo cake. For a few hours I let go of my anxiety over the future and we celebrated our bundle of joy.
So Noah, happy happy birthday Noah. You are a blessing and a gift. I can't wait to see what adventures you will have. It is an honor to love you and thank you for loving me back too.
3 is a magical number.
The past and the present and the future,
Faith and hope and charity,
The heart and the brain and the body
Give you three.