Can I just say that last weekend sucked? IT SUCKED!!! Noah and Dan got really really sick and we just spent the weekend buying meds, drinking meds, nebulizing, taking temps and taking trips to the ER for blood extractions, x-rays and examinations. As it turns out Noah had German measles in addition to a really bad cough and Dan had upper respiratory tract infection. He also had a headache that wouldn't go away for two days so he got a shot to relieve the pain. We were on lock down basically. Dan slept in David's playroom, David slept in my parent's bedroom and I slept with Noah and Yaya Ann. I asked one of the yayas to sleep with us because I needed someone to block Noah when he's sleep rolling. If there is such a thing as sleep walking, Noah does sleep rolling, it's only funny until he falls off and he already fell off our bed twice!
Thankfully the boys are on their way to full recovery. Dan hates his meds which includes cough syrup. "Whyyy??" he asked me, I told him that the syrup would coat his throat better. He also got prescriptions for Alnix and Arcoxia! I have to say that Dan was probably high the past two days hehehe.
Whenever Noah gets sick, I panic. I am thankful that we have Maxicare to cover our ER visits. Noah is a pro at blood extractions. He got priced twice for CBC but he only cried once. He was miserable by the time we got him to the ER but it was there that he got diagnosed with German measles. We were put in isolation and we went home after a couple of hours. The good thing with Noah is that he takes his medications well and he responds fast. I guess we're blessed that the boys have never ever really feared medicines or the hospital.
German Measles/Rubella
(A better explanation is found here: http://kidshealth.org/parent/infections/skin/german_measles.html)
Here's our experience:
Noah actually had his MMR shot a few weeks prior to this weekend's episode. I asked his pedia what the chances are of Noah being affected by the measles outbreak and she told me that the vaccine will only assure us that if Noah does get hit, he won't get the worst case. True enough, little bugoy got hit but he didn't have fever when the rashes came out and he wasn't fussy and itchy. It was a really mild case but because he also had a really bad cough so suffice to say, miserable pa rin si pogi. But just in case you'd like to know what happened before, during and after here's a breakdown:
Fever for three days – Noah had fever from Tuesday to Thursday. His highest was 38.9 on Wednesday night! The dude was burning up so I kept watch over him, mixed medicine in his milk and made him drink a bottle when he woke up for a feeding.  His fever broke on Thursday and we took him to the doc on Friday. During the examination his pedia found…
Rashes on the trunk and face – Ang puti kasi ni Noah so any little speck is very visible right away.  That morning while dressing Noah up we didn't notice anything on him but on the examination table, his pedia found itty-bitty rashes on his back across his torso They were red and flat. Then we noticed that Noah had a few red dots on his face. Ayun na. His pedia ordered up a CBC and prescribed meds for fever and cough. Noah's pedia is his neonatologist who looked after him while he was still in the NICU. It really helps that she is thorough with Noah always and knows a bit about Down syndrome too. Most importantly, she listens to us and whenever I have questions she takes time with her explanations.
German measles lasts for three days. Noah's rashes got worse on the second day as in it was really red. Galit na galit. On the third day though pawala na.  Today before going to work, I checked Noah's skin and the rashes are almost gone. Kitang-kita na naman ang kaputian!
Bloodwork (Complete Blood Count) – So after the examination, Noah's pedia asked us to take him to the lab for his CBC.  St. Luke's is awesome for having priority numbers for PWDs and so we got in and out of the lab pretty quickly. The nurses were amazed that Noah didn't cry but Noah had worse blood extractions and so the little prick to the finger to get the blood was no big deal for bugoy.   What alarmed us though was our Pedia's secretary called us later that day with instructions from the pedia to have another CBC. Kaloka. I am a recovering pessimist as in I try to stay positive all the time but cryptic instructions like this (the secretary din kasi didn't tell us why we had to take Noah back to the lab) made me fear for the worst. The worst being that Noah has dengue.  Also Noah had fever again and so Dan and I rushed to the ER to have him checked.
Turns out Noah's CBC profile were both good the first and 2nd time.  The 2nd time was actually better.  The doctors examined and ruled that what Noah has is viral exanthem/ German measles. He was prescribed meds for his fever and then we were discharged. At home,the treatment was really not for the rashes but for the fever (if it recurs) and cough. So we continued nebulizing with Ventolin mixed 1ml of NSS (Normal Saline Solution). I started at every 2 hours up to  three times a day. Right now it's still three times a day but it's at morning, noon and night. It brings so much relief to Noah's coughing.  For his cough, he's taking Xelent, which is an antibiotic.
Throughout all these, it was me and David who were spared. Although I have a feeling it was kuya who was patient zero. He came home with a nasty cough but it's to be expected since he goes to school everyday.  We actually had to switch meds because his doc figured that his coughing had an allergic component. He has been on Alnix for almost a week now. I am looking at boosting David's immune system since he's going to big school soon. Friends have recommended Echinacea so I'll be taking this up with our pedia soon. Is this something you're thinking of with your kids? Are you already on Echinacea? Any guide or feedback would be so so much appreciated!
That weekend when everyone was sick though made us miss the Happy Walk 🙁 It was the first year that we had something prepared. We also had friends and family members who committed to walking with us too but health will always prevail and we all rested last Sunday. We walked in spirit and I was so happy seeing new parents posting messages on the DSAPI wall expressing their gratitude and how they were in awe of the event. We were in their shoes last year and I know how exactly they felt. It would have been good to have been there last Sunday to welcome these folks but there is always next  year.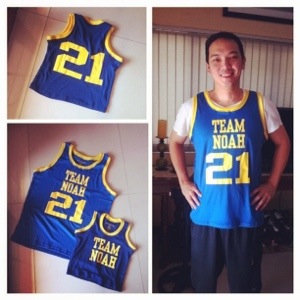 Nakakainis lang talaga tong mga virus! Panira ng weekend! Shoo!!! Stay awaaaay from Team Santos!
Tell me you had a better weekend, pleeeease??