So…..dumating na ba ang Christmas bonus?? Hahaha! I pleaded to Santa for an iPhone 6 but if you can't wait for Santa, the folks at Smart shared with me these simple steps to getting your iPhone from them.
Just so you'd know that you're getting the best deal from Smart, consider the following:
Smart is offering the amazing iPhone 6 for only P1,799/month
Smart is offering the bigger iPhone 6 Plus for only P 2,049/month
Get two (2) iPhone 6 devices at Infinity Premium Plan 8000
Ordering is availabe online and ATM is now accepted as a payment method.
I guess the hardest part of the decision is whether you're getting  the 6 or the 6 Plus!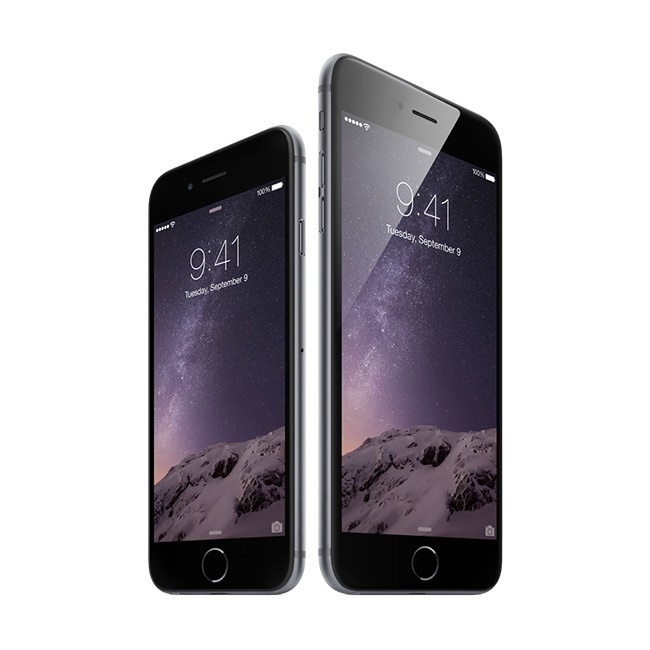 Pre-ordering started two weeks ago and the phones will be available starting Nov. 14 but here's a simple step-by-step guide on getting the newest iPhone from Smart: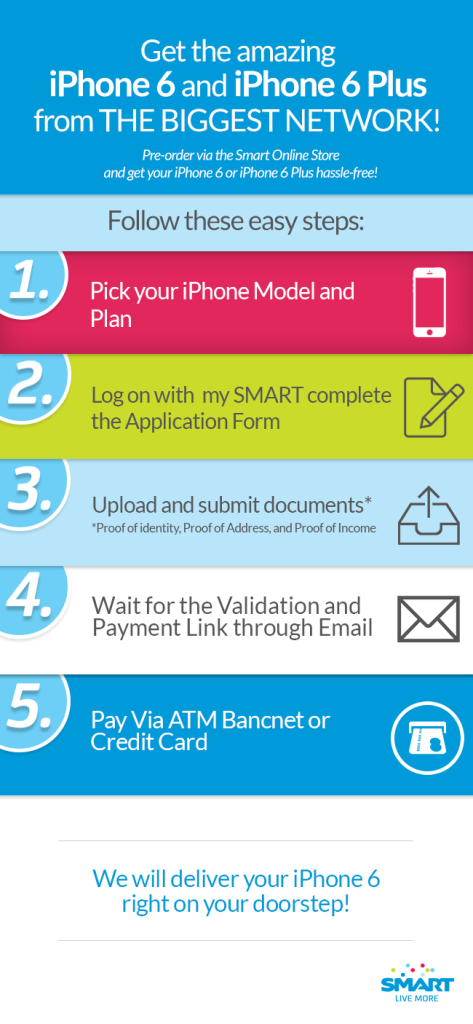 Here's a quick guide on how much the phones are under each plan. Don't forget to read the fine print 😉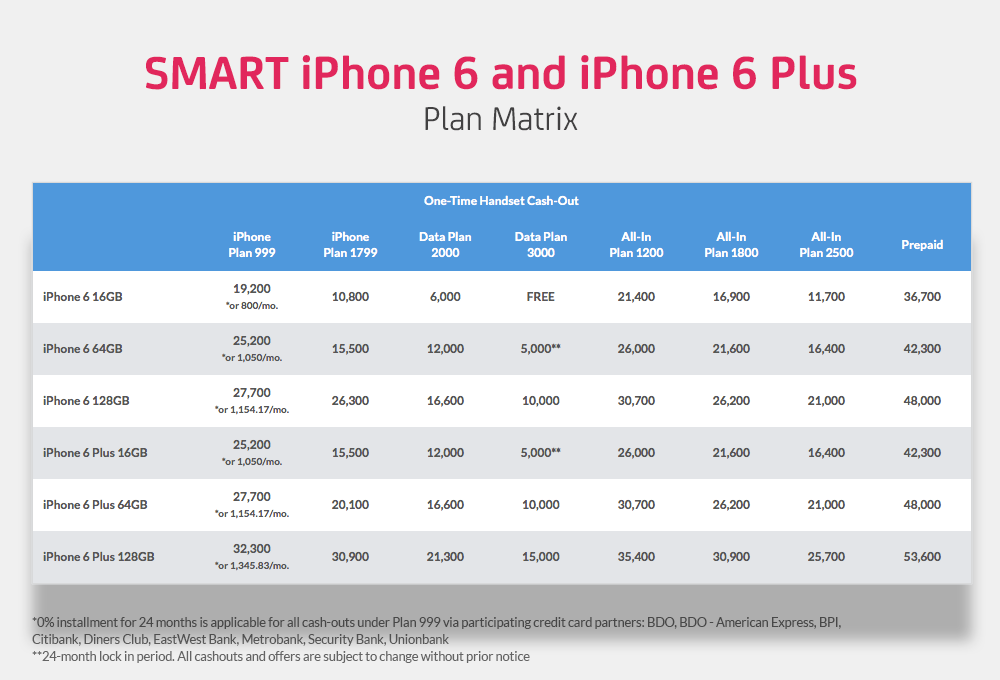 And Smart Postpaid subscribers are in for these treats!! Feel ko ang  wipe out your current contract ha! Hmmmm….
Private Driver Just For You

Feel free to check out the iPhone 6 and iPhone 6 Plus from November 14 to 16. Smart will take care of your ride to and from selected Smart Stores in Metro Manila for FREE!  You only have to download the Uber app on your phone, book a ride, and enter the promo code: SMARTIPHONE6 and your ride will be on us!

Choose Your Own Mobile Number

New Smart Postpaid subscribers have the exclusive privilege of choosing a customized phone number from a particular number series, provided that the number is still available. This offer is available for a limited time and on a first-come, first-served basis, and can be enjoyed when you sign up at any Smart Store nationwide.

Wipe Out Your Current Contract

Locked in to your current Postpaid Contract? SMART Postpaid subscribers now have the option to Wipe Out their current contract and upgrade to an iPhone handset in their new contract for a discount. Plus! Get a FREE 1-year handset insurance for subscribers availing iPhone 6 or 6 Plus for Plan 800 and up. For more details visit: http://www.smart.com.ph/wipeout

Free Movies on your iPhone 6

All subscribers of the Smart iPhone 6 will get FREE 3 Movie vouchers through the smartphone app, Blink.
I am THISCLOSE to getting a new phone and these deals make it easier for me to choose not just what model but also when I will get it. Timing is key my friends and I have to budget carefully so thank you Smart for laying out all these options to make the decision so much easier 😉
Happy Shopping, Merry Christmas and Merry 13th Month friends! Heeeheee