When I graduated from UP, I wanted to take a break and rest and just bum around our house. It was a plan that was not carefully executed. My friends, I found out were sending out resumes to companies already while I was still sleeping in on weekdays heeehee. Some of my friends were busy preparing for law school naman so technically ako lang talaga ang walang plano sa buhay at that time nyahaha 😛
So I did what any business graduate did. I typed up my resume and trekked to Makati with my friends and spent a week going in and out of office buildings, dropping off our resumes. Needless to say, I have been working in Makati since 1999 and I really could not see myself working anywhere else.  As much as people would like to stay away from areas that remind them of their workplace on the weekends, it's really the opposite for me. Makati is a vibrant, cosmopolitan city that has the best malls, restaurants, parks and other recreational venues and events. I can only appreciate this city when I am actually not working!
So, when I was invited to spend a weekend at New World Makati, it was hard to say No. New World Makati is one of our go-to hotels with my officemates. We walk to New World from our office because we LOVE Jasmine, New World's famous Chinese restaurant with their equally famous unlimited dimsum meals. New World is a busy business hotel that sits at the heart of Makati. It is right across Greenbelt and is just a walkway away from Glorietta, The Landmark and the Ayala Museum.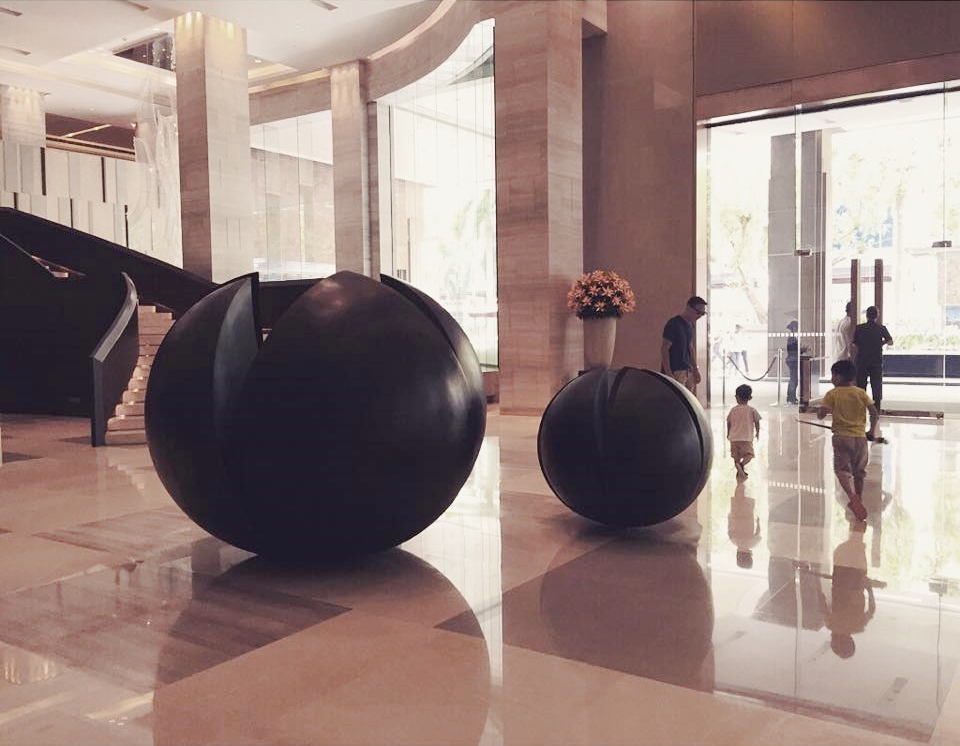 Honestly, I really didn't know how to plan our stay at New World because I wanted to do so much. Working in Makati is different from "playing in Makati". When we checked in at the hotel, we stayed in a Superior room which had a king size bed. We asked for an extra bed for Ate Ann. The room was big enough for us, the kids and Ate Ann. Ate Ann's bed was made up beside the small sofa in our room. If you're a family with two kids and a yaya, book this room! It's the perfect size and it has room for your kids to do sword fights (that's what Noah and David did haha)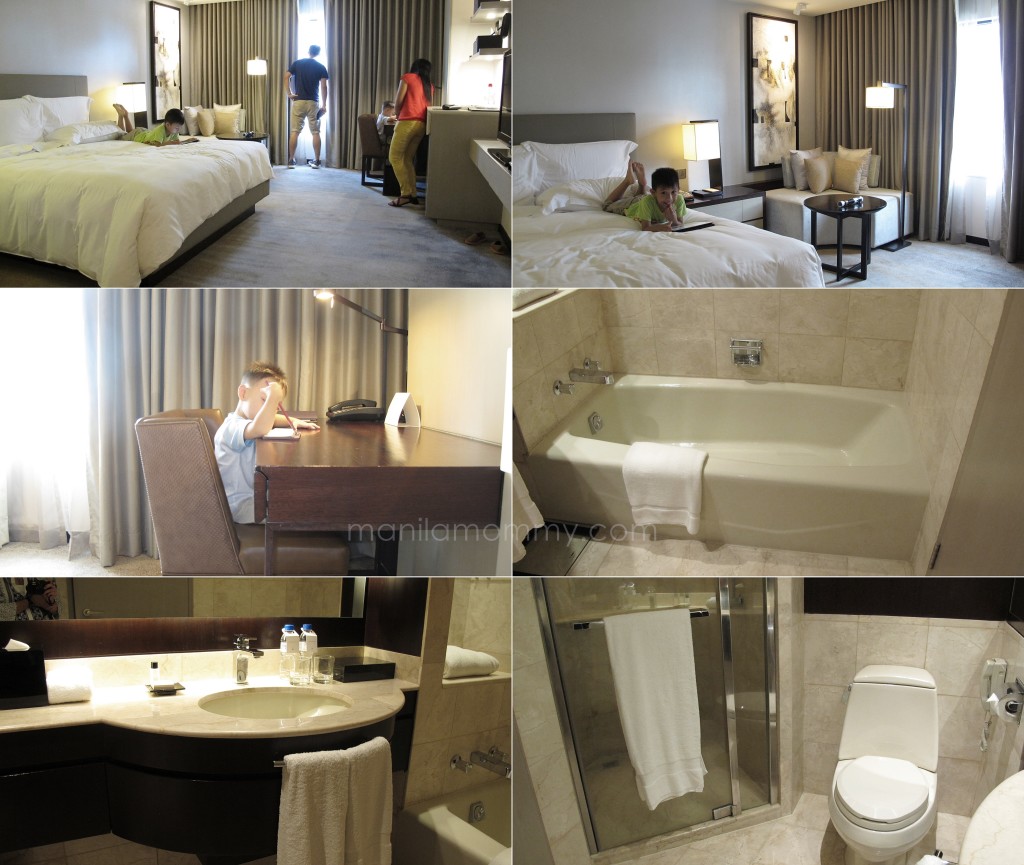 Our room had an amazing view of the Makati skyline too.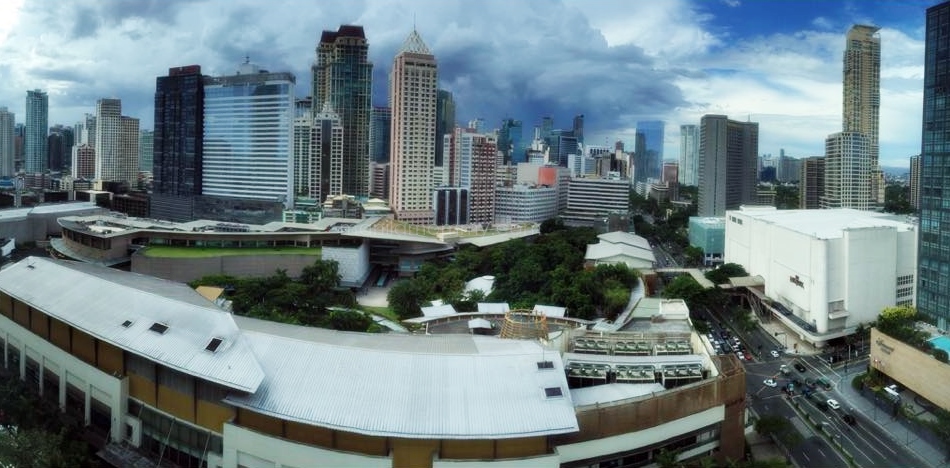 I kinda had an itinerary of what I hoped to do last Saturday but it never materialized because the pool won over everything. The pool is at the 4th floor of the hotel and has a kiddie pool. Towels and bottled water are free for guests which you can ask from the staff or pick up yourself along the entrance to the pool.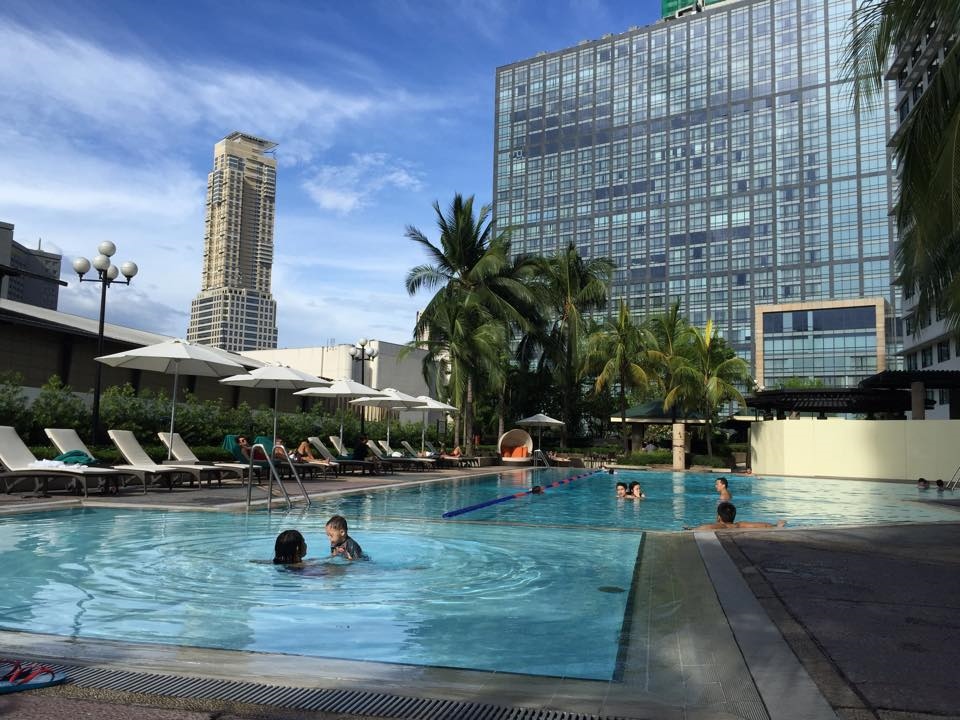 Always happy in the water 🙂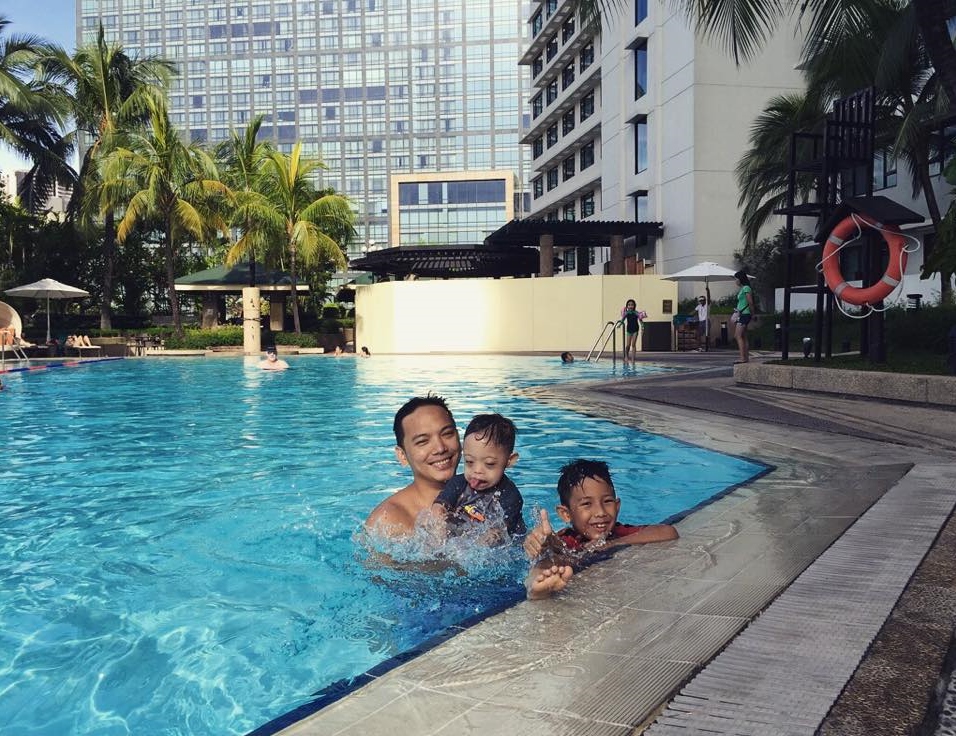 The kids got out of the pool just in time for dinner (!) We all took a shower, dressed up and went out and walked to Greenbelt 1, which I fondly call "lumang greenbelt" haha I had to go Greenbelt 1 to have label stickers made for Kuya's stuff at school, I also bought him a new Geronimo Stilton book. We had dinner at Bacolod Chicken Inasal then had coffee and desserts at Mary Grace at Greenbelt 2, which has a charming kiddie corner. The kids played with Ate Ann while Dan and I enjoyed our mini-date 😛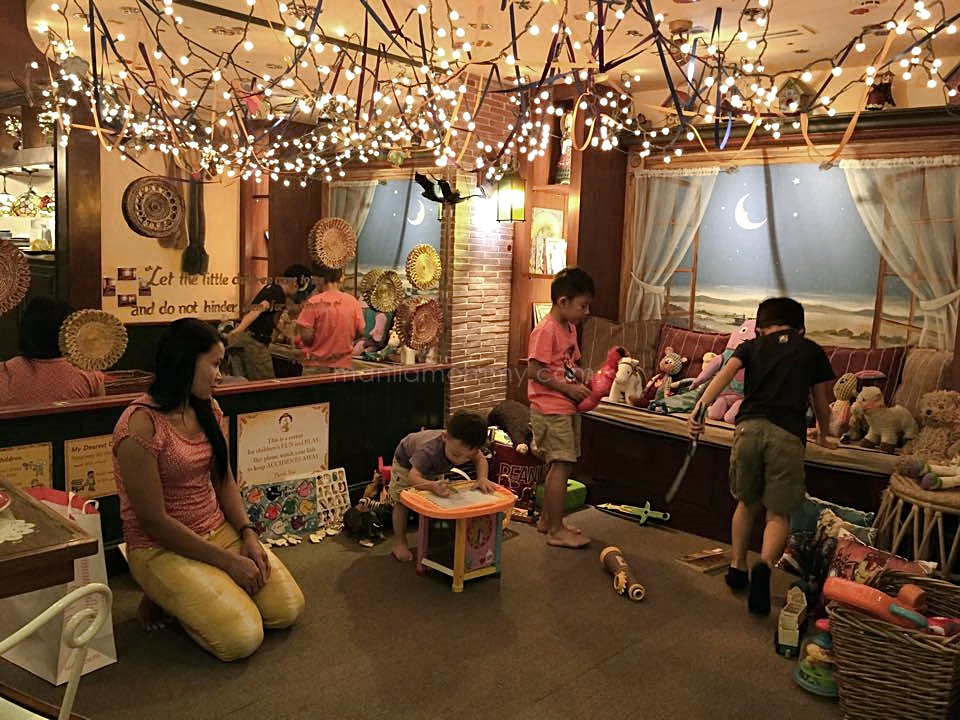 It was 10 (pa lang!) but we were ready to call it a night. We headed back to New World and the kids changed into their jammies. We all still co-sleep!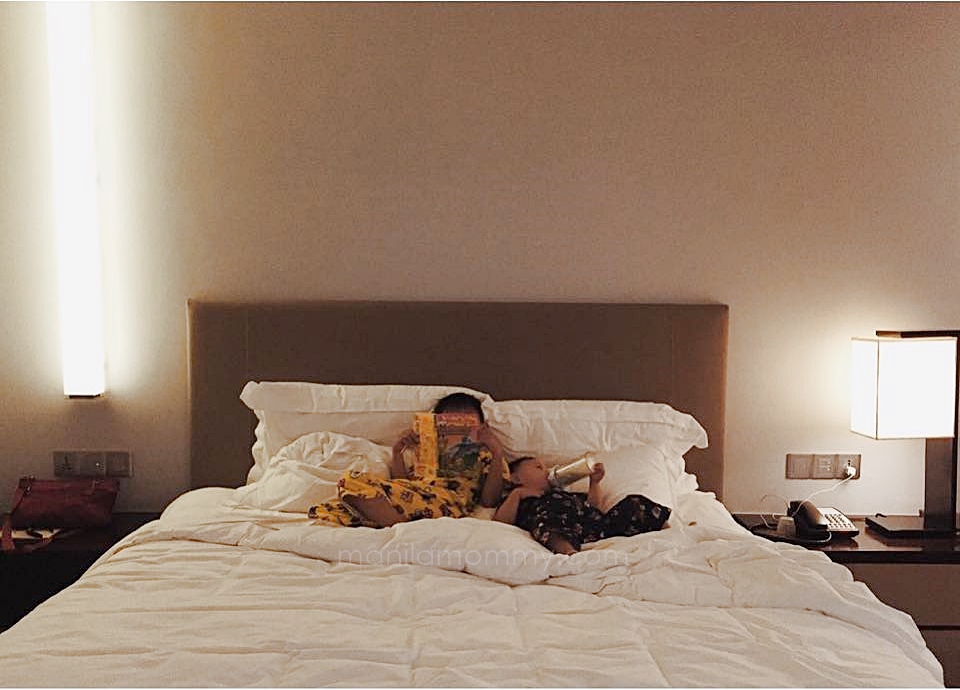 Waking up to breakfast at New World is a wonderful experience. New World really has one of the best breakfast buffet's we had ever tried! The breakfast buffet is at Cafe 1228. The place gets full right away so I suggest that you get up early enough to get yourselves a table and then just ease your way into the buffet. The selections are amazing starting with its bread station which has so many different types of pastries and cheeses. They also had a taho station, a noodle station, congee, chinese food, bacon, roasted tomatoes, cereals, fresh fruits, omelette station, cold cuts….name it and they have it. We parked ourselves at a round table and just welcomed Sunday with lots of good eating 🙂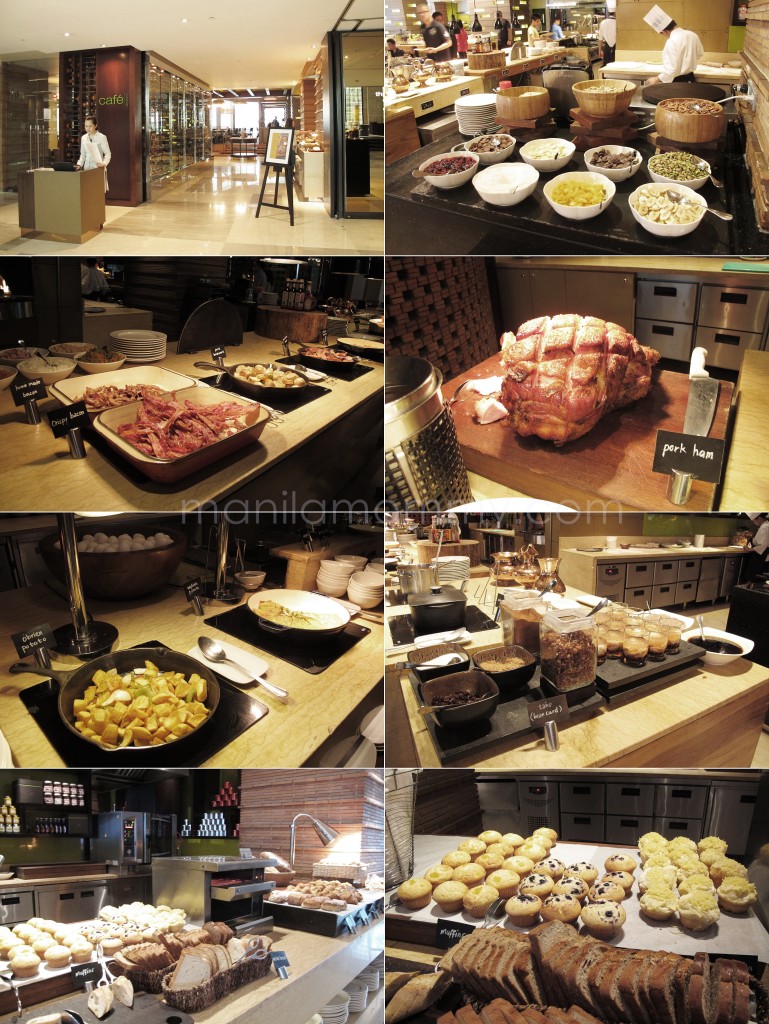 After breakfast, we headed off to the wonderful Ayala Museum so that kuya can view the dioaramas. I'll be posting more about our day in a separate post. I highly recommend a visit to the Ayala Museum. It's amazing!!!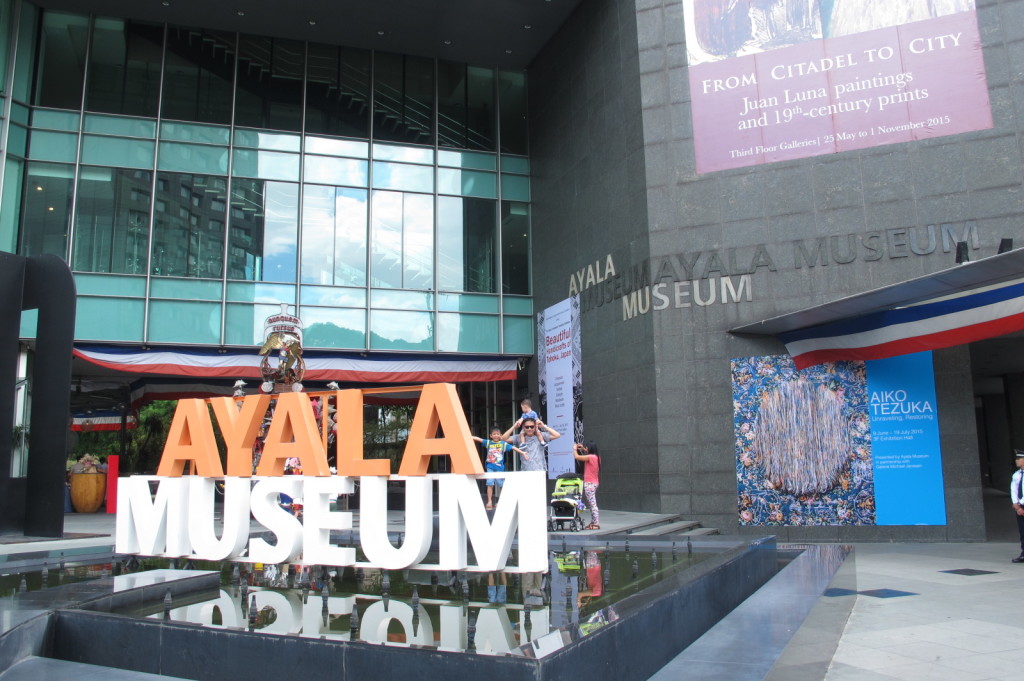 We were still so full after breakfast so we just bought takeout from Reyes Barbecue for the kids and Ate Ann while I bought Cheesy Beef Jamaican Patties. We had late check-out at 4 so the kids still had time to swim. If that wasn't enough pa, they still "swam" pa in the bathtub.
The staff of New World Makati made our stay much more wonderful. They were accommodating, efficient and friendly. We really didn't wait for any of the requests we had (which were a few lang naman like the extra bed, pool side snacks and when we asked for help with our bags) One of the staff who saw us with Noah also told us of her own sister, who is 11 and who also has Ds. She would always smile at Noah and tell us how happy she is with their family's own "angel". We love it when someone comes up to us after seeing Noah to tell us about their own experiences with a loved one who rocks the extra chromosome. It really made us love our stay at the hotel even more 🙂
There a lot of amazing hotels in Makati that families can choose to stay in. If you do decide to book a weekend at the city, or if you have friends and families who are visiting in Manila and would need a hotel to stay in, book them at New World. It's a fun hotel with amazing food that is just near the city's best malls and restos. You, your family and your guests can relax and chill with the best of Makati just a few feet away 🙂
Thanks again New World for the wonderful stay !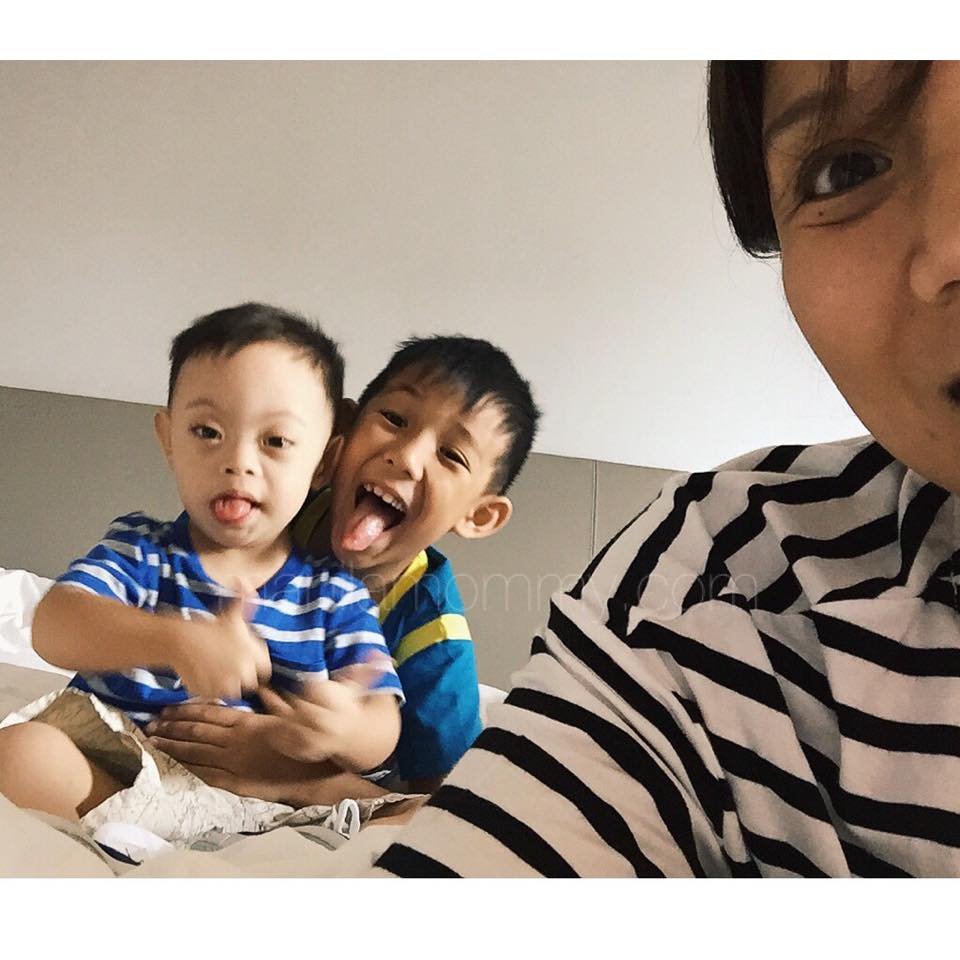 New World Makati has an amazing deal for us weekend warriors. Check out the deal here:
http://manila.newworldhotels.com/en/promotions/promotions-rooms-suites/weekend-welcome/
New World Makati
Esperanza Street corner Makati Avenue, Ayala Center, Makati City 1228, Philippines
+63 2 811 6888
Facebook page here