Because of THIS proclamation, we now have 3 more extra days added to all vacation days in 2015!
That's 19 vacation days with 11 long weekends! Hello 2015, I think I like you already haha 😀
Edit (12/30/2014): I forgot to include Rizal Day!! Sorry Pepe! 😀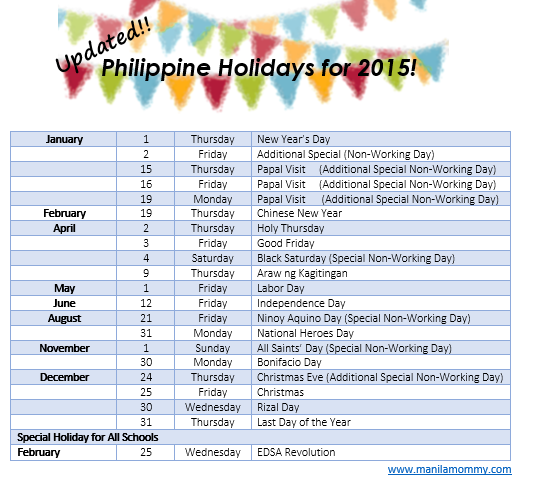 I really don't know where to go. Even from my last post,  I still haven't planned anything yet for the family. We want to go to Amorita so the boys would also get a chance to see the Chocolate Hills and a real live tarsier. Then again, Boracay would always be a very good Plan B. I also would like to go home to our province and visit my lola. She's 90 years strong and she's very "curious" about Noah from what my mom has told me. I would love for Noah to meet her.
Oh I don't know really. I would just be ok with a staycation too haha. David and Noah are happy with a king sized bed with soft sheets and a bath tub and so am I. 4 people on a queen sized bed means that Dan and I have woken up with stiff necks and backaches. A staycation is always a good plan. So yep, time to check Deal Grocer too!
Ang sarap mag plano haha! Sana naman may matuloy maski isa 😉
Happy planning guys! Saan ang balak nyo?