Going on staycations is one of our favorite family bonding activities. It's a vacation without the long lines at the airport or the price tag of plane tickets aaand when you're lucky you can score vouchers for discounted stays too!
We got lucky with our recent staycation when New World Manila Bay invited me to stay overnight for free at New World Manila Bay. It was a Mother's Day weekend  and it was Dan's birthday week. The timing of the invite could not have been more perfect!! So we packed up our bags and headed to the hotel.
The room we were booked at has access to the Residence Club.  So, we went to the 10th floor and were served with refreshing guava ice tea and cookies. The Residence Club has a wonderful view of Manila bay, round the clock complimentary drinks and snacks.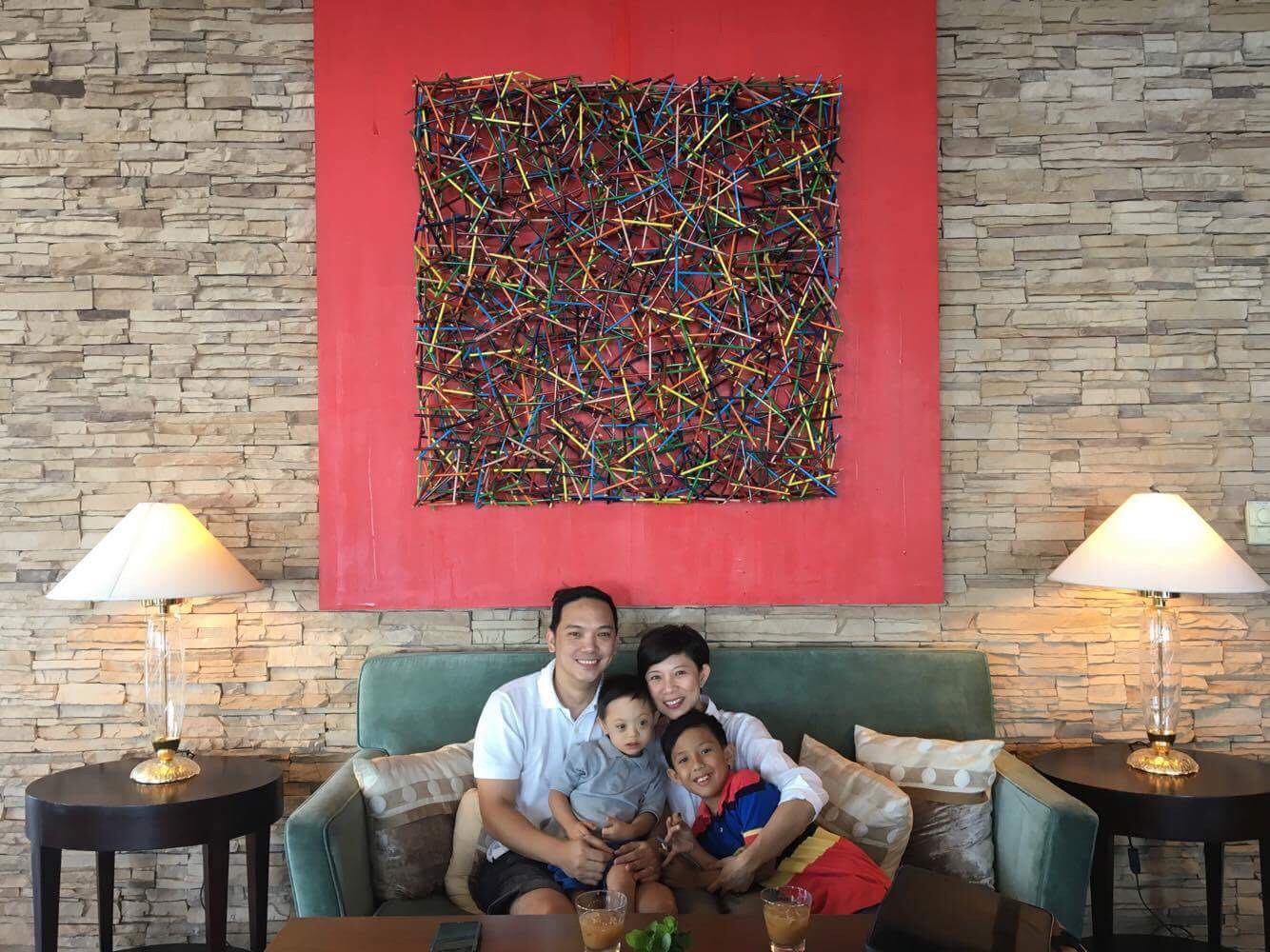 Cocktails, assorted liquor and wines are also served without charge. During snack time, they serve a very generous buffet of sandwiches, sushi and other food that will surely fill you up!
We rested for a bit but then went up to the 11th floor where our room is at. We opened room 1106 and lo and behold,  the Residence Club Room is definitely THE MOST AMAZING ROOM we have ever stayed in a hotel ever!! EVER!!
The room has a separate dining room, living area, an office, a spacious bedroom with a king sized bed a bathroom with bath tub.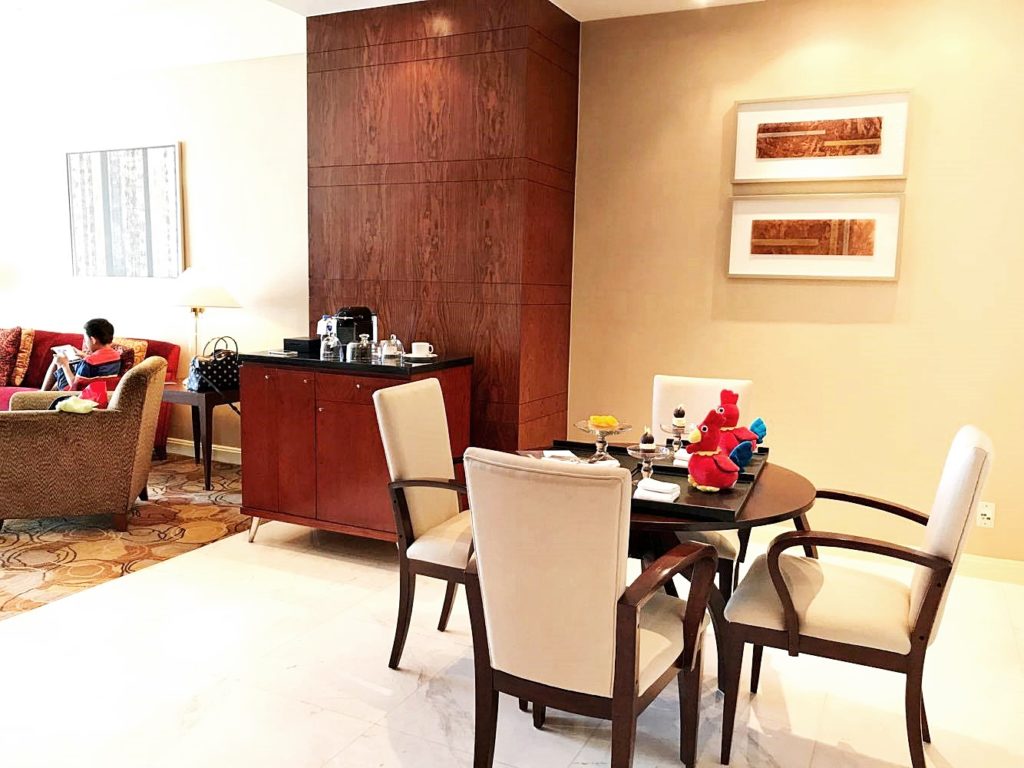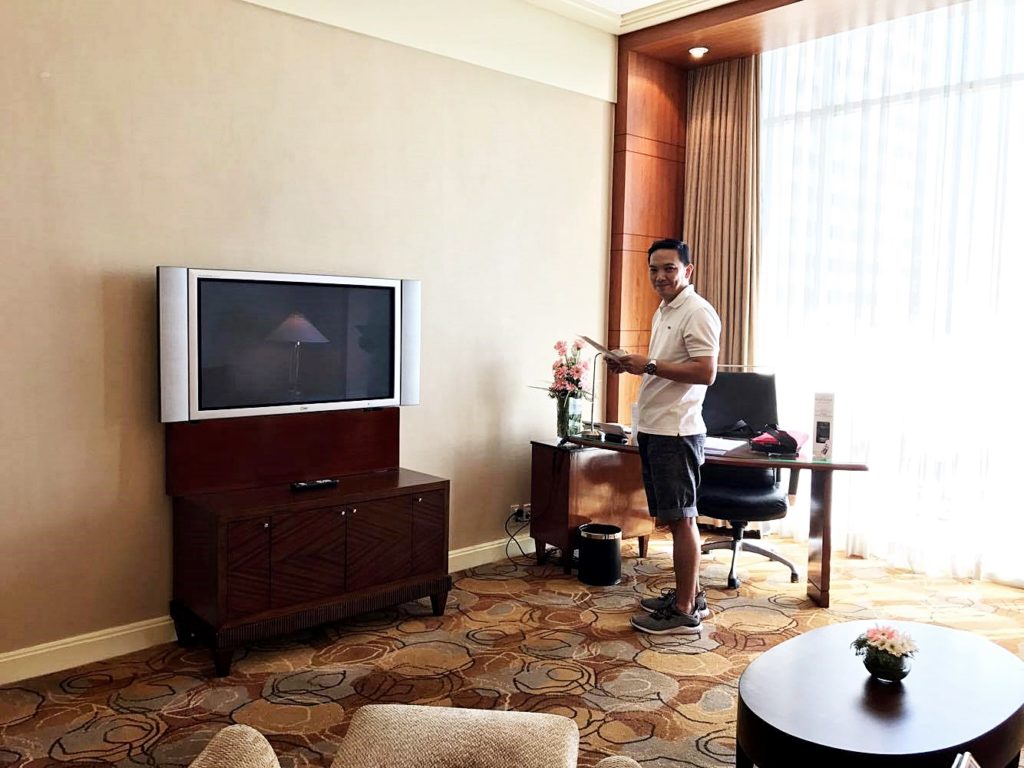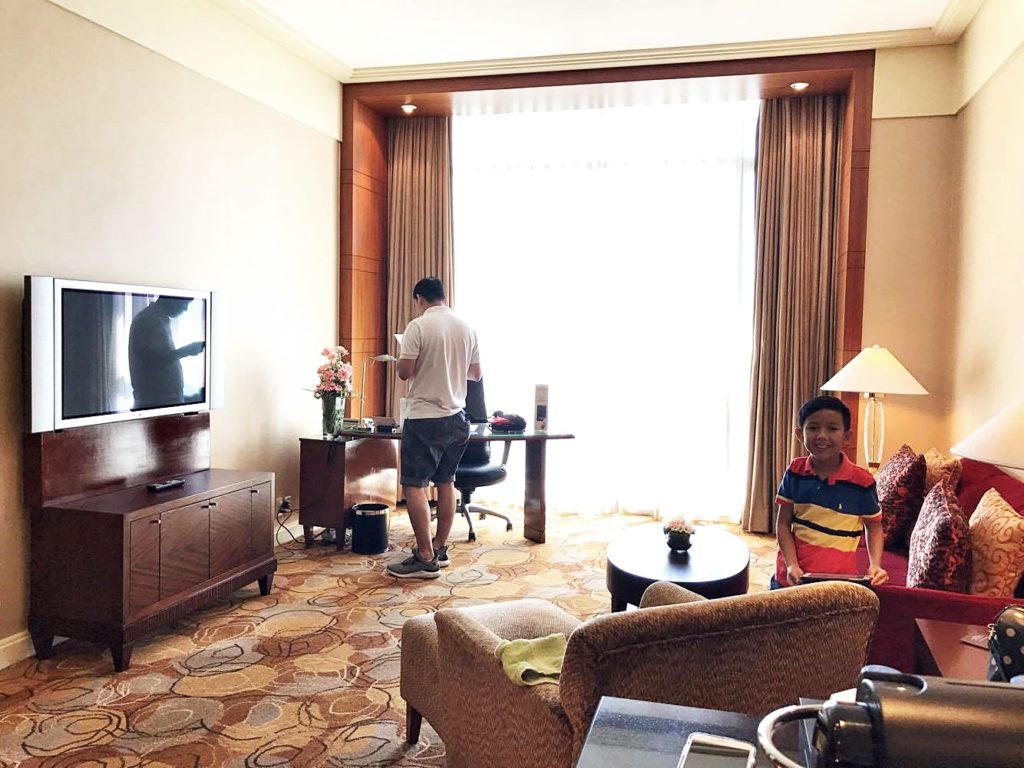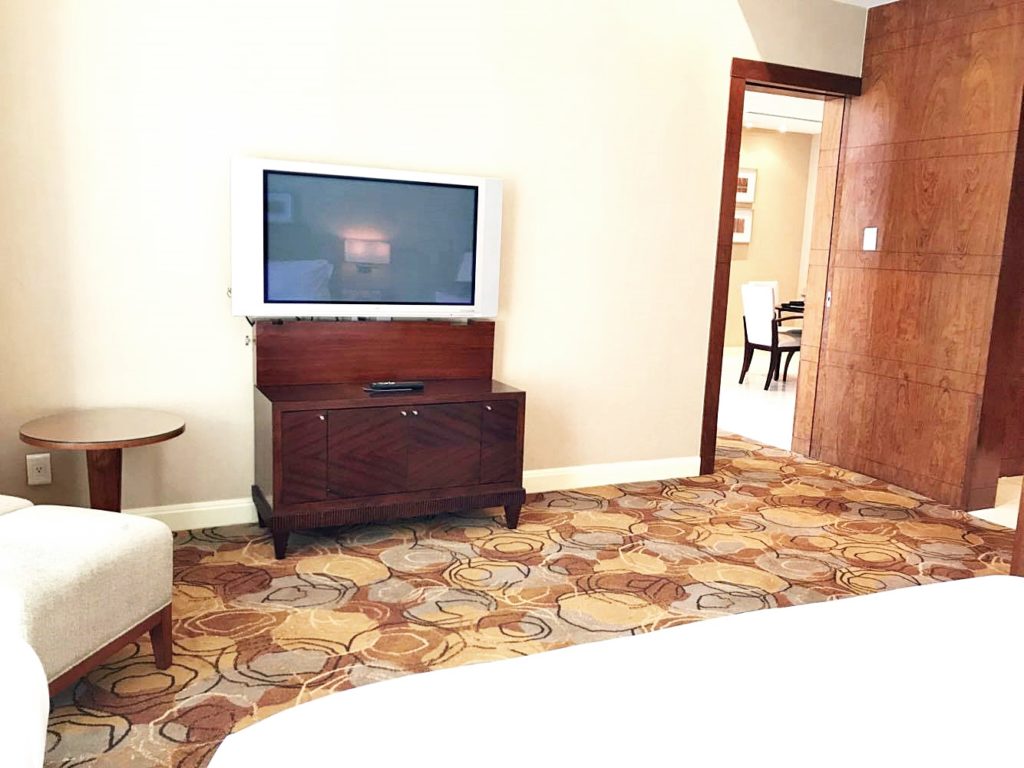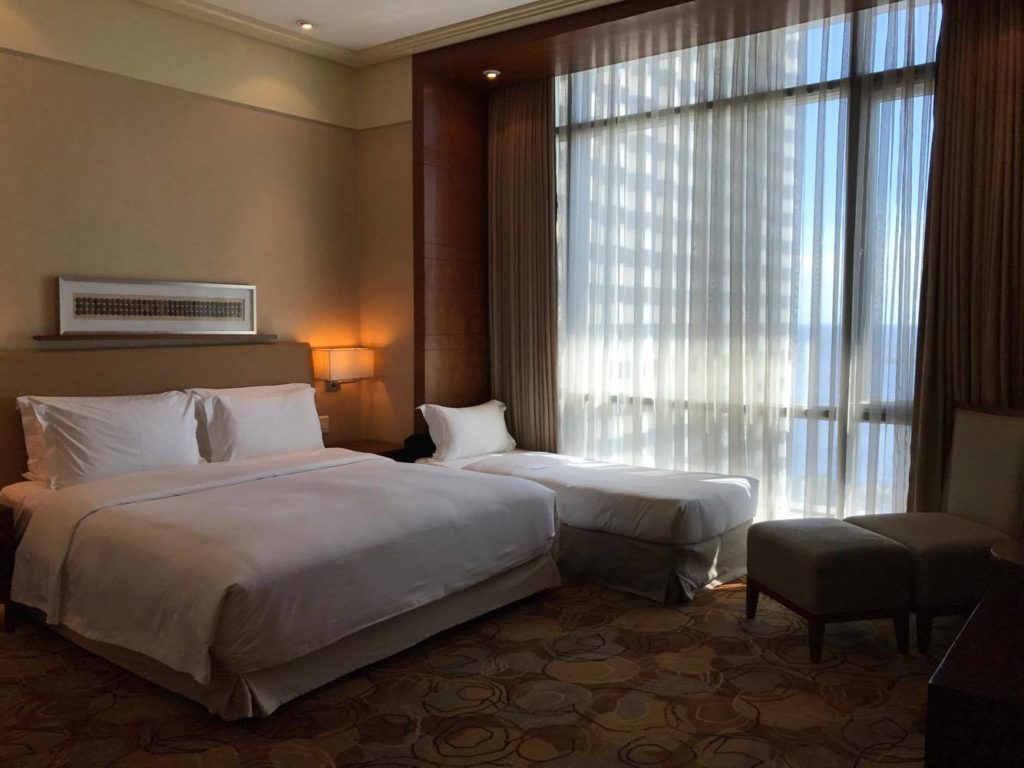 It literally is like a luxurious condo unit. The high windows really lent the room with wonderful natural light and a magnificent view of the bay. I texted my friend right away because it was such a generous room that she booked us in. The details were just as impeccable and impressive.
Our room had adult sized bath robes and 2 little ones for the boys. Look at Noah strut his stuff!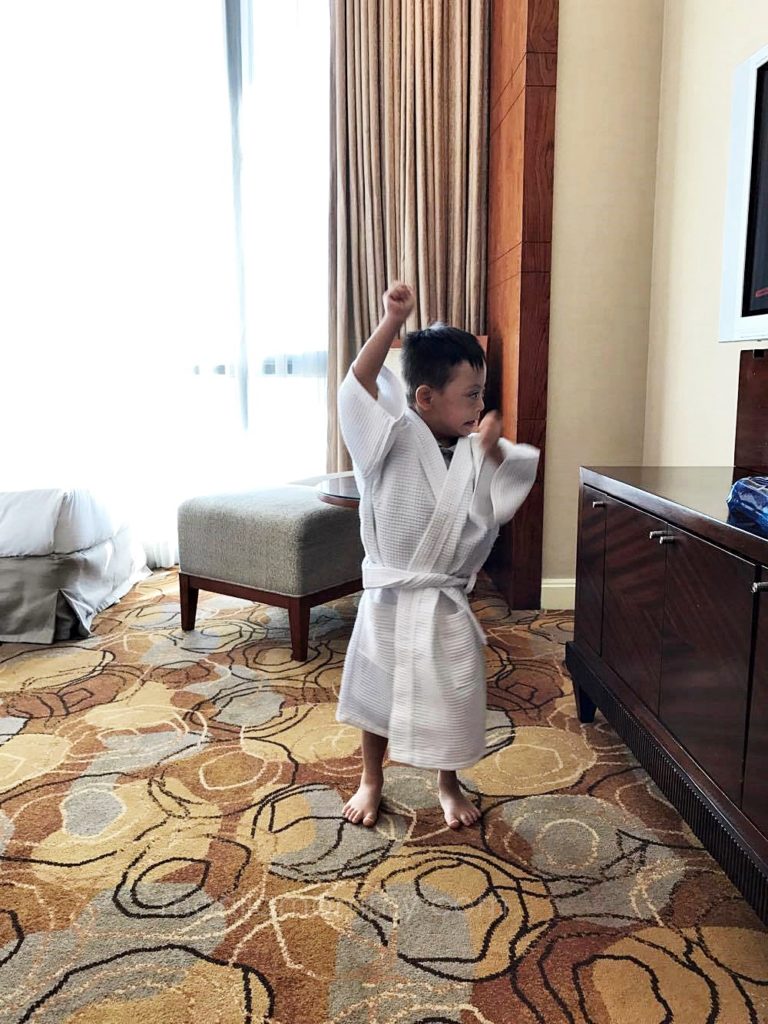 We also had welcome cupcakes and a peach pie. The boys also received stuffed toys and they were thrilled with the free gift!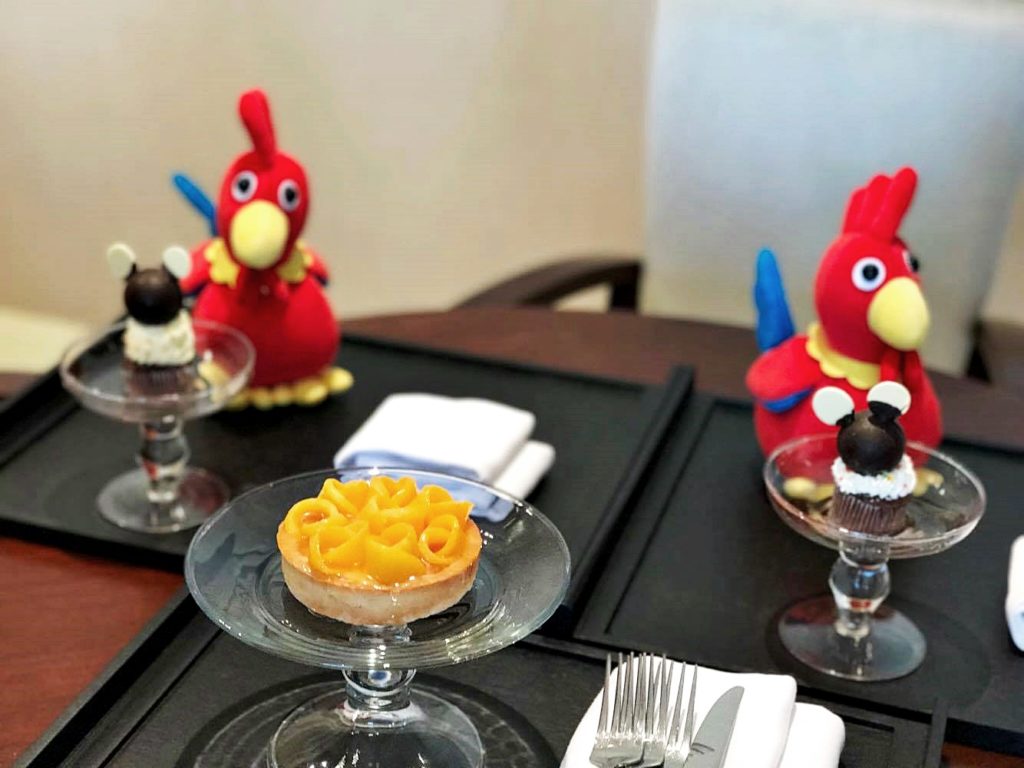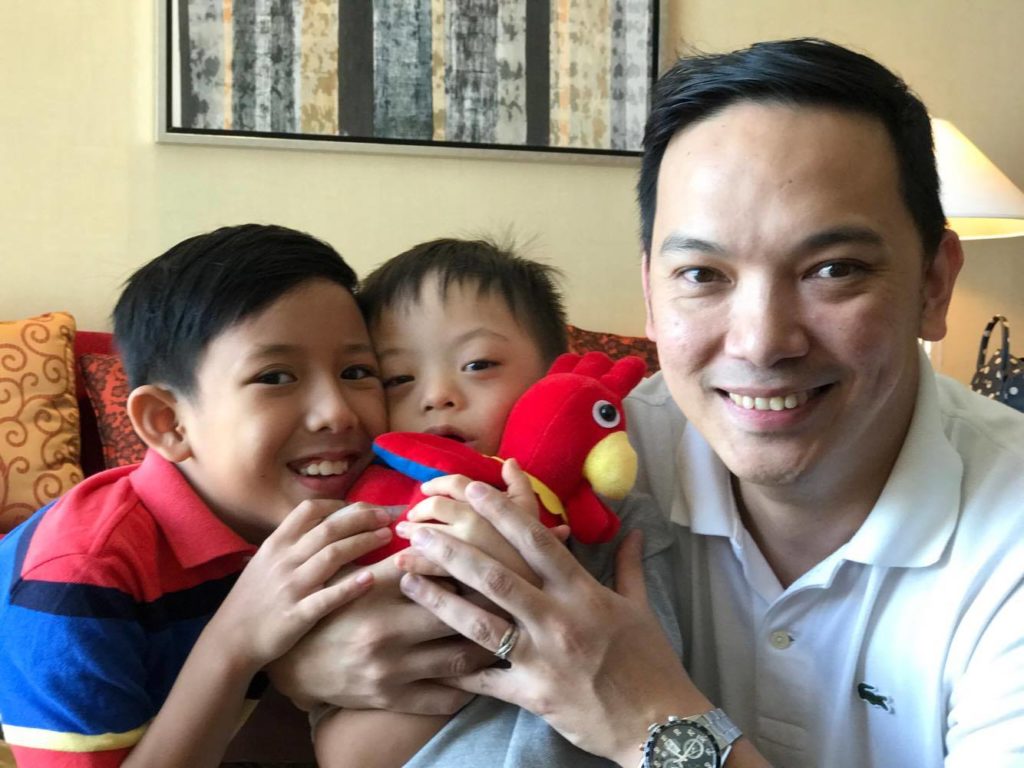 Of course, the first order of the day is swimming!! The pool located at the 8th floor is big and was never crowded while we were there. David swam to his heart's content and I never had to worry about Noah getting kicked by other kids because of a crowded pool. He happily floated and swam until his skin got wrinkly and he was already shivering from the cold. Of course when it was time to get out of the pool the two protested without end :p
After pool time, we headed to the Residence club for snacks. As you can see from the pic below, the spread was very generous and the food was really filling! We wanted to catch the sunset from there but didn't get to see much because it was cloudy. Nevertheless we had a great time with the food, drinks and service.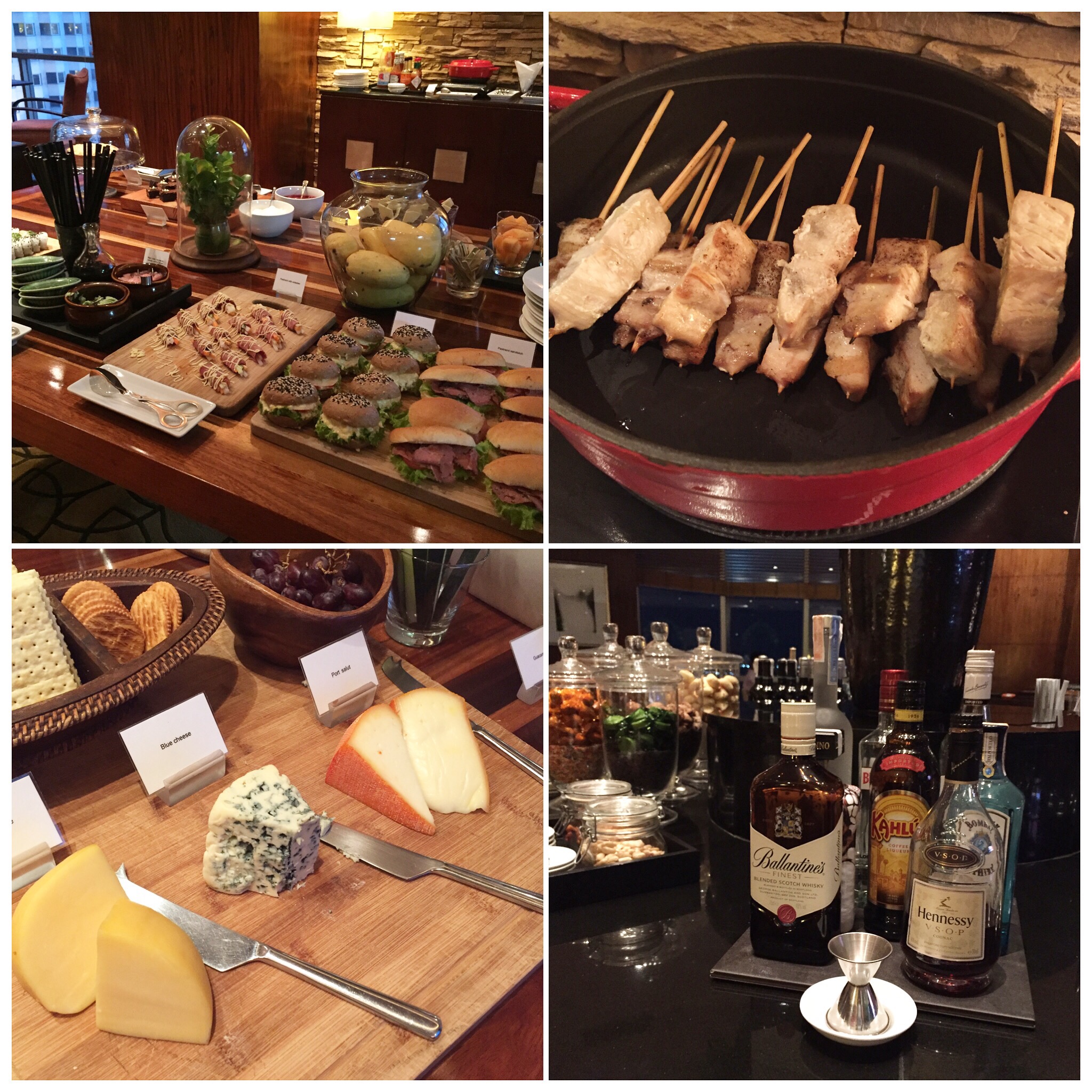 After the heavy merienda,  we went back to our room and were were welcomed with this:
It was part of their turn down service. It was super romantic but guess who jumped in first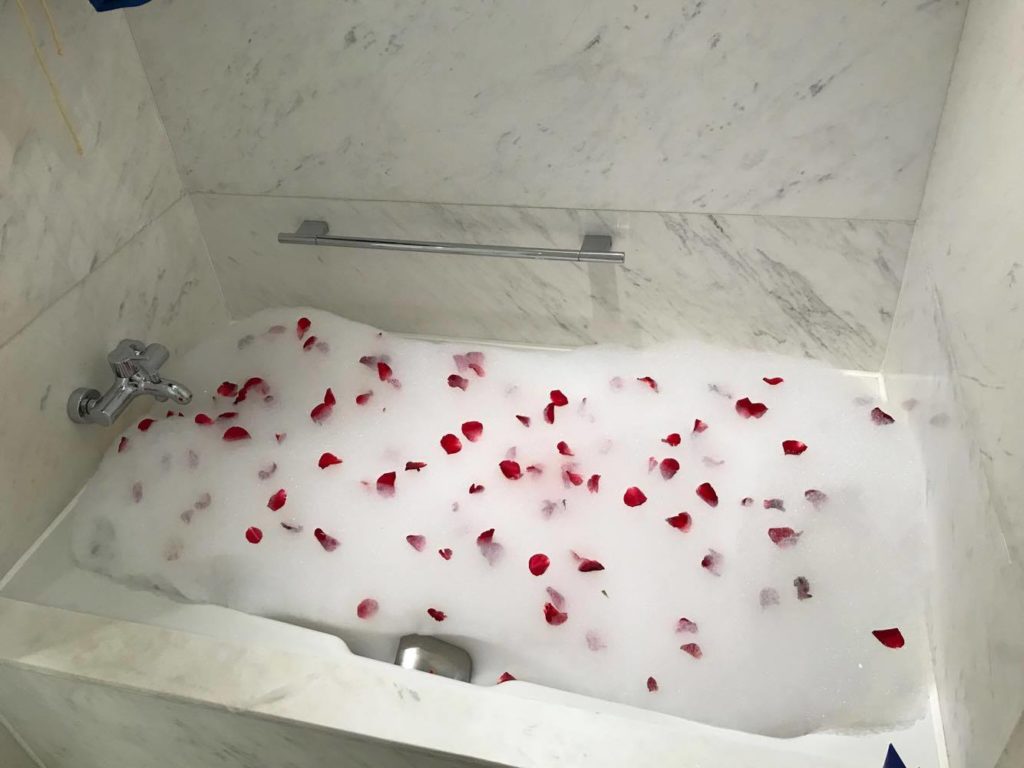 Of course 🙂 Our beloved bugoys had a great time with the foam and soaking in the tub.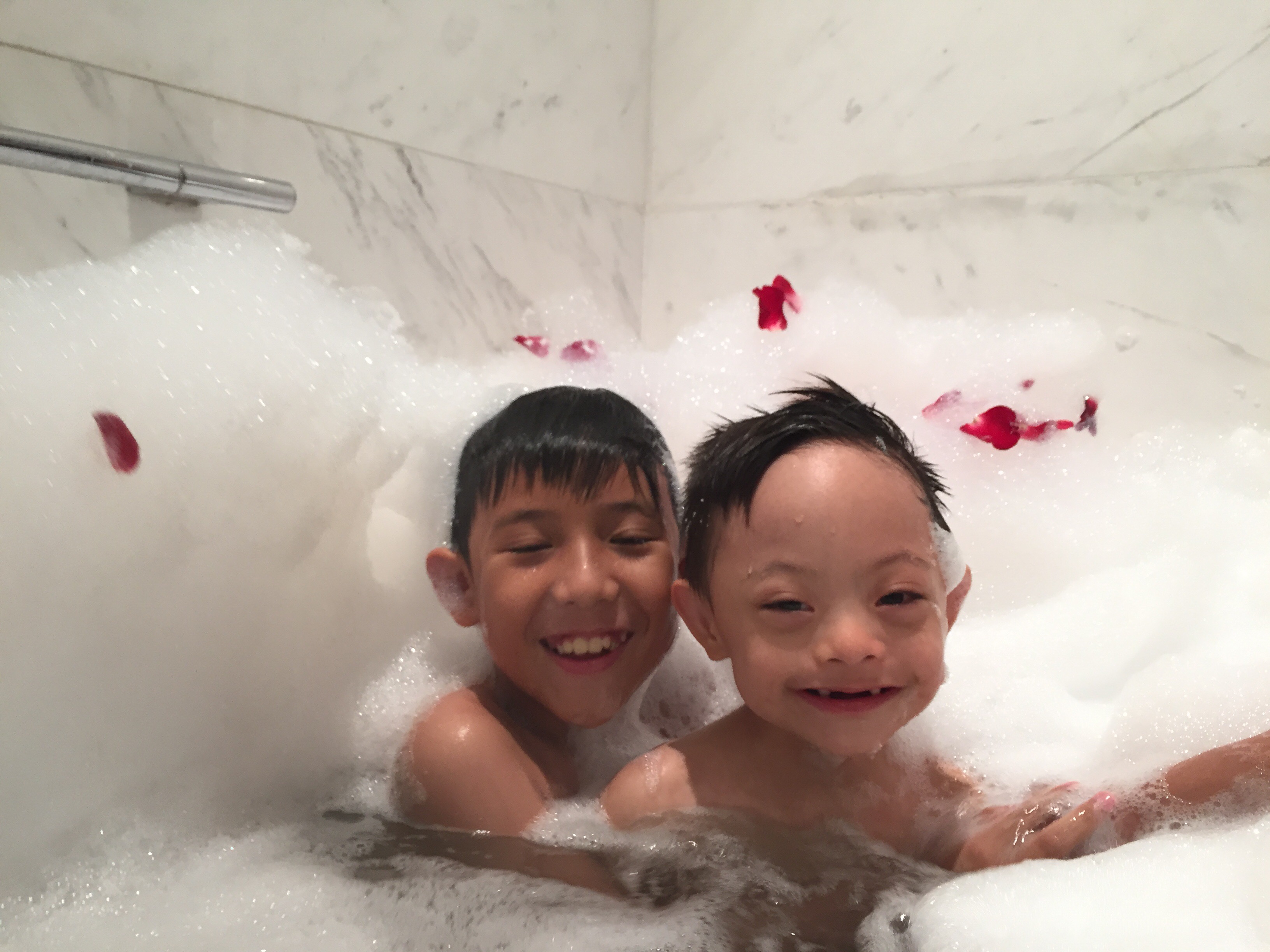 inished with their bath and prepped them for bed time, Dan and I readied ourselves for a dinner date at the Fireplace. It was just me and him and a beautiful plate of a 10oz Saga Prefecture Wagyu Ribeye steak haha! I've been wanting to try The Fireplace for so long ever since I read about it in Lori Balthazar's blog. Dan and I are steak lovers and when the budget allows, we treat ourselves to a nice "adult" dinner with a glass of wine or two.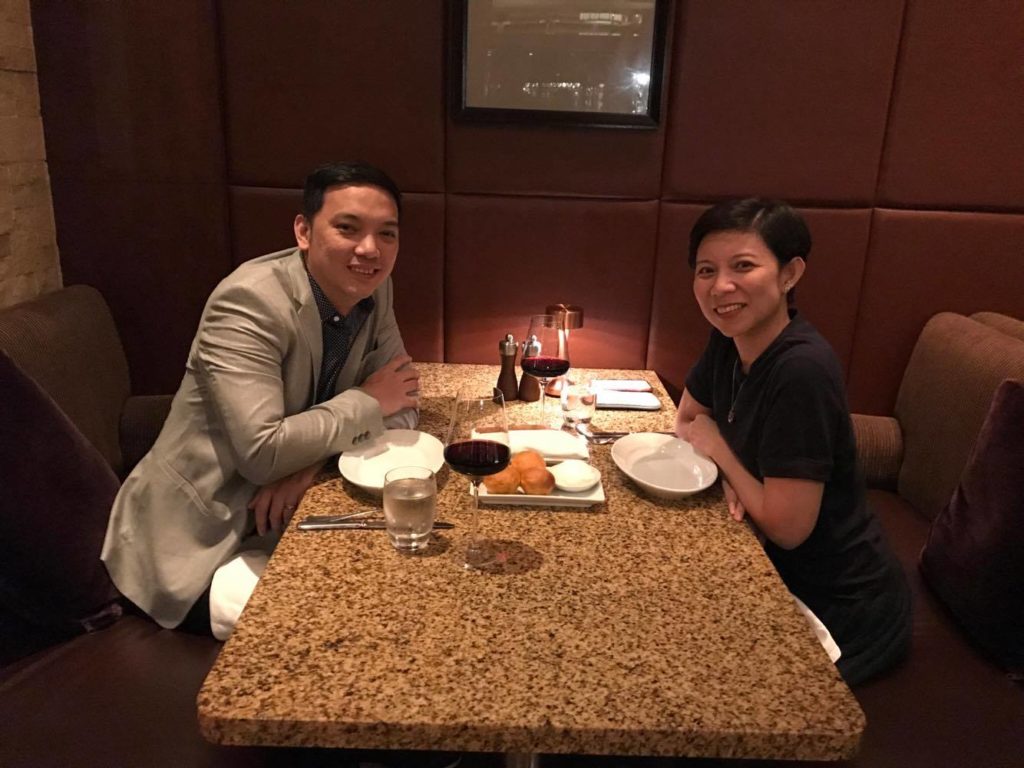 For starters we ordered Caesar Salad that we asked to be split in half. We each had a glass of their house red too. I loved the big piece of Canadian bacon on the side of the salad. It was a good start of our evening, as the salad was textbook perfection. We were also served complimentary bread and I really loved the Tomato Brioche.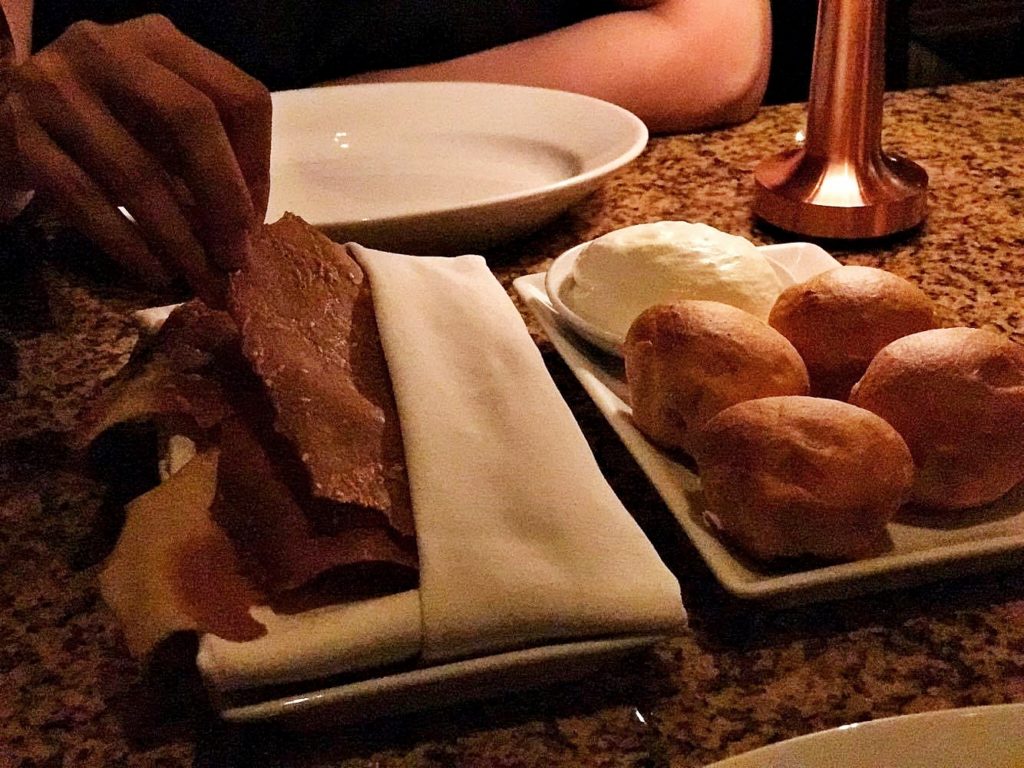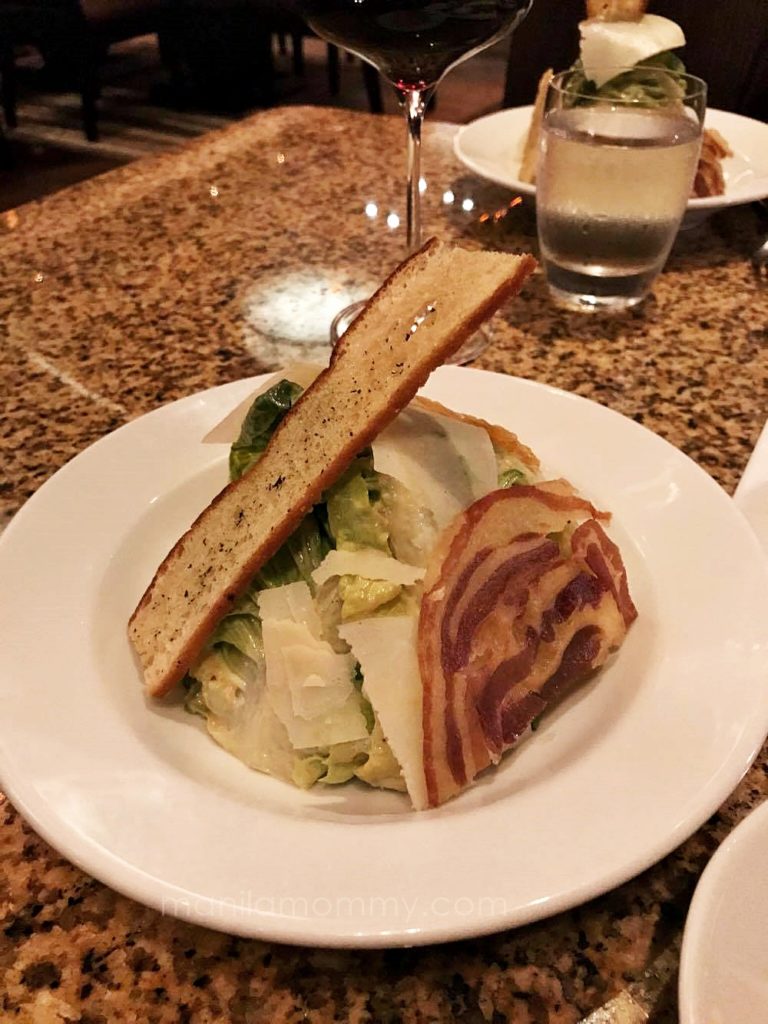 For the mains, we ordered a 10 oz Japanese Saga Prefecture  Wagyu Ribeye and potato gratin. The steak had perfect marbling and was cooked to medium. It was melt-in-your mouth tenderness and is really one of the best steaks Dan and I ever had. We savored each bite with so much gusto.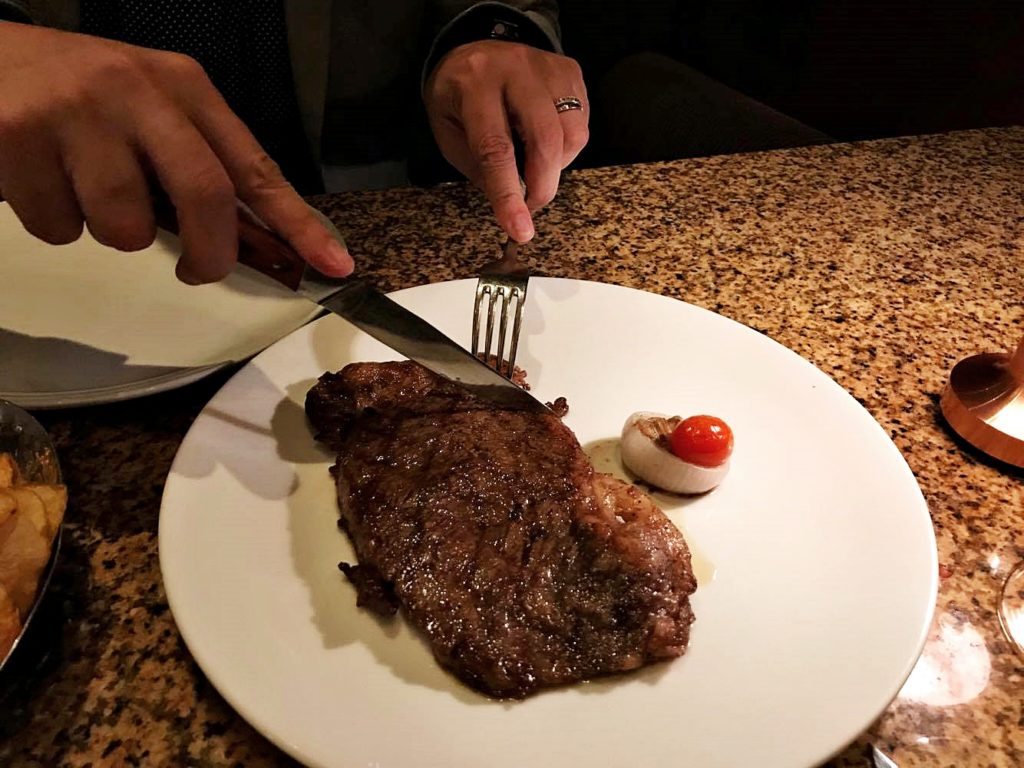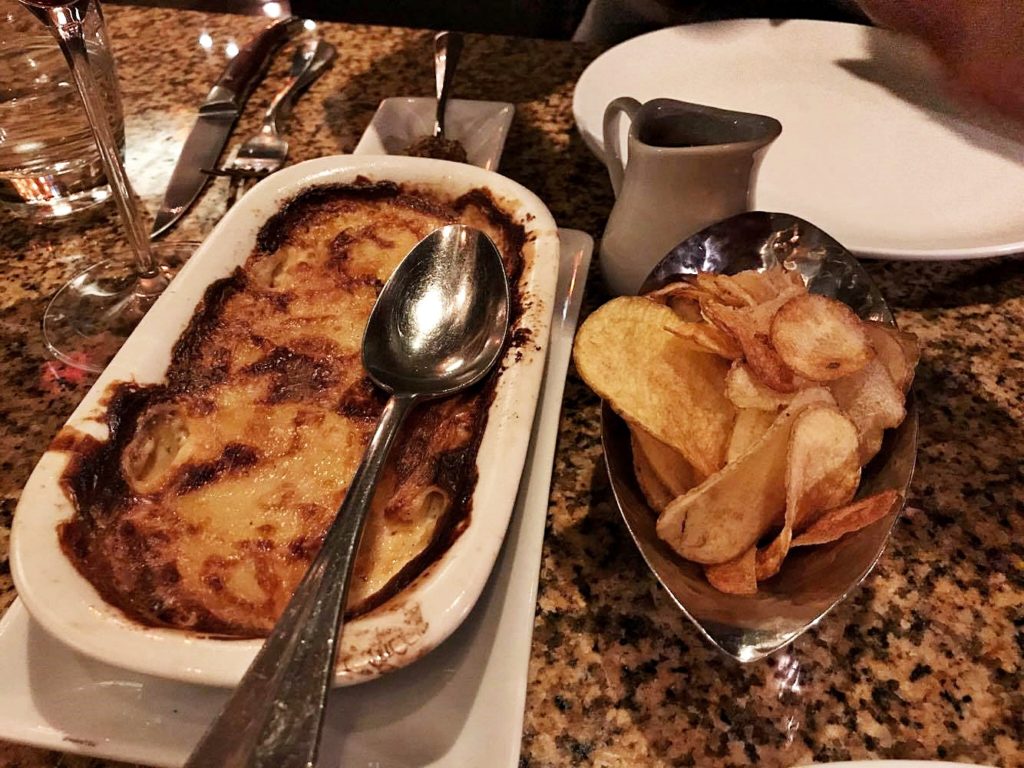 We requested that the peppercorn gravy to be served on the side so we can enjoy the meatiness of the steak but we also tried the three kinds of mustard that we were offered with. The big revelation was the mustard with cognac. It was sooo delicious and really complemented the steak and the potato gratin!
For dessert I had the chocolate fondant and Dan had a strawberry cheesecake with vanilla cracked pepper ice cream. Both were presented beautifully, which only served to whet my appetite more. The taste of course didn't disappoint. The vanilla cracked pepper ice cream was delightful and the fondant was moist and wonderfully gooey. Our desserts were really a great way to end our meal.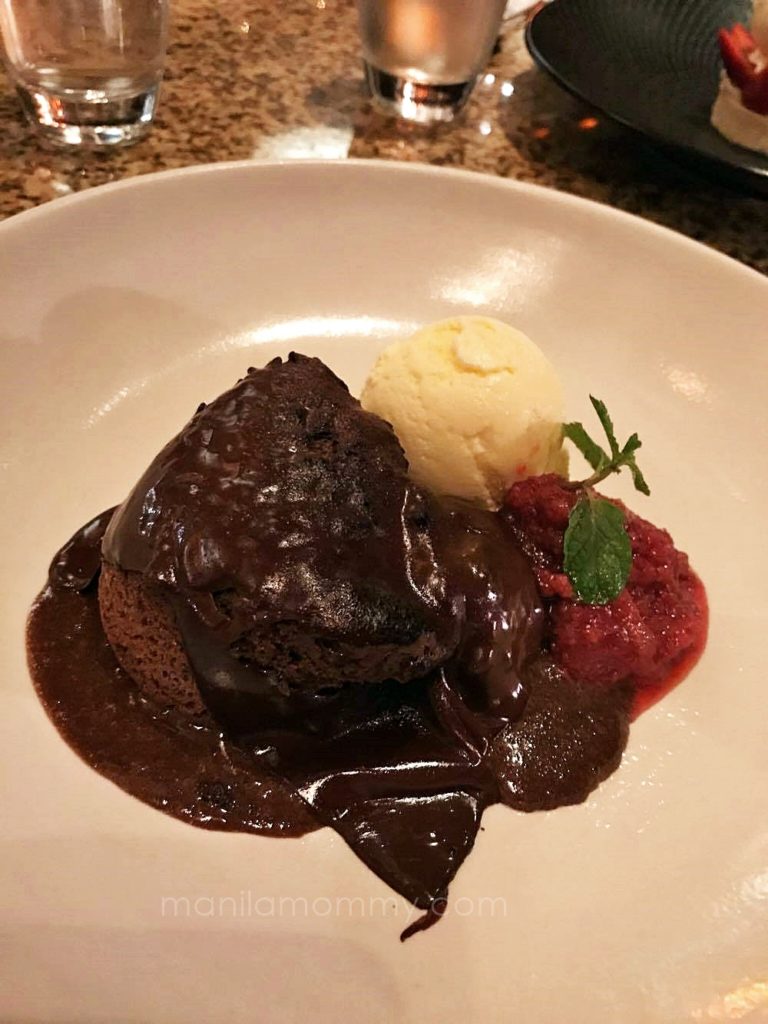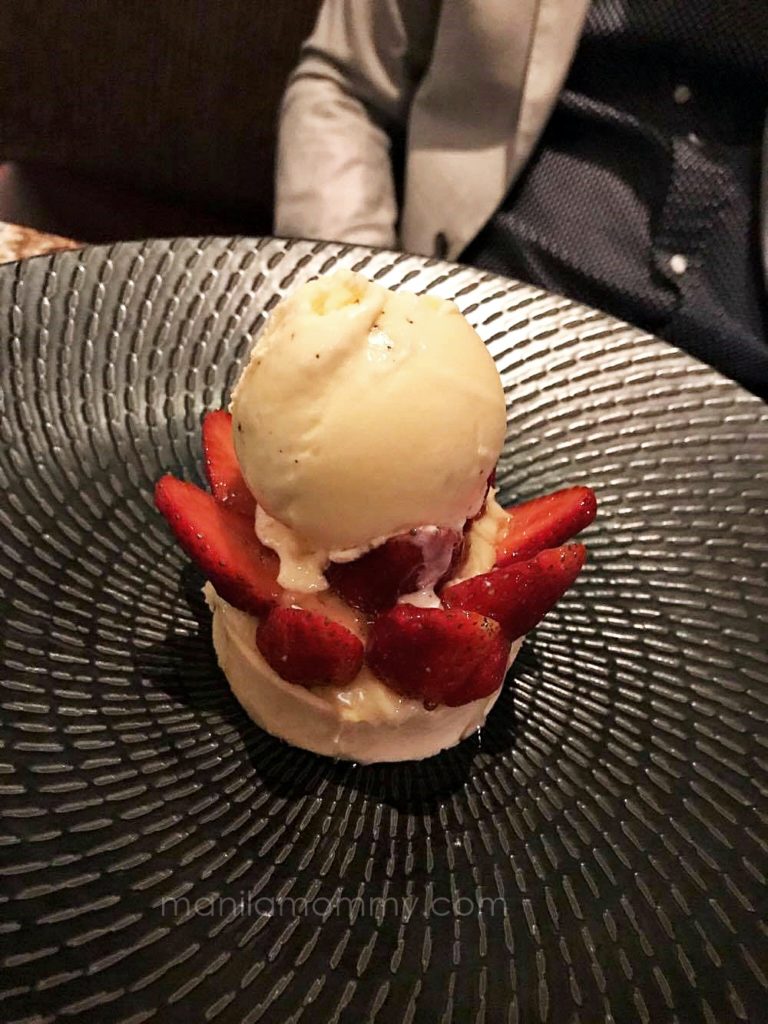 It was such a good meal that was made even more memorable by the wonderful service provided by our server, Reggie. Since it was our first time at The Fireplace he guided us with the menu, asked us about our preferences and eagerly made suggestions that never seemed too hard sell. The guys knew what he was talking about and Dan and I were impressed. We went with his recommendations and we were both very happy with them. So, if you find yourself at The Fireplace look for Reggie!
Breakfast the next day is a feast! I've been to New World Makati for a few buffets and have also stayed for a staycation (see my post here) and we have always enjoyed the food! The Market Cafe at the 3rd floor was full (we actually had the option of getting our breakfast at the Residence club but they only served continental) and buzzing with families happily eating breakfast together.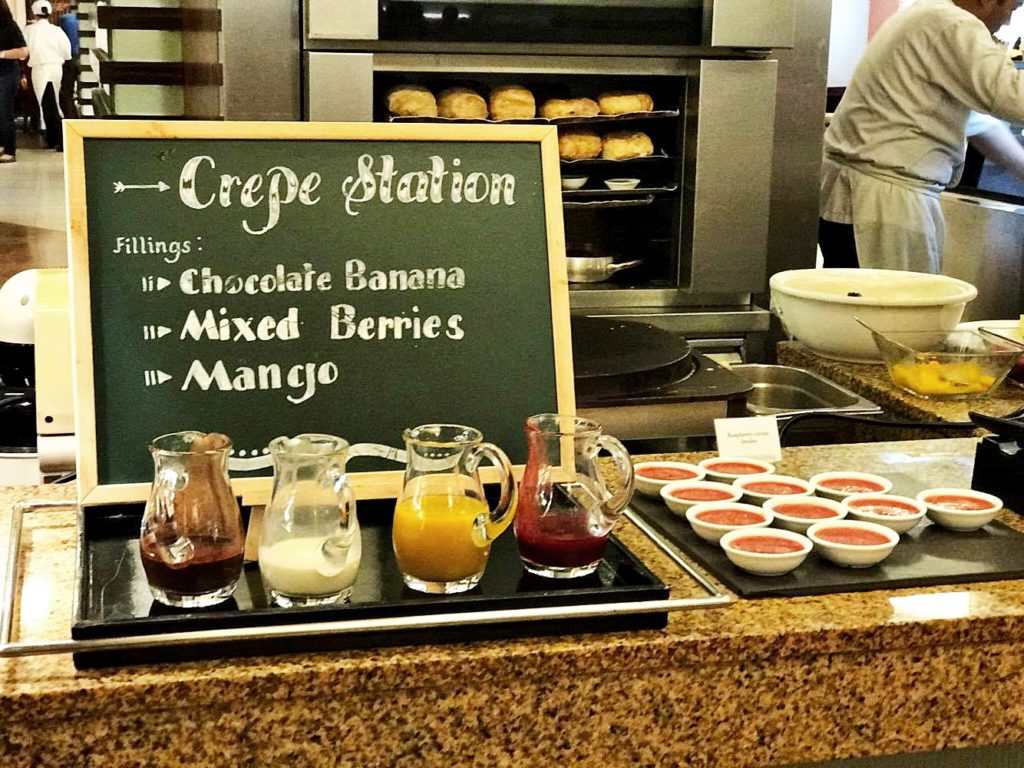 We had our fill of yummy food and went back to the pool to burn off our calories before heading back for Mother's Day lunch!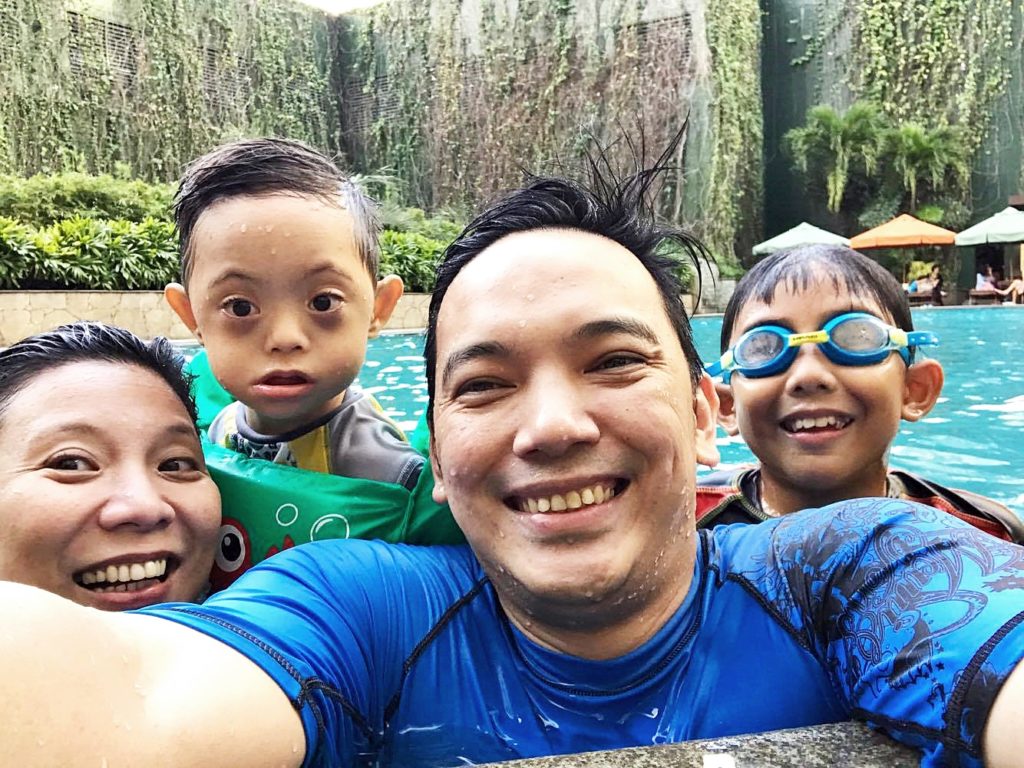 I had mimosas, steak, lobsters, chocolates and lots of sweets with Dan, David and Noah.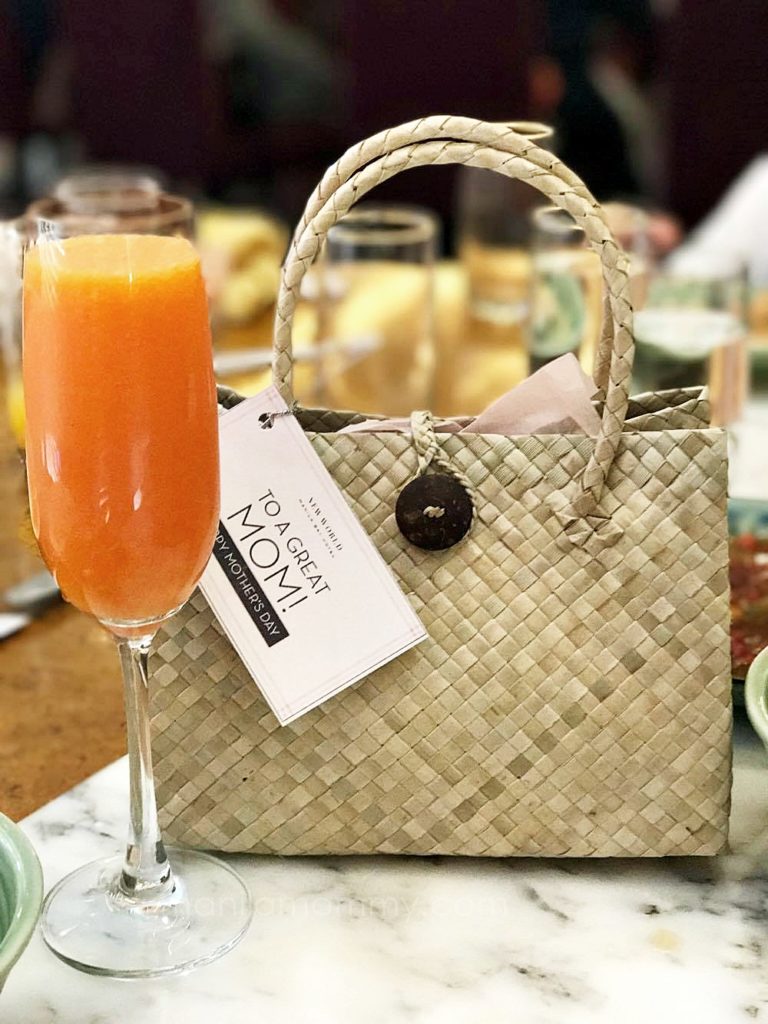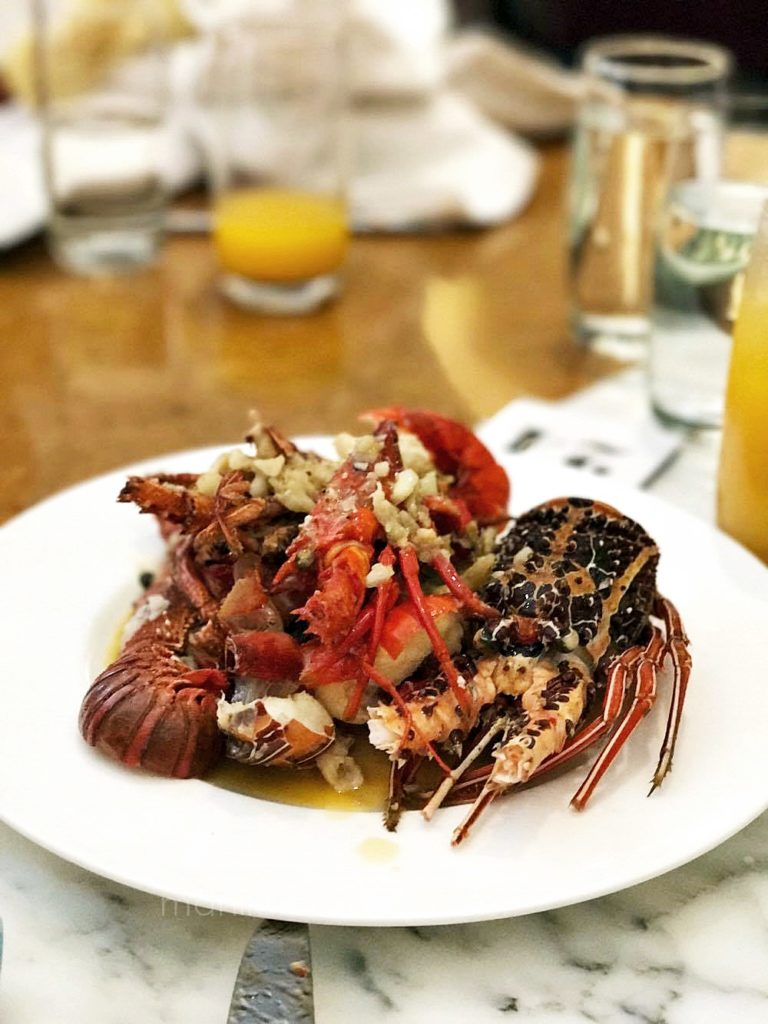 It was a wonderful lunch with the people who make my journey of motherhood an amazing adventure.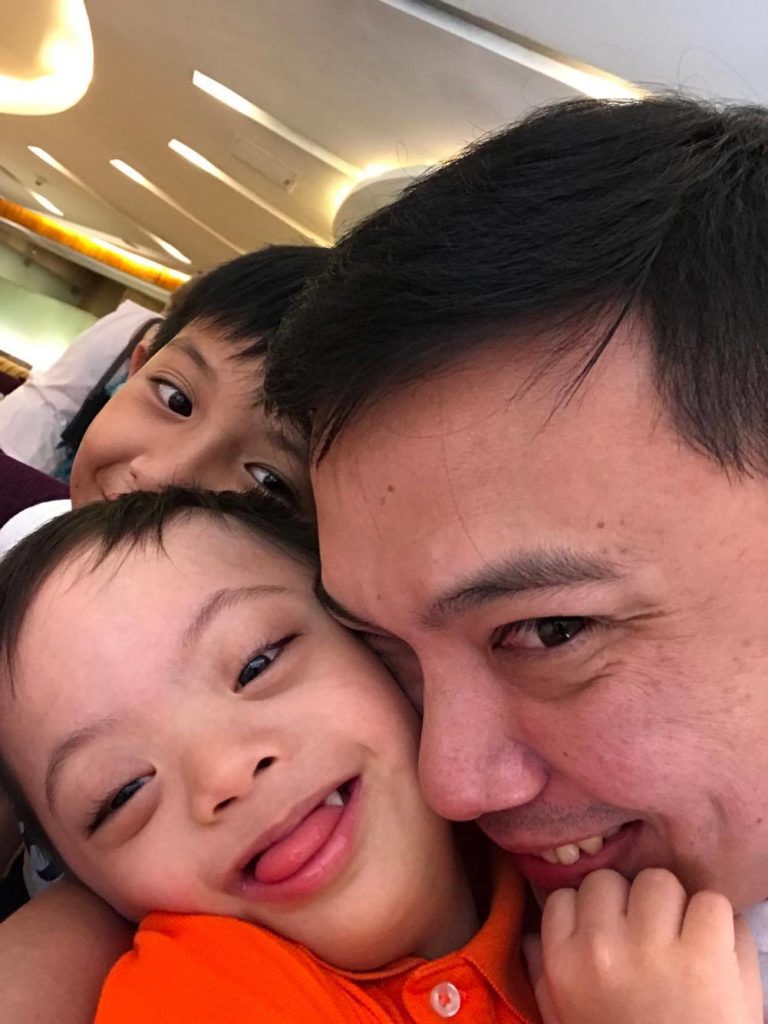 When we checked out, I couldn't help but feel really thankful for the blessing that I have received. A stay at New World Manila Bay really was what me and my family needed. I was weary from work and missed my family fiercely becaue of my hectic work schedule. The weekend certainly recharged me. The food, service and care we received from New World Manila Bay is really one for our family's happy core memories.
So if you're looking for a fantastic staycation option for your family, consider New World Manila Bay as your top choice!
New World Manila Bay
http://manilabay.newworldhotels.com/
1588 Pedro Gil cor. M.H. Del Pilar
(02) 252 6888