I am a hard core rocker and I still listen to indie/alternative acts nowadays. But I have to admit that I am a sucker for well-written pop songs with a perfectly written melody and hooks so catchy  that they are staples in my videoke sessions. A perfect example of that is Wilson Phillips' Hold On. The song was released in the 90s and it was such a rah-rah feel good song that I bought a cassette tape and played it ragged! My childhood friends and I would always imitate that scene where the three girls were walking through the crowd singing the chorus. (And was I the only one who felt sorry for Carnie because she was wearing a black suit at the beach?!)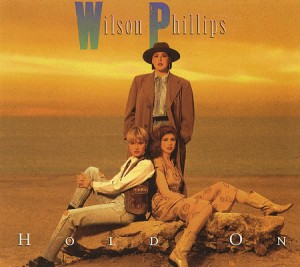 Have you seen Bridesmaids yet? If you haven't then you're missing out on a smart comedy about female friendship. Lordy Kristen Wiig co-wrote it and is awesome in it. "Hold On" also plays such a big part in the movie that towards the end, I gasped! GASPED! when it was  played. I need to buy my own copy of the movie stat.
Anyway without further ado, may this video start your week right, bring a smile to your face and give you an earworm that's not annoying at all.
And because I heart you dear reader, here's a trailer of Bridesmaids.
ALL TOGETHER!!! Someday's Somebody's Gonna Make You Wanna Turn Around And Say GOODBYE!!