For Noah's birthday cake, we didn't look for a new supplier. We're all fans of Tazzy Cakes and we know Cat will deliver! I just gave Cat a copy of Noah's invitation and ordered 50 rainbow cupcakes. We actually talked more about the actual cupcakes than the cake. A few days before Noah's big day Cat texted me that she wanted to do a different kind of Noah's Ark cake. She wanted the animals swimming around and having fun. I just told Cat she can do whatever she wants. For me, all I requested is that the cake be made of Red Velvet.
And this is Cat's version of a Noah's Ark cake. Wonderfully funny and cute. The bottom layer is made of deliciously moist red velvet cake. The Ark is not edible but all the animals were! Tazzy Cakes wins again!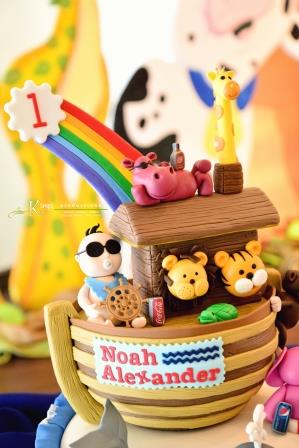 That's Noah with his shades with a can of coke, chillin' even if he looks a little bit like Psy haha. All the animals are edible. The Ark is wonderfully detailed with wood grains pa talaga. I also love how Cat did Noah's name.
Here's a full shot of  the cake. The rainbow was a delightful touch and it echoed the rainbow balloons and decor of the party. I loved that Cat did ruffles around the cake to represent the ocean too. They really looked like waves!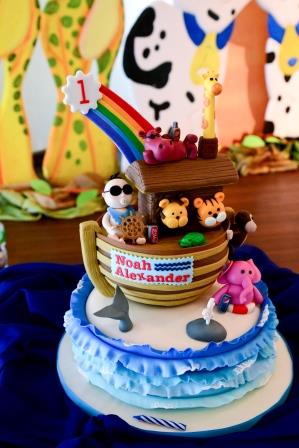 These were the very popular rainbow cupcakes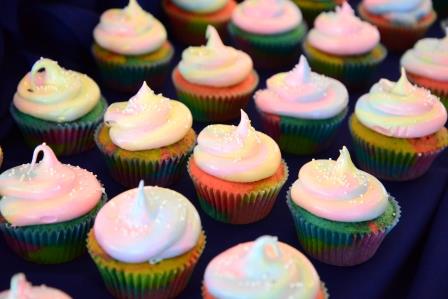 So popular we didn't get one!! As in none of our family got one hahaha. But blessed be, masarap talaga mag bake si Cat.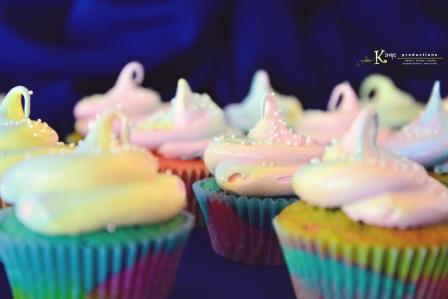 These rainbow cupcakes are Php35 per piece. The more complicated ones with toppers can range from Php50 up. The cake is Php5,500.
David 's birthday is coming up next month and I can't wait to have Cat's cake again!
To contact Tazzy Cakes:
Tazzy Cakes
 https://www.facebook.com/TazzyCakes
Email: cats@tazzycakes.com
GLOBE Duo: 9752849 – Look for CATS
Mobile No.: 0917-8373941